Santa Maria will hold the first of three community-based COVID-19 testing sites in Santa Barbara County starting next week, expanding testing to residents with one or more symptoms of the virus, county officials announced Wednesday.
Officials also announced the eighth COVID-19-related death in the county, a Santa Maria resident in their 60s with underlying health conditions, marking two deaths so far in the city. 
Santa Maria's testing site will be opened next week, offering 135 tests per day, five days a week, and results within 48 hours. The location has not been announced. 
According to Public Health Director Van Do-Reynoso, testing sites will also be established in Lompoc and Santa Barbara in the coming weeks, with the increased testing capacity made possible through a partnership with the state. 
"We welcome this new testing opportunity in our community, as it enhances our ability to test community members, isolate positive cases quickly and limit the spread of COVID-19 in Santa Barbara County," Do-Reynoso said.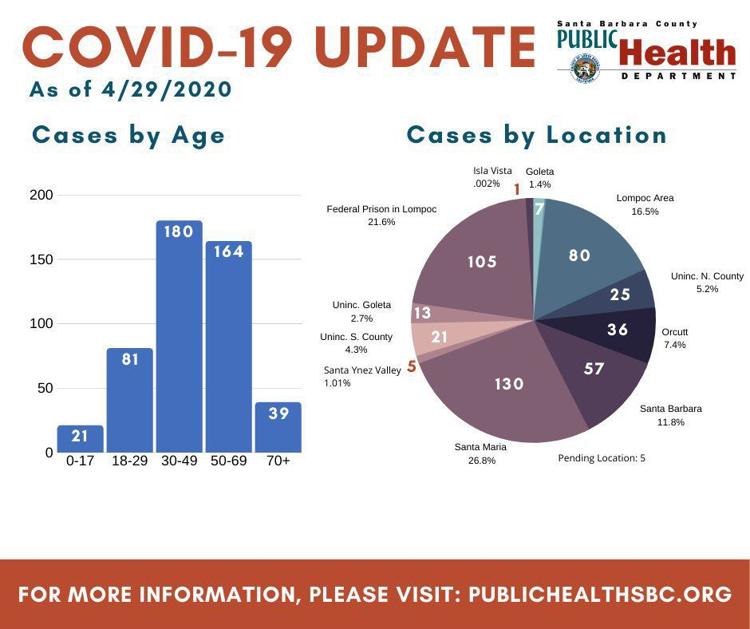 According to Do-Reynoso, Santa Maria was chosen as the first location in the county because it permits a majority of the county's population to travel there in under 30 minutes. 
Those seeking the nasal-swab test can be screened for eligibility before the weekend either online or over the phone to make an appointment. Contact information for screenings and appointments will be announced later in the week, Do-Reynoso said. 
Testing will be prioritized for individuals exhibiting one or more symptoms of the virus, as well as symptomatic and asymptomatic first responders, according to the Public Health Department. 
The implementation of community testing sites was also announced in neighboring San Luis Obispo County Wednesday, with plans to establish two sites, one each in Paso Robles and Grover Beach. 
Additional cases
As of Wednesday, eight additional cases have been confirmed in the county for a total of 485, of which 125 are active.  
Of the eight new cases, one is in Santa Barbara, one in Lompoc, one is an inmate at Lompoc's Federal Penitentiary, one is in Santa Maria, one is in Orcutt, one is in the unincorporated South County area, and the locations of two are pending. 
Of the 151 active cases, not including the eight deaths, 81 are recovering at home, 33 are hospitalized with 11 under intensive care, and Public Health is awaiting updates on three, according to county data. 
The county's rise in cases has continued to follow a linear pattern, with case recovery rates rising by nearly 20% over the last week to 74% recovered. 
San Luis Obispo County also announced eight additional cases Wednesday for a total of 181, of which 46 are active. A total of 40 individuals are recovering at home with five hospitalized, and one individual has died.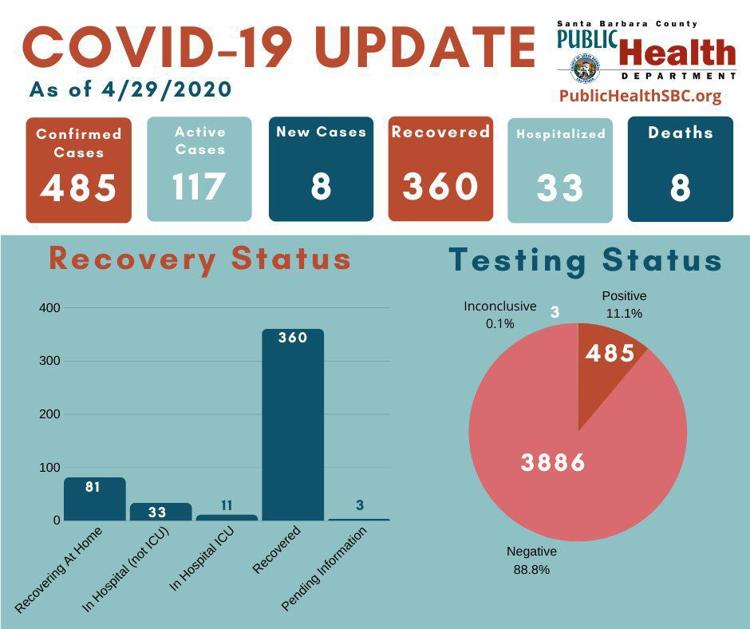 Reopening plan 
Gregg Hart, Santa Barbara County 2nd District Supervisor, said the county will be creating its phased reopening plan in accordance with a new four-phase framework released by the governor's office.
The framework identifies preparation as the first and current phase, with plans for retail, offices and potentially schools to be opened in the second phase. The third phase would involve opening higher-risk businesses such as personal care services and gyms.
The final phase of lifting the stay-at-home order and allowing large gatherings to resume will be implemented once a vaccine or other therapeutic treatment is available, according to the governor's office. 
"While the governor's announcement is not what many of us were hoping for, it does represent progress. Light is beginning to show at the end of a very long tunnel," Hart said. 
Infographic: San Luis Obispo County Coronavirus Cases
Laura Place covers city government for the Santa Maria Times.
Concerned about COVID-19?
Sign up now to get the most recent coronavirus headlines and other important local and national news sent to your email inbox daily.