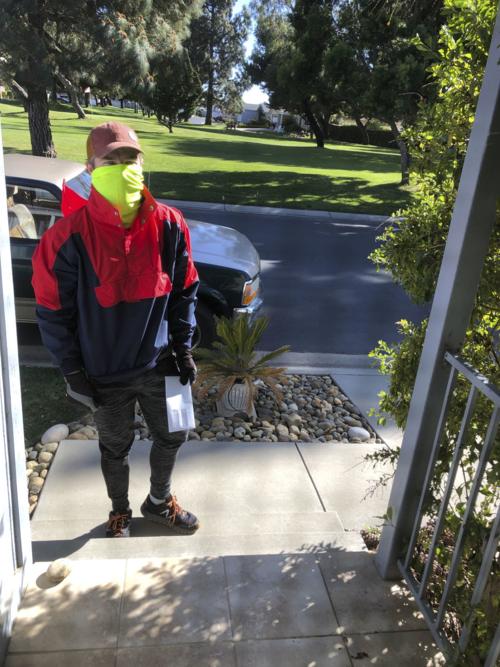 A number of local organizations — including the Democratic Club of Santa Maria Valley — are pitching in to help with grocery store or pharmacy deliveries to those who may be homebound during the coronavirus pandemic. 
"I thought that we should call our members to see if any of them needed help while they're staying at home," club Vice President David Dennis said. "So we had five or six club members start making calls and then we decided to send everyone emails."
The emails helped the club identify which members needed assistance and which were available to do the legwork necessary to get food and medicine to people's homes.
Dennis is also a board member of the Santa Barbara Bicycle Coalition, which is where he connected with Ken Dahmen, Santa Maria program manager. 
About 50 volunteers work on a rotating basis in the North County, organizing school programs and helping people fix their bikes, according to Dahmen. 
"Now, some of us are helping with deliveries to people who are concerned that they might not be able to recover from coronavirus. We're making prescription and grocery runs for them," he said. 
Dahmen explained the coalition has a spreadsheet with names of people who need help. Volunteers then choose their tasks, make phone calls and work out the details. 
"Then you get suited up, go to the store and do everything as cleanly as possible, drop the food or medicine off and mark it as completed on the spreadsheet," he said. 
While the Santa Barbara Bicycle Coalition volunteers are cyclists at heart, most are using their cars for delivery service to move things along quickly and safely. 
Although the Democratic Club of Santa Maria Valley began the deliveries as a service to its members, Dennis said assistance is not restricted to club members. 
"If somebody needs help, you do what you can to help them. We're here to help anybody," Dennis said. "If it's something simple like just answering questions, we're here to help. If someone needed help with getting medicine or food, especially if they're in an at-risk group, we're here to help."
Dennis added that many other groups also are stepping up, including the Chamber of Commerce, Central Coast Alliance United for a Sustainable Economy and the Community Action Coalition.
"(They) are putting out a lot of good information and are finding ways to help," he said." 
Dennis invited those needing help with deliveries to contact him at ddennis@mac.com.
Concerned about COVID-19?
Sign up now to get the most recent coronavirus headlines and other important local and national news sent to your email inbox daily.