A snapshot of 597 juveniles placed under probation supervision in Santa Barbara County in 2017 shows 53 were incarcerated in juvenile hall, a number 38 percent higher than the average in nearby counties.
The reason, according to Probation Department officials, is that the county uses fewer alternatives to incarceration for low-level offenders than comparable counties like San Luis Obispo, Monterey, Santa Cruz and Ventura.
Incarcerating misdemeanor offenders, and exposing them to serious, high-risk criminals increases recidivism and ups the chances of them becoming more criminally sophisticated, said Kim Shean, deputy chief probation officer.
To bring the county more in line with the average and address priorities in the Renew '22 budget initiative, the Probation Department is reducing caseloads and diverting more low-level cases away from the court system.
Unlike adult court, juvenile court has always focused more on rehabilitation rather than punishment.
"It's always been in the code — juvenile consequences aren't about straight punishment; it's not like adult court where you look at the crime, then match it with the sentencing associated with that charge," said Judge Arthur Garcia, who presides over the Santa Maria Juvenile Court.
As a judge who's been on and off the bench at Juvenile Court for over two decades, Garcia has seen all types of cases, and the different trends of rehabilitative services come and go. He only deals with cases that the Probation Department feels are necessary to refer to the court after the district attorney files a petition. Not every criminal juvenile case is filed with juvenile court, he noted.
Often, the vast majority of youths sent to juvenile hall "don't think it's a punishment," Garcia said. Depending on the nature of the case, he chooses to send the young offender to either juvenile hall or the Los Prietos Boys Camp, whichever the judge believes will offer the best rehabilitation.
Los Prietos is a 96-bed, residential, correctional and treatment facility for 13- to 18-year-old boys that's located approximately 20 miles north of Santa Barbara on 17 acres in the Los Padres National Forest.
Garcia sees each case as unique, and doesn't consider quotas when choosing Los Prietos or juvenile hall.
"I never focus on statistics; you choose each child's case individually, thoroughly vet them on a case-by-case basis and consider all probation reports," he said. "You find out who the child is throughout the process — look for behavioral explanations. It's an insightful process into their home life, family relationship, trauma if any, gang affiliations or family members involved in gangs, substance abuse and everything else."
At the same time, "you can't just simply say you can't lock the child up ... you also have to consider public safety concerns if a serious offense was committed," Garcia said.
"But is locking a child up the first thing you do? No."
There are always youths who flourish at Los Prietos, juvenile hall, group homes or wherever they're sent, as well as some who end up having more issues. The results vary from child to child, the judge said.
"Some rise above everything after completing a group home program and some are easily influenced and vulnerable to relapse, then revert back to their old ways," Garcia said.
For many low-level offenses, diversion is usually a successful and safe practice, he said.
"Most children I contact with through the legal system get straightened out, and there's a high success rate for petitions that are given diversion programs as their sentence instead of incarceration."
There have been a lot of buzzwords surrounding research backing juvenile justice reform, Garcia said, noting that Santa Barbara County's Probation Department does a good job finding diversionary alternatives to incarceration.
"They always focus on words like 'rehabilitation,' 'least-restrictive forms of detention,' 'engaging families' and most currently, 'evidence-based assessment, which are rehabilitative resources backed by research that produces objective results for the child's outcome after an offense occurred," Garcia said.
While evidence-based assessment isn't really a new method, the Probation Department "has always been innovative when looking for new methods to criminal justice reform," he added. "We want to keep up with the national trends, and it's always good to question your practices and see how you size up against other entities that are employing the methods we haven't tried yet."
In August 2017, out of the 597 kids under probation supervision, early findings show that a third of the youth in juvenile hall were in custody for a technical probation violation, and the most serious offense for over 50 percent of kids in Los Prietos was a misdemeanor, according to Shean.
"There were a substantial amount of youth when we did this study that were made ward of the court for misdemeanor offenses that could've been considered for some type of diversionary options," Shean said.
"In our county, 1.5 percent of all youth ages 10 to 17 back in 2017 were under probation supervision, and that's such a high number," Shean added. "That's when we had our big aha! moment and realized that new interventions could be used to address the issue.
"Does juvenile hall always have to be the answer?"
According to the August 2017 data on juveniles who were made wards of the court for misdemeanor offenses, 86 percent were Hispanic, 8 percent were white, 4 percent were black and 2 percent were other. For those incarcerated in juvenile hall, 89 percent were Hispanic, 5 percent were black and 5 percent were white.
"The reason we don't categorize juveniles facing felonies was because we felt they were the appropriate youth who should be on probation or court wardship," Shean said. "We primarily looked at those facing misdemeanors who were incarcerated in the hall, as they were the target group we wanted to use newer, evidence-based assessment tools and other diversionary intervention programs as alternatives that are both culture-and-gender responsive."
An example of a culture-based cognitive behavioral therapy program the county plans to fund and implement is El Joven Noble, a trauma-informed, culturally sensitive program that guides youth through their "rites of passage" process while focusing on the prevention of substance abuse, teen pregnancy, gang activity and domestic violence.
"We're funding El Joven Noble, along with many other evidence-based treatment interventions like after-care mentoring, so that when the teens are done with the program, we don't just send them back out in the community," said Holly Benton, deputy chief probation officer overseeing the juvenile division. "Three months after they finish the program, they'll have a mentor assigned to them who can continue supporting them."
Benton added: "Our new programs and probation staff training will focus a lot on family dynamics, engaging parents with their child, and only use our detention options for youth where it's most appropriate — whether they're a risk to the community or even themselves."
In an effort to address the racial/ethnic disparity found in its juvenile justice system, Santa Barbara County has been receiving funding for the last four years from the Board of State and Community Corrections (BSCC) to review its discipline policies and practices in all major high school districts in the county.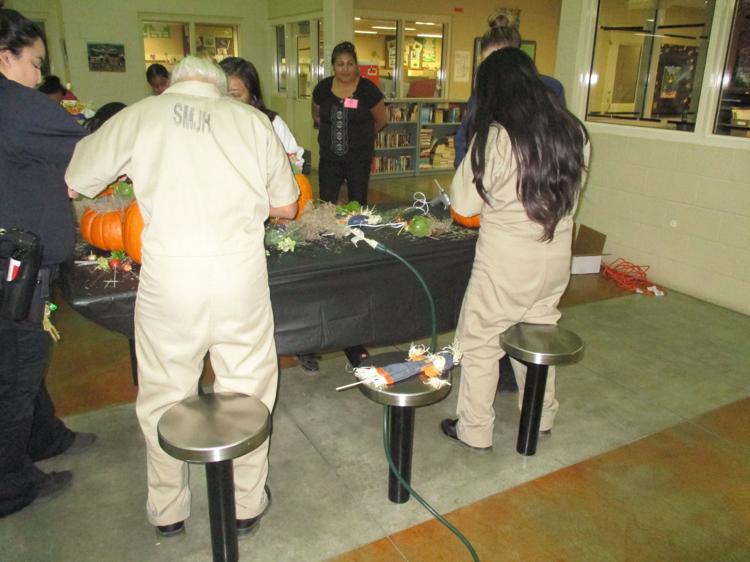 Additionally, the grant allows the county to study the potential correlation between kindergarten readiness, high school discipline reports and involvement in the juvenile justice system.
Regardless of a child's circumstances, the Probation Department won't hesitate to use Los Prietos Boys Camp or the juvenile hall when assessing whether a youth is a risk to public safety if diversion doesn't work.
"The point of our new methods, along with trying to keep up with the rest of the state in juvenile rehabilitation, is trying to see whether or not juvenile hall or court is really needed, and if we can deal with the issues in the community instead," said Karyn Milligan, research and special projects manager for the county's Probation Department.
"We're hoping to reduce caseloads, juvenile hall population and getting the right kids to Los Prietos which may include older, criminally-sophisticated kids that have to be out of the community."
Improvements, changes to come
The county has made a lot of progress in the last four months, Shean said, and has fewer teens housed in juvenile hall or Los Prietos than there were in August 2017 when Shean and her staff first culled their data.
This summer, there are 28 kids in juvenile hall and 29 enrolled at Los Prietos, Shean said. Those numbers vacillate as the Probation Department has tried implementing new practices to keep both numbers down.
Last year, a total of 597 kids were under the department's supervision, but that number has since been cut by over 100 to 498 kids, Shean said.
"It's an extreme improvement, saves money and helps probation staff divert their resources wherever else more may be needed."
Gina Kim covers crime and courts for Santa Maria Times. Follow her on Twitter @gina_k210
Get local news delivered to your inbox!
Subscribe to our Daily Headlines newsletter.