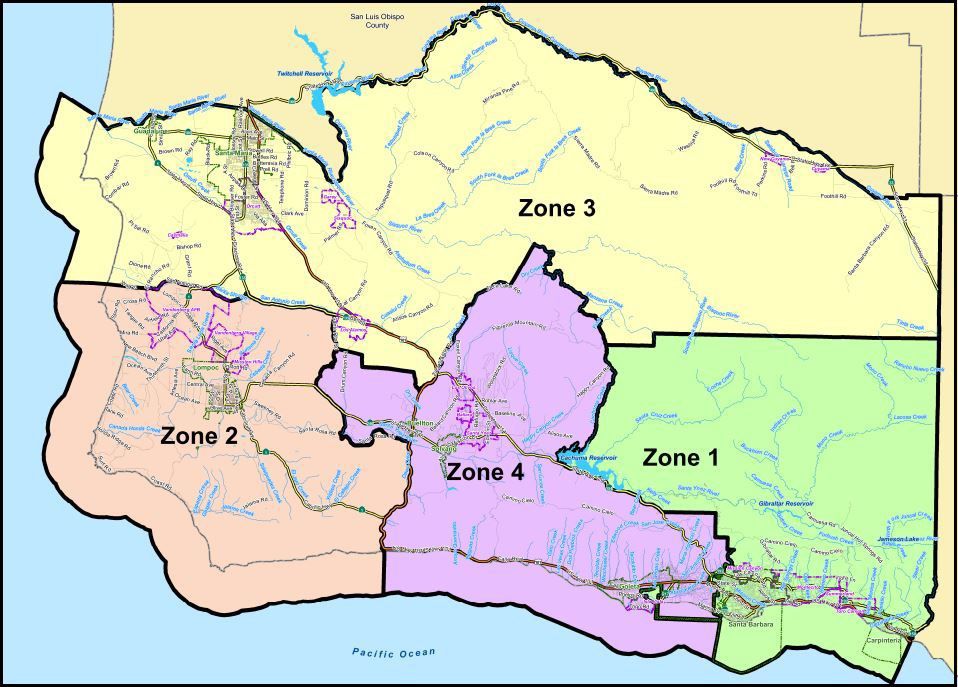 Three branch libraries won't have to cut hours or reduce programs after the Santa Barbara County Board of Supervisors agreed Tuesday to make up deficits in their operating budgets totaling $68,447 by using cannabis tax revenues.
By increasing the county's contribution, the previously approved budget for providing library services will rise to a little less than $3.86 million.
Orcutt branch will receive $12,261, Vandenberg Village will see an additional $11,229 and Montecito's additional allocation will be $44,956.
In the same unanimous vote, supervisors also approved an agreement with four cities to provide library services at the county branch locations within the four library zones for the current fiscal year.
One year after introducing Zip Books — a grant-funded program that brings books directly to community members' homes — the Santa Maria Public …
The agreement now will go to the Santa Maria, Lompoc, Goleta and Santa Barbara city councils for ratification, according to a County Community Services Department staff report.
If ratified by the cities, Santa Maria will receive almost $1.29 million to provide library services in Zone 3 communities of Cuyama, Guadalupe, Los Alamos and Orcutt as well as Santa Maria.
Lompoc will receive $499,650 to provide library services for Zone 2 residents in Vandenberg Village and Vandenberg Air Force Base in addition to Lompoc.
Goleta will be allocated $961,081 to provide services in the Zone 4 communities of Solvang, Buellton, Santa Ynez, Los Olivos, Gaviota, Isla Vista, Hope Ranch, eastern Goleta Valley and County Service Area 3 as well as Goleta.
However, Goleta will pick up an additional $200,000 from CSA 3 through Measure L, which was approved to fund library and other services in the Goleta area.
Santa Barbara's allocation of just over $1.10 million is for library services for the Zone 1 communities of Carpinteria and Montecito as well as Santa Barbara.
Meanwhile, the Library Ad Hoc Committee and county staff will continue searching for a mechanism to provide stable, sustainable funding for the County Library System so the branch libraries won't have to ask the board every year for money to keep the facilities operating.
According to the staff report, the committee expects to deliver its findings to supervisors early in 2020.
"What other options are there to bring back in 2020?" asked Board Chairman and 5th District Supervisor Steve Lavagnino.
Chief Financial Officer Ryder Bailey responded that the county currently has no mechanism for cost-of-living increases in library funding, so essentially the amount the county provides is going down each year.
First District Supervisor Das Williams, who serves on the ad hoc committee, added that Orcutt Branch Library's sustainability could be improved if a permanent location could be found, because rent makes up a major part of the branch's operating deficit.
Volunteers who helped smooth the transition of the Buellton Library into Zone 4, which is administered by the city of Goleta, were honored Jul…
Third District Supervisor Joan Hartmann agreed and noted the same is true for the Guadalupe Branch Library.
The county's contribution to library operations in each zone is based on the total population of that zone at a rate of $7.80 per capita, although during budget workshops in April the board used cannabis tax revenue to increase that amount to address deficits at all nine branch libraries.
"I don't think it's any secret I think the whole library system needs to be revamped," said 4th District Supervisor Peter Adam. "As discussed on previous occasions, lots of other things need funding."
But Second District Supervisor Gregg Hart, who moved to approve the extra funds and the services agreement, expressed optimism: "I think this is something to be encouraged by. There's a lot going on in the right direction."
Get local news delivered to your inbox!
Subscribe to our Daily Headlines newsletter.