The Santa Barbara County staff was given the go-ahead to address 10 of the most pressing capital projects Tuesday by the Board of Supervisors, although only nine are expected to be addressed as part of the 2019-20 budget.
Those nine represent $71.1 million of the $121.8 million cost of all 10 projects, and at present no specific method of financing has been identified, according to General Services Department staff.
But by the time the board begins budget workshops in April, the staff is expected to have a final list of projects that can be accomplished and potential methods of paying for them.
Supervisors confirmed the list with a 4-0 vote, with 4th District Supervisor Peter Adam absent, although Board Chairman and 5th District Supervisor Steve Lavagnino expressed reservations about a couple of projects.
The nine projects include two phases of renovations to the Main Jail at a cost of $24.6 million; the third phase of the public safety radio tower enhancements at $2.1 million; replacement of the Calle Real water system at $2 million; and replacement of the roof on the historical Santa Barbara County Courthouse for $3.1 million.
A renewable energy and energy-efficiency upgrade project at $4.8 million, infrastructure upgrades at Cachuma Lake Recreation Area for $12 million, construction of a new County Probation Department headquarters at $19.5 million and expansion of the Emergency Operations Center for $5 million round out the list of nine.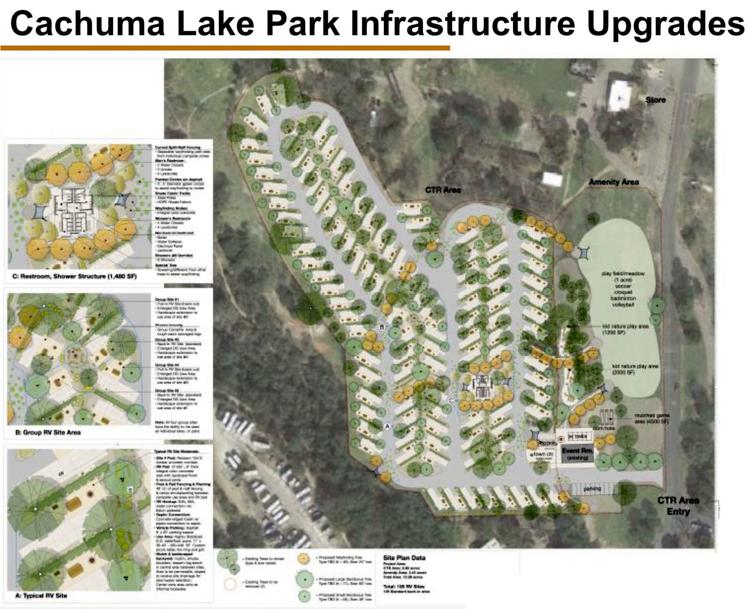 The 10th project — the public safety radio replacement project — will be brought back later with a separate, specific plan for financing its $48.7 million cost, said Janette Pell, director of the General Services Department.
"We're bringing this to you because we think all of these are necessary," County Executive Officer Mona Miyasato told the board, adding the staff is still trying to figure what funds are available for debt service.
"But I'm telling you as CEO, I think all of these should be funded, and we will work … towards that aim, looking at one-time revenues and what ongoing revenues are available."
Lavagnino wondered what financing all the projects would cost.
"So you're saying we could service $71 million in debt," he responded. "What's that for a General Fund hit every year?"
Miyasato said she doesn't believe the county can service the entire $71 million of debt, but noted the county has about $1.4 million in ongoing revenue set aside for some projects, and one-time funding may be available to address others.
First District Supervisor Das Williams noted that energy-efficiency projects could have financing as low as zero- to 1-percent interest.
Supervisors didn't question the upgrades at the Main Jail, consisting of buildings and infrastructure dating from the 1990s back to the 1960s that have deteriorated so badly they're costing the county an average of $260,000 a year in emergency repairs.
You have free articles remaining.
Upgrades to comply with the Americans with Disabilities Act are required, according to the General Services report, and other needs include issues with paths of travel and exiting, seismic retrofitting, modifications to the medical and mental health facilities, housing unit upgrades, additions for classroom and program space and general deferred maintenance work.
Lavagnino supported the project to renovate and reconfigure the Cachuma Lake RV Park, upgrading water, sewer and electric utilities to meet code and the demands of modern recreational vehicles.
"That's a great one for me because I think it pays for itself in the long run," he said, adding he wanted to make sure it didn't include another $40 million worth of work that includes upgrading the water treatment plant.
"I don't want to be doing anything the federal government should be doing," Lavagnino said.
But he wasn't happy about two others on the list.
"The only one I have heartburn with is the EOC expansion," Lavangino said. "I think that's kind of more of a want than a need."
But Matthew Pontes, assistant county executive officer, who spent days at the Emergency Operations Center during the Thomas fire and the 1/9 Debris Flow, said those manning the facility discovered its shortcomings during those events and came up with what's needed to solve those issues.
Some of the needs were separated areas where people manning the Call Center could have telephone conversations with other agencies and, most importantly, the public and places where people who had been on an 18-hour shift could get some sleep.
"When an emergency happens, that's when government gets judged — how do we respond to that," 3rd District Supervisor Joan Hartmann said. "We learned while things were unfolding. That was the biggest thing I observed."
Lavagnino was also concerned about the courthouse roof replacement, wondering why a courthouse support group wasn't paying for it.
Pell said the group's focus is more about conserving art and historical items than doing repairs.
Lavagnino also wanted to see a list of the "10 or 20 properties" the county owns but isn't using and how much they might be worth.
"Maybe it's time to liquidate some of the assets we're not using," he said.
Second District Supervisor Gregg Hart indicated he had no problem with the list of priorities.
"All these things seem incredibly worthy and important to do," he said. "None of these things are really optional. They're things we must do."