Cannabis cultivation would be banned on certain parcels zoned AG-1 under one possible ordinance amendment but would be allowed on those parcels with a conditional use permit under another possible amendment proposed Wednesday by the Santa Barbara County Planning Commission.
Support was not unanimous for either of the proposed amendments, but commissioners agreed by consensus to have the staff draft language for both alternatives that the board is expected to consider at the May 1 meeting.
Use this interactive map provided by the Santa Barbara County Planning Commission, to see what land parcels in the county are currently zoned.…
Commissioners then can choose to recommend the Board of Supervisors adopt one, the other or neither alternative, come up with yet another alternative or recommend no changes to the existing ordinance.
The commissioners were responding to the supervisors' request for their support or lack thereof for three options that would ban cannabis cultivation on smaller lands zoned AG-1 in the inland areas of the county.
Supervisors also wanted the commission's recommendation on an amendment that would expand the area where residents and property owners would have to be notified when an application is submitted for a cannabis operation.
Commissioners had no problem supporting an expansion of the current notification requirements for parcels located within 1,000 feet of the proposed site.
The amendment would require notification of all property owners within an existing rural developed neighborhood or a rural neighborhood or if a roadway to be used by the project passes through either an EDRN or RN.
More than 30 members of the public provided testimony at the hearing, but few addressed the specific issues the commission was considering, as noted by 1st District Commissioner C. Michael Cooney.
He said speakers who are in or support the cannabis industry wanted no changes to the ordinance, which should be allowed to become fully effective before judging its effectiveness.
Another group said they wanted the most restrictive option possible, Cooney said.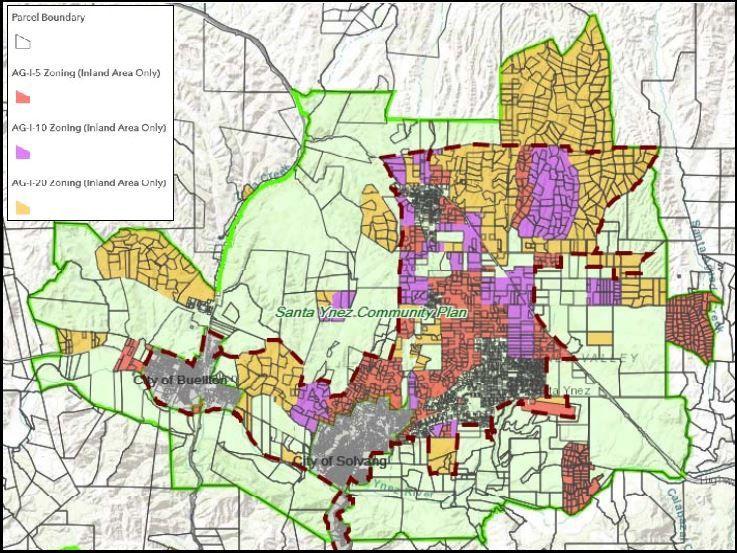 "But there was not a lot of guidance on what they want," he said. "It's 'how it affects me,' which is important."
In fact, some called for an outright ban on cannabis in the county, while some wanted more restrictions on operations on parcels of more than 100 acres zoned AG-2, and others wanted the whole ordinance scrapped and rewritten.
Other comments ranged from regulating hoop houses, potential future problems from hemp cultivation and private surveillance of cannabis growers to the economic impacts of the industry and interference by "big alcohol" interests.
Some asked for regulations that are already included in the existing ordinance.
Those who did address the options before the commission generally gave simple support to Option 1, the most restrictive option that would ban cannabis operations on all parcels zoned AG-1-5, AG-1-10 and AG-1-20.
That option would affect 1,923 parcels totaling 21,958 acres in the inland areas.
Option 2 would prohibit cannabis operations on parcels zoned AG-1-5 and AG-1-10, which would affect 1,274 parcels totaling 9,728 acres.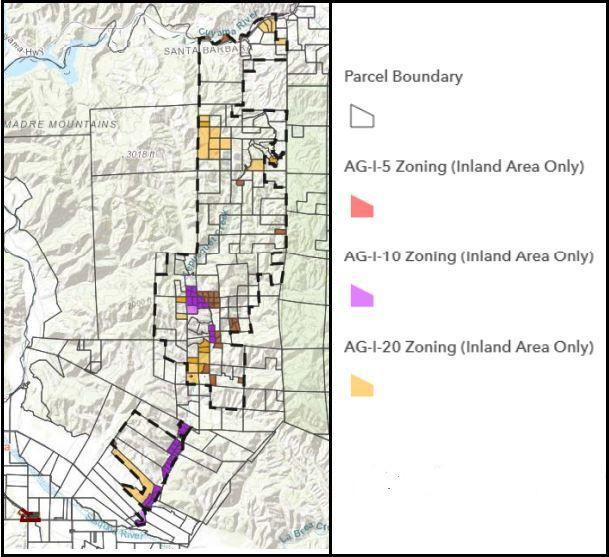 Option 3 would ban cannabis operations on all parcels zoned AG-1 less than 20 acres in size, an undetermined number of parcels and acres.
Fifth District Commissioner Daniel Blough didn't like applying a prohibition to a wide range of parcels.
"I just abhor a broad brush where we take away property rights," Blough said, adding he opposed taking away property rights "from 1,920 people because two might not do it right."
But 2nd District Commissioner Cecilia Brown pushed for Option 1, saying "the conflicts and incompatibility (between cannabis and residences) are just too great."
Fourth District Commissioner Larry Ferini said he didn't think the commission had enough data to make a recommendation.
"I think we're trying to solve a problem that's combined with other problems," he said. "I don't think we've been provided with enough information to affect 30,000 acres of property."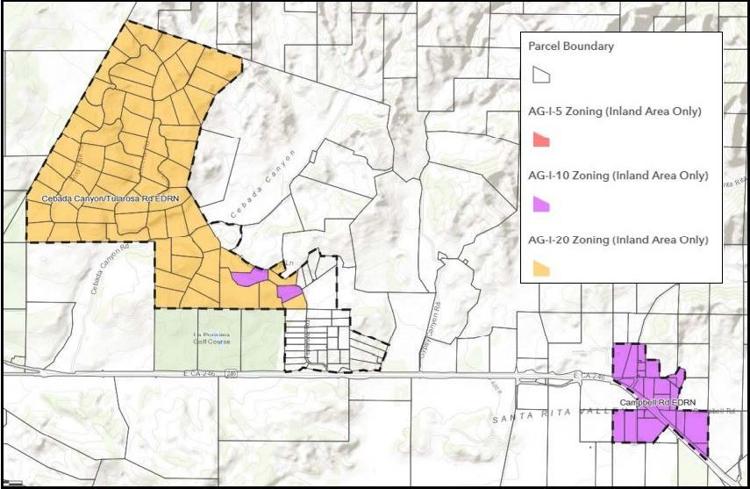 Both Blough and Cooney wanted the commission to evaluate and make decisions on permit applications and through conditional use permits, rather than allowing the Planning and Development Department staff approve projects through land use permits.
"I'm not a personal fan of expanding CUPs because they're so darned expensive," said Chairman and 3rd District Commissioner John Parke.
Ultimately, the commission asked the staff to prepare two alternative amendments, with one combining options 1 and 3.
The other alternative amendment would allow cannabis operations on lands zoned AG-1 only with a conditional use permit approved the commission, which could impose conditions based on the uses on adjacent parcels and the potential impacts of the proposed operation.
Get local news delivered to your inbox!
Subscribe to our Daily Headlines newsletter.