While water supplies have rebounded for much of California, Santa Barbara County is still suffering from the worst drought in recent history, officials said.
Following significant winter rains last year, Gov. Jerry Brown issued an executive order in April 2017 declaring the drought state of emergency over in most counties, including Santa Barbara County.
But saying the drought is over doesn't make it so, as Robert Lewin, director of the county's Office of Emergency Management, indicated in a recent report to the Board of Supervisors.
"Despite the governor ending the drought state of emergency, local drought conditions continue," Lewin said.
In fact, he said, Santa Barbara County remains in a Level 2, or "severe" drought, which on Oct. 9 led the Board of Supervisors to reaffirm the local drought state of emergency first declared in January 2014.
"It's important to recognize we have been and still are in a drought," Tom Fayram, deputy director of the County Public Works Department, in charge of its Water Resources Division, told the supervisors.
"In fact, I would characterize it as a record drought, with the trailing seven-year rainfall being at Gibraltar Reservoir, which is the indicator for the Santa Ynez River watershed," Fayram said. "(It) is a record drought for the last 100 years."
Rainfall across the county in the 2018 water year, which ended Aug. 31, was 9.77 inches, or 54 percent of normal, based on an average of the precipitation measured at 14 locations where the county collects data.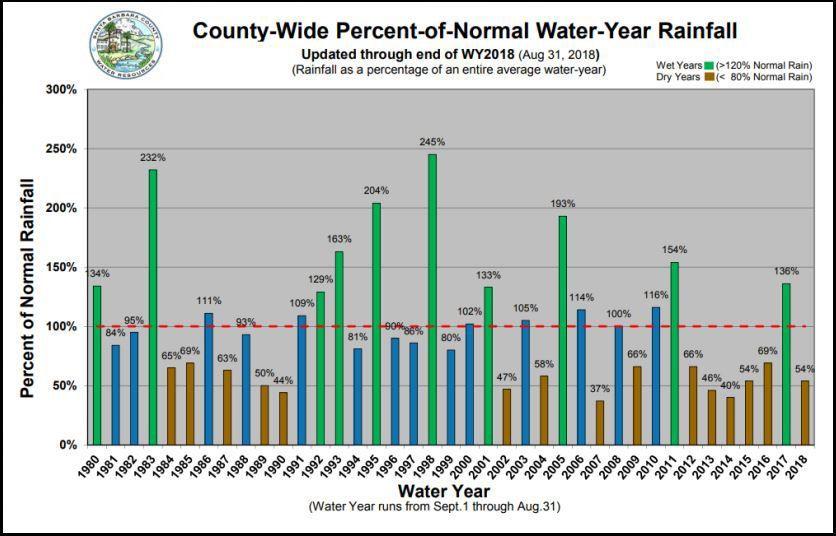 Cachuma Lake is currently holding 60,968 acre-feet — 31.5 percent of its 193,305-acre-foot capacity — which Lewin said is less than it held when supervisors first declared the drought state of emergency in 2014.
An acre-foot is about 326,000 gallons, or the amount of water generally needed to supply the annual needs of four to 10 people in an urban environment.
Twitchell Reservoir, which supplies water to Santa Maria by helping to recharge the groundwater, is virtually dry — so low the county lists its elevation and storage level as "not available."
Fortunately for Santa Maria residents, the main source of water is the Santa Maria Valley Groundwater Basin supplemented by state water.
But there are many "straws" sucking water from the large aquifer, including Nipomo and private wells where the amount pumped is not regulated nor, in some cases, even monitored.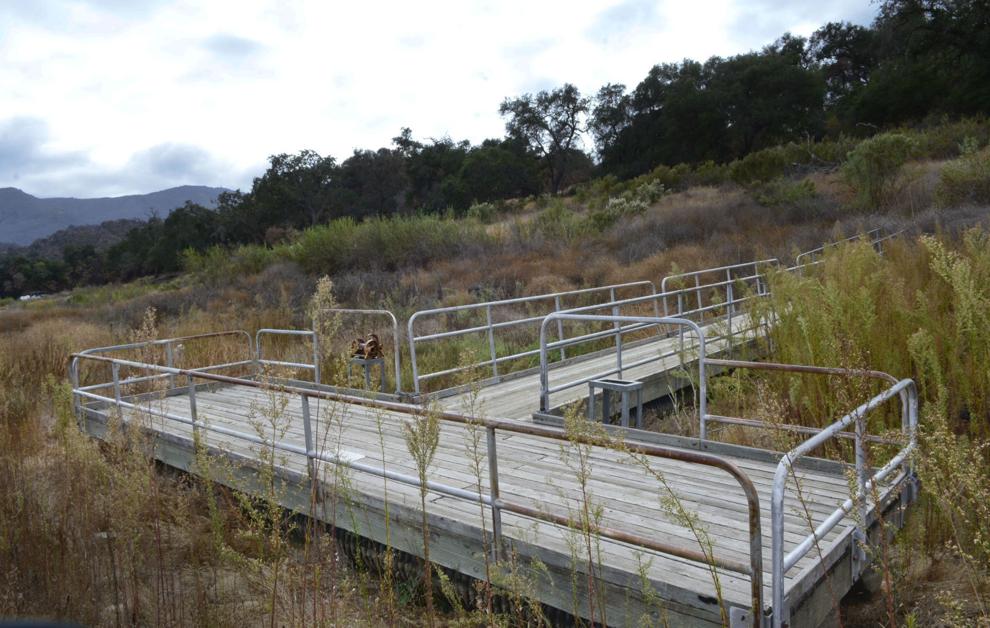 Fayram said Cachuma Lake's limited water supply likely will be fully allocated this year.
"As the board remembers, it was overallocated in 2016, and we don't need it to go to that state again," he said.
The county is very carefully calculating the water that's available in the lake, Fayram said, but it's "a moving target," as the lake level falls.
"As the water capacity in Lake Cachuma continues to drop, it will be necessary to once again place an emergency pumping barge in Lake Cachuma because the water level will fall below the level needed for the water to flow unassisted into Tecolote Tunnel and the South Coast distribution system," Lewin said.
Fayram said the pumping barge will likely be brought in by next summer.
Gibraltar Reservoir, which supplies the city of Santa Barbara and feeds water into the Santa Ynez River to Cachuma Lake, and Jameson Reservoir, which serves the Montecito Water District, have fared better in runoff from rainfall.
At a recent check, Gibraltar was holding 2,989 acre-feet, or 69.3 percent of its 4,314-acre-foot capacity, and Jameson was holding 2,921 acre-feet, or 56.8 percent of its 5,144-acre-foot capacity.
Fires affect quality, quantity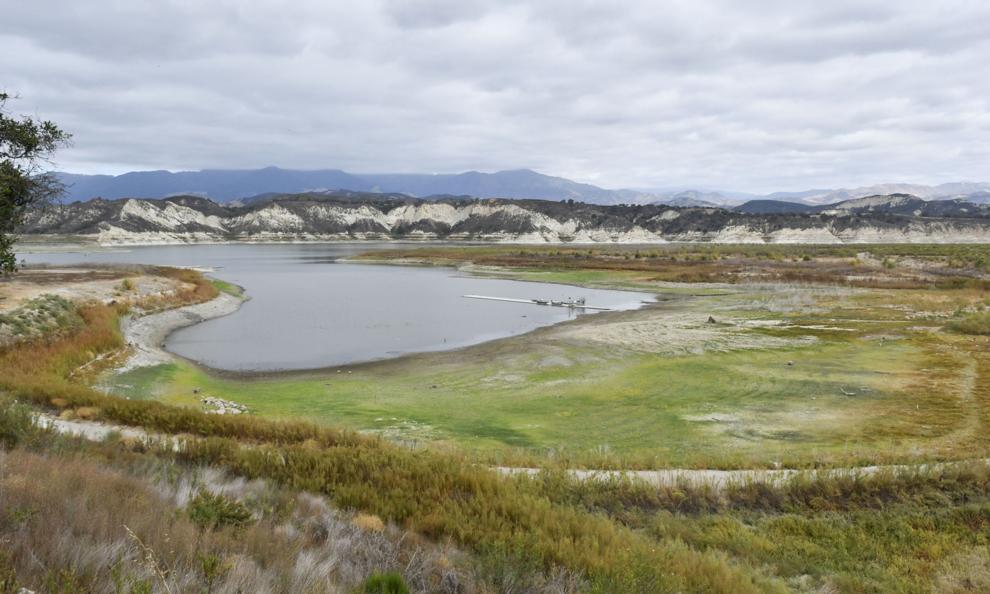 Gibraltar and Jameson reservoirs suffered more in water quality impacts than Cachuma Lake, however.
The Thomas fire affected Gibraltar, but the fire and 1/9 Debris Flow had a much greater impact on Jameson, Fayram said.
"Water quality from the debris flow rendered (the water) unusable for a considerable period of time," he said. "Eventually, it will be usable.
"The Whittier fire area has recovered much better," he said, but noted "there is a potential risk in case of a downpour."
In addition to the 2017 Whittier and Thomas fires, the Rey fire in 2016 also had an impact on reservoirs' storage capacity, Lewin said.
Native American tribes across the United States sent their best drummers, musicians, singers…
"All three reservoirs are impacted with increased sedimentation from the burn areas," Lewin said in his report. "This impact will continue depending on the amount and the intensity of rainfall over the next two to three year's winter storms. This will impact their overall water storage capacity.
"In addition, water quality will be reduced with the increased sedimentation and carbon," he added.
Water purveyors were advised of those impacts following an emergency meeting of the Drought Action Work Group in mid-December 2017, and the group was scheduled to meet again recently.
Lewin said Santa Barbara's desalination facility is still producing water for the city.
The facility has the capacity to produce nearly 3 million gallons, or 3,125 acre-feet, of water per day, or about 30 percent of demand.
Re-ratifying the drought emergency declaration will keep Santa Barbara County in line for assistance.
Halloween critters abound
According to a fiscal analysis provided by Lewin, the county has spent $296,657 on drought-related activities since the emergency was declared in 2014.
Of that amount, $122,883 came from the General Fund, $85,000 was provided by the state and $88,774 came from other sources.
Most of the costs were incurred by the County Office of Emergency Management and the Public Works Department's Flood Control and Water Agency divisions, with the Agricultural Commissioner's Office and Parks Department also reporting costs.
County officials said all that points to a continued need for residents and businesses to conserve water, which they have been doing better than most of the rest of the state.
Although 47 percent of the California is still at some level of drought, residents as a whole have slacked off on conservation efforts over the last 18 months, according to the State Water Resources Control Board.
According to board data, the state's overall water use has returned to predrought levels since the governor declared the drought at an end.