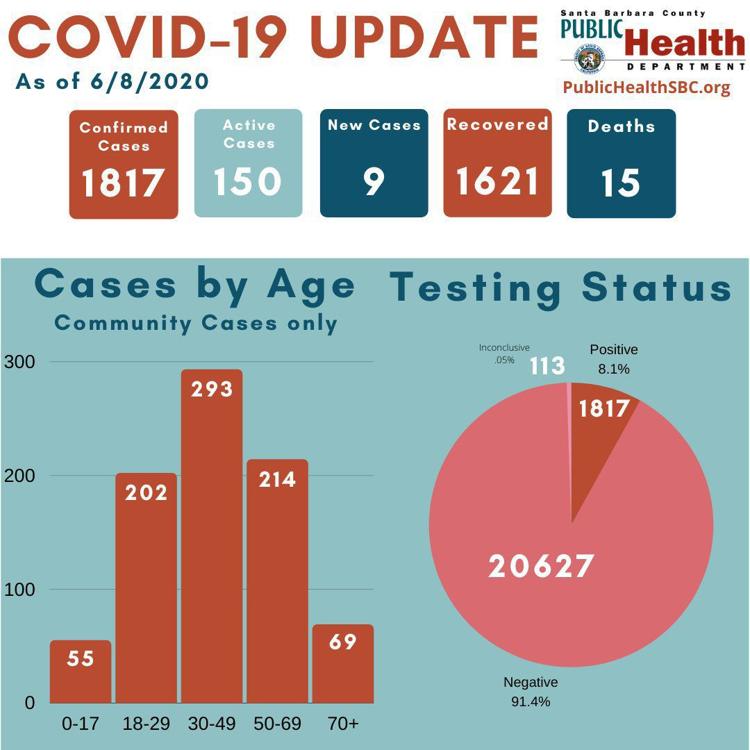 Fitness centers, bars, wineries, and campgrounds could reopen this week in Santa Barbara County after Gov. Gavin Newsom approved certain counties to move into Stage 3.
According to Public Health Officer Dr. Henning Ansorg, the department will study recent metrics including case numbers, hospitalizations and preparation at care facilities to decide whether the county is ready to open the sectors by Friday. 
However, Ansorg said he continues to be wary of reopening too many facilities too quickly, noting the rise in the rate of COVID-19 hospitalizations in the county after the reopening of barbershops and places of worship on Memorial Day weekend.
"We understand that until we have a medication or vaccine against this virus, there will be new infections," Ansorg said. 
Amid decisions regarding reopening, Public Health officials will also be working this week to control recent COVID-19 outbreaks at skilled nursing facilities in the county. 
Skilled nursing facilities 
After announcing 50 additional COVID-19 cases on Friday and another nine on Monday, the Public Health Department clarified that 11 of the cases are part of outbreaks at two separate nursing facilities.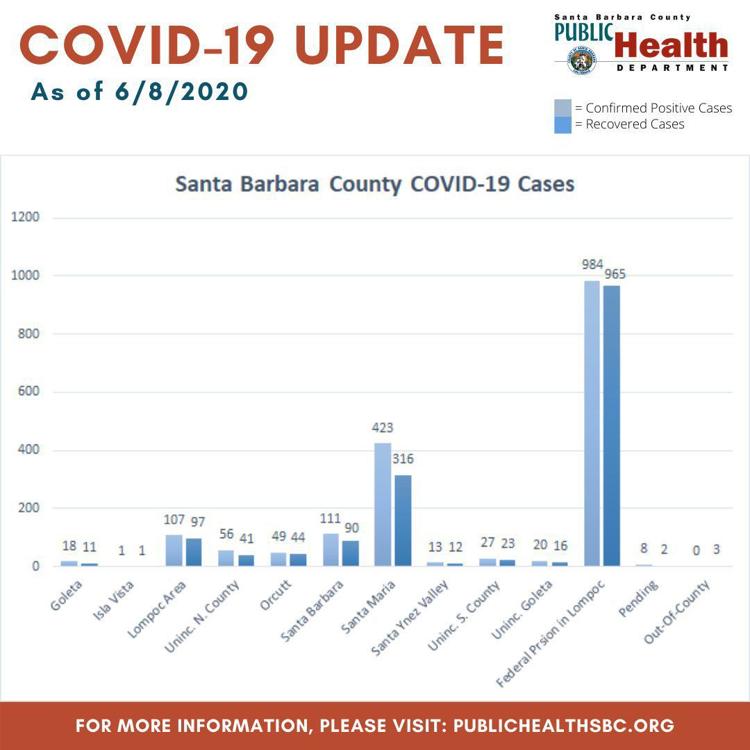 According to Public Health Director Van Do-Reynoso, an outbreak is being classified as one or more cases in a communal living facility. 
As of noon Monday, five staff members and five residents had been confirmed for the virus at Country Oaks Care Center in Santa Maria, and one case had been confirmed at Valle Verde in Santa Barbara, Do-Reynoso said. 
Officials did not clarify whether any of the residents or staff members were hospitalized. 
The outbreak was discovered after the Public Health Department began requiring all 14 skilled nursing facilities in the county to perform baseline COVID-19 testing last week, Do-Reynoso said. 
While outbreaks at skilled nursing facilities do not prevent counties from moving forward with reopening, the California Department of Public Health outlines that counties with variance must have a 14-day supply of personal protective equipment and the ability to isolate cases at the facilities. 
COVID-19 numbers
Of the nine additional cases confirmed Monday, four are in Santa Maria, one is in the unincorporated North County area, two are in Santa Barbara and one is in Goleta, according to county data. 
The total number of cases among county residents is now 833, with 656 recovered. 
In Santa Maria, a total of 423 cases have been confirmed with 316 of the cases recovered. 
Santa Maria also experienced a sudden increase of 45 cases on Friday, part of a significant rise in cases in the city that public health officials have been unable to explain.
For the past few weeks officials have been working on an in-depth study of Santa Maria's lead in cases, which Do-Reynoso said will be released soon. 
"We are putting the final touches on our in-depth profile of the cases in Santa Maria," Do-Reynoso said Monday. 
At the federal penitentiary in Lompoc, only 19 of the 984 total confirmed cases remain active. 
San Luis Obispo County confirmed eight additional COVID-19 cases over the weekend for a total of 299, with 268 recovered. 
Laura Place covers city government for the Santa Maria Times.
Concerned about COVID-19?
Sign up now to get the most recent coronavirus headlines and other important local and national news sent to your email inbox daily.