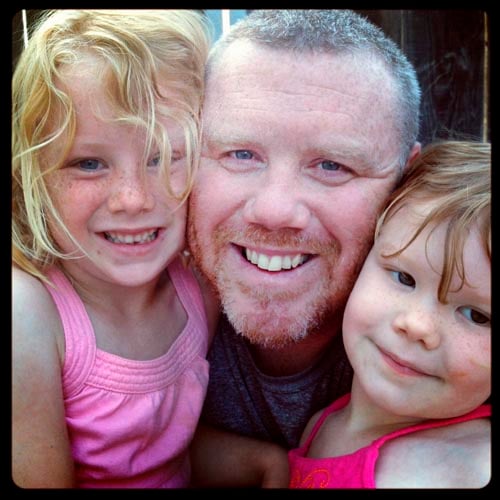 A nation marked a headline-making basketball player's death, but a community mourned a coach with a heart as big as his smile.
Neil Reed — a teacher and basketball and golf coach at Pioneer Valley High School — died July 26 as a result of heart complications. He was 36.
Reed's death rocked the high school, where a prayer vigil for his recovery quickly became a packed memorial.
News spread through his hometown of Nipomo, where members rallied to show support for wife Kelly and young daughters Marley and Presley.
"He was the most amazing man I know," Kelly said.
Eight years ago, the pair were married on a golf course.
Last Sunday, Kelly said her goodbye on another golf course.
She was joined at Blacklake Golf Resort by hundreds who gathered to honor the man one student called a mentor, teacher, coach, friend and father figure.
"Coach Reed made me the man I am today," Pioneer Valley graduate Steven Martinez told the crowd, tears streaming down his face. "He told me I can do anything I put my mind to."
Indeed, Martinez is reaching his dream of becoming a professional golf teacher after Neil helped him into a program and job at Blacklake.
Martinez was halfway through a golf tournament when he heard Neil had been admitted to Marian Regional Medical Center in critical condition.
Martinez finished play and rushed to the intensive care unit.
There, he saw his former coach without a smile for the very first time.
"His smile was the greatest smile you could ever imagine, and he could always make you laugh no matter what, if you were having a good or bad day," Martinez said.
Near the front of the memorial service, a photo captured during Senior Night at Pioneer Valley pictured a beaming Neil bearing an armful of flowers.
Martinez was being honored as a football player, and organizers told him no family members would be on the field awaiting his arrival.
As Martinez rounded the corner, he saw Neil holding his jersey, bearing a bouquet and wearing a huge grin.
"Whatever I do, I will see his smile," Martinez promised the crowd.
While a Central Coast community mourned a hometown hero, the nation paid tribute to a basketball star.
Neil's uncle, Dan Reed, recalled watching a 6-year-old Neil roll down the street on his skateboard, dribbling a basketball. He told the crowd Neil was the captain of every team and also the best player.
After graduating from East Jefferson High School in Metairie, La., Neil was named to the McDonald's All-American High School Basketball Team in 1994.
Regardless of his accomplishments, Neil remained humble, Dan said: "Neil was never overly impressed by what he had done. He didn't want to be defined by his achievements but by who he was."
Neil went on to play for coach Bob Knight at Indiana University. In 1997, Neil alleged the coach — known for his unmatched intensity and demanding attitude — choked him at a practice.
Some backed Neil's assertion; others disputed it. A videotape of the incident that turned up in 2000 and a later incident involving a student led to Knight's dismissal.
Neil transferred to Southern Mississippi as an Academic All-American and played there for a season.
News of Neil's death made national headlines, with sports commentators, columnists and coaches sharing their stories about him.
His coach at Southern Mississippi, James Green, called Neil a winner who knew what it took to win ball games.
"You knew he was going to go out and give his best," Green said.
Years later, Neil inspired his own students to give it their best shot, win or lose.
Daphna Leichner played golf for Neil on a team he affectionately dubbed the "Bad News Golf Team."
"We lost all the time, but he managed to make losing fun," Leichner said.
His message to that team: Have fun and give it your best.
Days before Neil's death, Leichner sent him a text seeking advice about whether to pursue a major in physical education. He responded it was the most fulfilling and rewarding job imaginable.
Neil died before Leichner could tell her former coach and teacher she would follow in his footsteps.
"He will watch from heaven as I become a P.E. teacher," Leichner said.
Both his uncle and his colleague coach Tony Ramos underscored lessons Neil taught his students about character, humility and humor.
"He touched hundreds and hundreds of lives in a deep way," Dan said.
Ramos added, "We all loved Neil."
Besides a beloved coach, Neil was remembered as a doting dad.
When Marley was born six years ago, she spent her first days in the neonatal intensive care unit.
Kelly recalled, "He didn't leave her side, and he didn't leave my side. Ever."
She told of Neil's affection toward Marley and Presley, 4, shared in hugs and kisses and times spent watching "Dora the Explorer" together.
Kelly also relayed how a special family trip and extraordinary round of golf marked his last days:
Exactly a week before the memorial, Neil spent a day at Disneyland with his girls, a trip taken on a whim.
A day before he went into the hospital, Neil played one of his best games of golf.
By way of a final salute to Neil at the memorial, Kelly and his golfing buddies teed off at Blacklake, driving one home for Neil.
His aunt Kathy Reed concluded, "God brought love, fullness and joy to Neil. Then, he said, 'Come on home, my son.'"
Get local news delivered to your inbox!
Subscribe to our Daily Headlines newsletter.