At this year's Central Coast AirFest, pilot and performer Eric Tucker will be elevating the act he premiered for the first time in 2018. It involves a terrified flyer, an ambulance and a few scares for the audience, but it ultimately ends in laughter.
While a comedic act is somewhat unusual for an airshow, Tucker believes he has found his calling in the comedic aerobatic performance, in which he plays a confused flyer who takes off in a plane without knowing how to fly.
The audience hears back-and-forth banter between the announcer and Tucker as he feigns terror, the plane appearing to lose more and more control as he flies through the air.
"We do end up scaring some people a little bit, but everyone catches on at the end," Tucker said, laughing.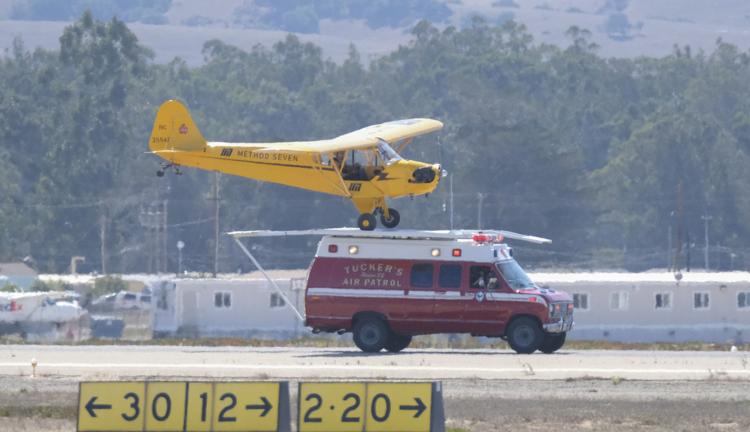 At the end of his act, Tucker completes a feigned last-ditch landing on top of a renovated ambulance mid-drive, driven by one of his close friends. This ambulance driver position in his show is coveted among many of his friends, he said.
"[The act] is a counterpoint to all the serious stuff," Tucker said. "It's sort of lively, has more story line, a little more plot to it than just somebody showing off."
Serious stuff, he explained, refers to the hardcore, rock-and-roll style flying where intensity and power reign supreme. In comparison, Tucker's comedy performance is more humorous, and his two other acts involve graceful, dramatic drops and arches that celebrate the free spirit of old-school flying.
Tucker is a true romantic when it comes to airplanes. AirFest, he said, embodies the spirit of "the golden age of aviation" in the 20s and 30s when similar comedy acts were first taking place. It's also the period in which Tucker's plane, a J3 Cub, was being built and used as a training plane.
You have free articles remaining.
"That was an age when flying was this really beautiful experience. Now people experience aviation filtered through the TSA, where they feel more like cattle moving through the system than it being a beautiful, inspiring adventure," Tucker said. "To me that's more what flying is all about, this beautiful adventure, where airplanes are these jewels …. These beautiful engineering feats."
Tucker's other two acts combine his flying chops, built up since he was young, with a focus on graceful and powerful aerobatics. One act is a dead stick aerobatics performance, in which he climbs a mile high in the air before turning off the engine completely, allowing the Cub to glide and roll through the air before completing a graceful landing. For his last act, he takes off from his car-top landing on the ambulance and finishes out with 30s-style adventurous flying.
Tucker grew up in an aviation family that fostered a passion for flying, mainly under the wing of his father, famed formation flyer Sean Tucker, who was inducted into the Aviation Hall of Fame in 2008. Tucker would travel with his father to airshows when he was young, and after earning a degree in aerospace engineering from California Polytechnic University, went on to work at his father's airshow program as a manager.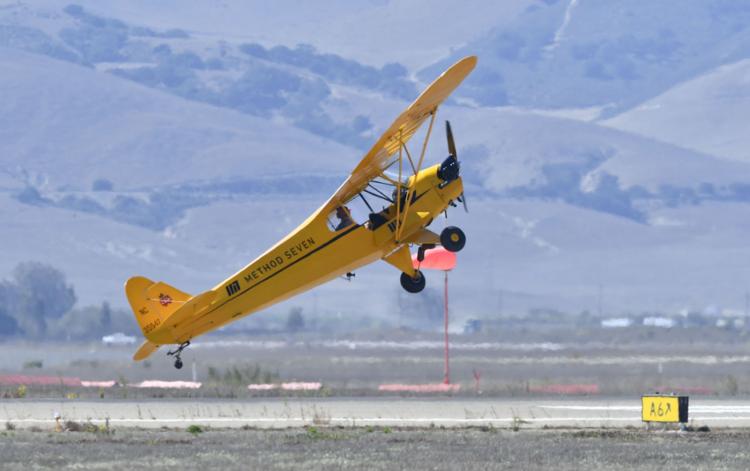 Since then, Tucker has begun flying around the world as a corporate pilot, doing shows such as AirFest on the side. He is also the father of two little boys, both of whom are obsessed with airplanes themselves, he said.
"I really cherished traveling around with my dad to all the airshows and all the aviation experiences that they created," Tucker said. "Since my kids are super into flying and airplanes, especially the older one, all he wants to do is design airplanes, build airplanes, draw airplanes … I decided 'alright, I'll get back into airshows.'"
Tucker described his excitement about performing at AirFest again and being back on the Central Coast, where he spent much of his time in college.
"It is hands down one of the best events ever," Tucker said of AirFest. "It's a lovely community event kind of thing."