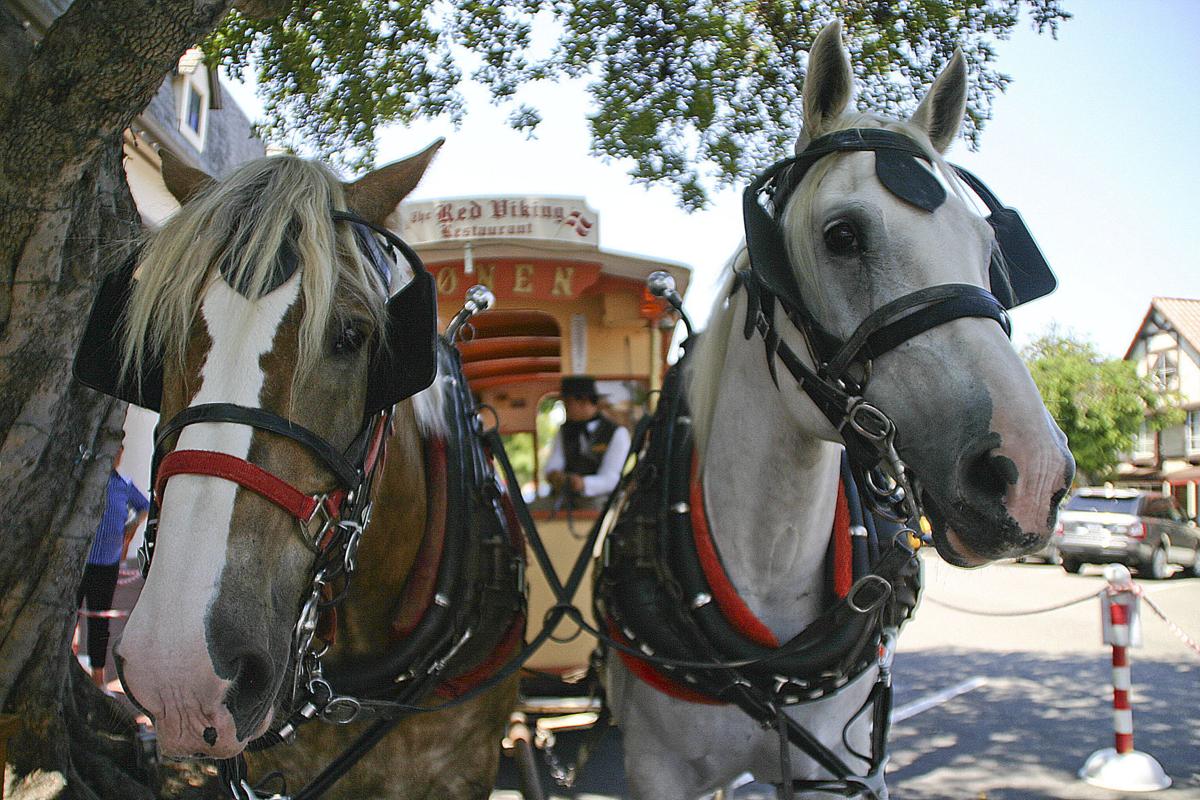 People for the Ethical Treatment of Animals (PETA) has submitted a formal appeal to the Solvang City Council on behalf of animal activist and longtime PETA supporter Hazel Mortensen of Solvang, who died on Sept. 26 at age 85.
In a letter addressed to Mayor Ryan Toussaint, PETA representative Melanie Johnson asked that Mortensen's memory be honored by banning the popular horse-drawn carriages and trolley rides in Solvang, which she said broke Mortensen's heart.
"Your council has heard from residents who don't want their city to be associated with this cruelty as well as from tourists across the country who will spend their money elsewhere," Johnson wrote. "When I visited the Danish-style town last March, my heart sank when I saw horses forced to pull tourist-filled trollies for hours on end with no shade from the sun."
Mortensen, a frequent attendee at city council meetings, more recently contested renewing the Solvang Trolley & Carriage Company's business license at the July 14 council meeting, explaining "that horses are not meant to work on blacktop and inhale car fumes for hours, especially during hot summer days."
"Despite her own health challenges, she always found a way to give back to the community, particularly to the animals who do not have a voice that humans understand." 
She also launched an online "Ban the Horse Drawn trolley in Solvang" petition which has since gathered nearly 700 signatures.
In a final 3-1 vote, the city granted the trolley business an extended five-year carriage license in place of the expired 1-year license due to overwhelming support from local residents who spoke out in favor of keeping the tradition alive and attested to the responsible treatment of the animals by the trolley owners.
Johnson explained in her letter that after the city council's decision, Mortensen was not deterred and spent her final months standing up for the rights of all animals.
"As the city council acknowledges her for her dedicated work in making Solvang a better place, we hope you'll honor her by banning horse-drawn trolleys and carriages in the city—something she fought for up until her passing," Johnson wrote.
Solvang renews the business license for Solvang Trolley & Carriage Co. in a contentious meeting.
In a response to Johnson's letter, acting Solvang city manager Xenia Bradford said she could not speak on behalf of the city council or provide a formal response on the issue.
"Hazel Mortensen was a civically engaged lady who was never afraid to speak her mind and I am glad that the city council has recognized her involvement in our community," Bradford said.
There is no set date to further address the issue at this time, however Bradford said the city council will be hearing proposed amendments to the horse drawn conveyance ordinance in the near future.
Hazel Mortensen can't seem to shake the thought of a child having to say goodbye to a beloved pet because their folks can't cover food costs during the COVID-19 pandemic.
Lisa André covers local news and lifestyles for Santa Ynez Valley News. 
Get local news delivered to your inbox!
Subscribe to our Daily Headlines newsletter.