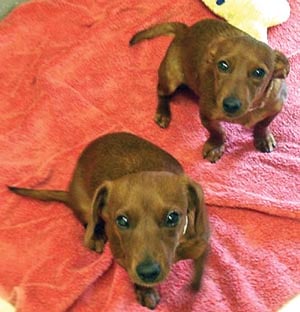 Amy and Ali are two Dachshund mix females about 5 months old who weigh about 10 lbs. each. They are adorable and very affectionate pups who are asking Santa for a new loving home for the holidays. Amy and Ali are both spayed and fully vaccinated.  All of the animals available for adoption at the SMVHS are spayed or neutered, up to date on their
You have free articles remaining.
vaccinations and have been treated with flea prevention medication, if applicable. The Humane Society Adoption
Facility, located at 751 Black Road, is open to the public
Monday through Saturday from 10 a.m. to 4 p.m., and noon to 6 p.m. on Thursdays. For more information check out Web site at www.smvhs.org or call our offices at (805) 349-3435.