Heroism, public service and hard work were celebrated Tuesday during the Santa Maria Police Department's annual awards ceremony.
The event — which was sponsored by the Santa Maria Valley Chamber of Commerce and held at the Radisson Hotel — was attended by scores of police officers, local dignitaries and community members.
Heroism, public service and hard work were celebrated Tuesday during the Santa Maria Police Department's annual awards ceremony. The event — w…
Santa Maria Police officers and support staff recognized during the event were nominated for the awards by their colleagues and the employee recognition committee reviewed the nominations, Police Chief Phil Hansen said. The awards honored exceptional police work and public service during the 2018 calendar year.
During Tuesday's ceremony, Hansen expressed his appreciation for the members of the department.
"It's truly a blessing to serve as leader of this department, to serve as your chief of police," he said. "I really feel blessed to work with the people of this department. I absolutely love them. I don't particularly care to get up in the morning, but when I get to work I'm a pretty happy guy."
The Officer of the Year Award for 2018 was Seann Woessner, who joined the Santa Maria Police Department a little over a year ago after spending 11 years with the Bakersfield Police Department.
"His work ethic is his most valuable asset," Hansen said. "He's an officer who clearly loves his job and has fun doing it. In his short tenure, he has represented the Santa Maria Police Department in an exceptional manner."
In addition to being named officer of the year, Woessner was recognized as the officer of the quarter for the first quarter of 2018.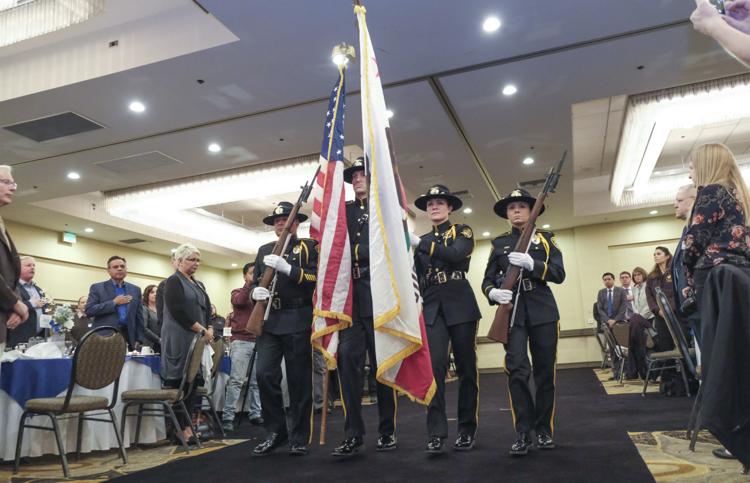 On Tuesday, Hansen spoke about Woessner's work to help prosecute a case involving illegal marijuana sales.
"On Jan. 26, 2018, Seann conducted a traffic stop, which resulted in an excellent drug sales and transportation case," Hansen said. "He determined the driver was driving while unlicensed and eventually conducted an inventory search of the vehicle."
During the vehicle search, Woessner found 18 bags, each containing 3.5 grams of marijuana, along with 6.6 grams of of concentrated cannabis and two digital scales.
Woessner's report about the traffic stop and vehicle search resulted in a successful prosecution, Hansen said.
"I can tell you I'm very proud to be a part of this," Woessner said. "Working with the men and women in Santa Maria makes it easy to do a job that I do love. I'm very proud to be a part of the positive growth and change that's going on."
The Dispatcher of the Year Award went to Laura Brannon, a senior dispatcher with the Police Department.
"She is always willing to help when needed," Hansen said. "Although her workload is complicated and time-consuming, she consistently produces positive results and displays an upbeat attitude. She represents our department as a true professional and is truly deserving of this award."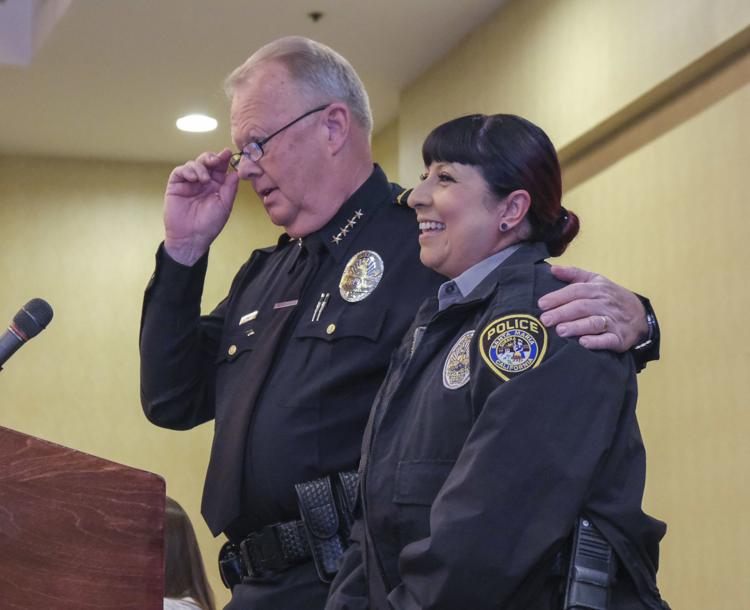 Brannon is one of two dispatchers tasked with preparing for the launch of the department's new computer-aided dispatching project, which is slated to go live this summer.
"This is a crucial project for the Police Department, and her contributions are vital for its successful implementation," Hansen said.
In her remarks, Brannon thanked the department for honoring her work.
"Speaking in front of groups is not my thing — give me [a reporting party] or police officer one on one and I'm OK with that," Brannon said. "I just want to say thank you for recognizing me for a job that I like to do."
The Distinguished Team Award was given to the Community Services Unit, which is composed of beat coordinators, school resource officers and police service technicians.
"They have exemplified that they come together as a unit," Hansen said. "They have three very different jobs, but they come together and they assist each other. They excel individually and collectively."
During 2018, the members of the unit took the lead in organizing and assisting National Night Out, the Halloween Trunk-or-Treat event and operations to target those that provide alcohol to minors.
Beat Coordinator Eligio Lara credited the team's success to the commitment of its members.
"If you saw the personnel, it's the easiest award to obtain," Lara said. "They are the best team I could have asked for — anytime I ask them to do something, they're right there."
Others honored on Tuesday included Officer Andrew Peterson and Police Services Technician Alejandra Cervantes with the Officer of the Quarter Award; Sgt. Nathan Totorica with the Law Enforcement Torch Run-Guardian of the Flame Award; Jane Teh with the Support Employee of the Year Award; Sgt. Nathan Totorica and retired Cpl. Robert Prescott with the Lifesaving Award.
In addition, Officers Mathew Silver, Anthony Vargas, Monique Sandoval and Kenneth Mize were given certificates of commendation.