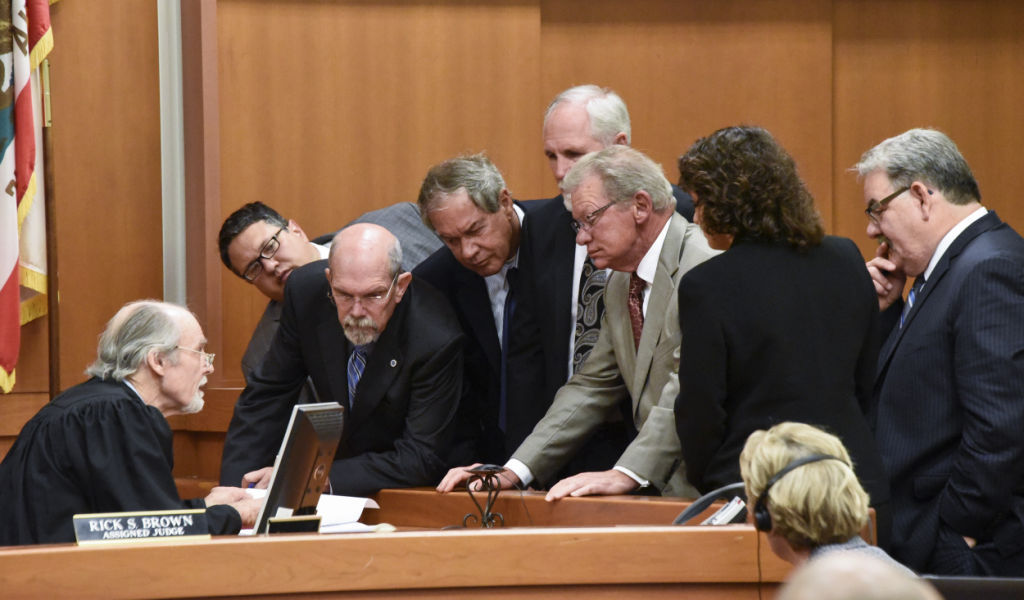 A sting operation headed by the Santa Maria Police Department which resulted in the arrest of 16 alleged MS-13 gang members earlier this month will be the largest judicial proceeding in Santa Barbara County since the 2015 U-Haul case, according to officials.
Darrel Parker, executive director for Santa Barbara County Superior Court, said that the District Attorney's Office has never had so many defendants in a case charged at one time, and that there may possibly be even more defendants that could proceed to trial. 
Each defendant is charged with multiple felony counts of criminal gang activity and conspiracy to commit murder. If convicted, each defendant faces a sentence of 25 years to life. 
Operation Matador was a collaborative, multi-agency effort that involved search warrants being served and arrests being made simultaneously in Santa Maria, Bakersfield and other cities. Forty others who have been active or committed crimes in the Santa Maria area were also detained. 
All 16 defendants are linked to the international gang MS-13, and will appear on Friday for arraignment in Santa Maria Superior Court. All are from El Salvador or Honduras, according to Police Chief Ralph Martin, although at the time of the arrests he would not say whether they were documented or undocumented. 
Jose Bonilla Mejia, 23, Olvin Serrano, 30, Enedina Tomas, 33, Luis Mejia Orellana, 22, Juan Carlos Lozano Membreno, 27, Jose Ricardo Saravia Lainez, 24, Jose Balmore Lainez Saravia, 31, Marcos Manuel Sanchez Torres, 21, Juan Carlos Serrano Urbina, 27, Jose Marcisco Escobar Hernandez, 25, Jose Juan Torres Sanchez, 27, and Tranquilino Robles Morales, 28, are charged with felony counts of conspiracy to commit first degree murder involving six people.
The intended victims linked to the charges were identified only as "John Doe Nos. 1-6."
The defendants allegedly sent photos over Facebook, provided information regarding John Doe No. 1 and No. 2's schedules, conducted surveillance of both victims and staked out both homes while armed with a gun, according to the felony complaint issued by the Santa Barbara County District Attorney's Office. The defendants also allegedly purchased firearms and drove to Oxnard and Bakersfield from Santa Maria while armed. 
All defendants are also charged with six counts of special allegations of criminal street gang activity with the specific intent to promote, further and assist in criminal conduct by members of MS-13, and criminal street gang conspiracy. 
Jose Mejia Orellano, 23, is charged with four counts of conspiracy to commit first degree murder of victims John Doe No. 3, No. 4, No. 5, No. 6 and conspiracy to commit street terrorism. 
Rafael Castro Lainez, 30, and Ezequiel Escalante-Rivera, 31, are charged with conspiracy to commit active participation in a criminal street gang and conspiracy to commit street terrorism. 
Mayra Ortega, 24, is charged with possession of a concealed firearm on a person with criminal street gang penalty provision.
Fourteen out of the 16 arrested are now in Santa Barbara County Jail. Thirteen defendants have been formally flagged by the Immigration Customs and Enforcement (ICE) agency in Santa Maria, which means that upon release, ICE will take custody of the defendants, all of whom face the possibility of deportation. One defendant is currently detained in Oxnard and another is awaiting extradition in Ohio. 
Jose Bonilla-Mejia, who is in custody at Summit County Jail in Ohio, is fighting extradition to California. If Bonilla-Mejia continues to fight extradition, the Santa Maria Police Department will secure what is commonly referred to as a "governor's warrant," which the governor of Ohio will sign and Bonilla-Mejia will be extradited back, according to Chief Martin.
Bonilla-Mejia has been formally flagged by ICE in Ohio to be taken into custody upon release. 
The 14 defendants are due in court Friday morning at the Santa Maria Superior Court for arraignment at 8:30 a.m. 
Gina Kim covers crime and courts for Santa Maria Times. Follow her on Twitter @gina_k210
Get local news delivered to your inbox!
Subscribe to our Daily Headlines newsletter.