The driver of a produce truck and trailer hauling celery died following a three-car collision Friday on Highway 1, west of Orcutt near Solomon Road, according to the California Highway Patrol.
Just before noon, the driver of the flatbed truck was heading northbound on Highway 1 at an undetermined rate of speed when a gray Toyota sedan pulling out of the Rancho Maria Golf Course made a left-hand turn in front of the truck, causing the truck driver to swerve and jackknife the truck and trailer, spilling crates of celery along the roadway, California Highway Patrol Officer David Medina said.
A white Volkswagen Jetta heading southbound was unable to avoid the crash and flipped over in a nearby ditch, sustaining damage to the front passenger side.
Both the driver of the Toyota and two occupants in the Jetta were uninjured, Medina said.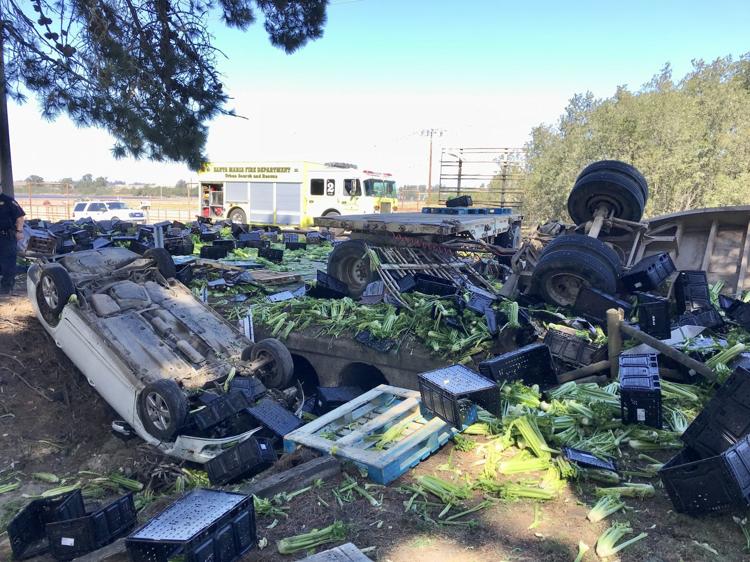 The truck sustained catastrophic front-end damage and was turned over on its side.
Crews from the Santa Barbara County Fire Department deployed a hydraulic cutting tool to extricate the driver, who was pronounced dead at the scene.
You have free articles remaining.
He is a Santa Maria resident, Medina said, but his identity was not released pending notification of next of kin. 
The truck was owned by Santa Maria-based Rancho Nuevo Harvesting Co., whose operations manager Lino Esparza was on scene cooperating with the CHP.
"With the cleanup and the family, it's going to be tough," Esparza said.
Lanes in both directions of the road remained blocked late Friday afternoon as emergency crews cleared the wreckage and golfers continued their games nearby. 
Responding units also included the Santa Maria Fire Department, paramedics with American Medical Response, the Santa Barbara County Sheriff's Office and Caltrans.
The crash is under investigation.