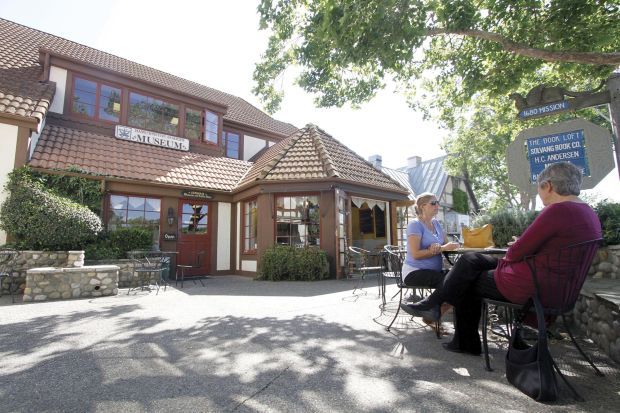 Technically, Mission Drive, also known as Highway 246, isn't the main street of Solvang.
That honor goes to a street a block south that was the town's official Main Street before it was renamed Copenhagen Drive in a Danishization of the town in the 1950s.
Today, Copenhagen Drive is packed with small gift shops and eateries catering to tourists. Mission Drive, once part of the pathway early 19th century padres trod between missions, essentially is the lifeblood of the Danish community.
Wending eastward into Solvang, where Highway 246 turns into Mission Drive, visitors enter a fairy tale world.
Outdoor cafes. Tawny buildings with brown bindingsvaerk beams. Thatched roofs. A stork or two perched on rooftops. Even a windmill. Red and white Danish flags fly.
You have free articles remaining.
At 5th Street a turreted building has undergone a transformation. The one-time Solvang Visitors Center now houses the Wildling Museum.
Just ahead, a bakery offers a plethora of Danish pastries and a breakfast of hard rolls with Havarti cheese. A pancake house serves paper-thin Danish pancakes the size of a dinner plate. Across the street, a restaurant is known for smorresbrod — pretty open-faced sandwiches heaped high with such topping as sliced Danish meatballs, pickled cucumbers and red cabbage. Motels are named Hamlet and King Frederik. The Jule Hus supplies Christmas goodies.
Past Atterdag Road, tiny Solvang Park was crowded on a busy Saturday as a band played, incongruously, "Margaritaville."
Ahead is the charming Book Loft with a Hans Christian Andersen Museum on the second floor. Across the street is Valley Hardware, a venerable Solvang institution where, 50 years ago, we bought stuff we'd forgotten on a camping trip to Cachuma Lake. Today, along with normal hardware items, it advertises aebleskiver pans.
At the corner of Alisal Road is a miniature statue of Copenhagen's famous landmark, the Little Mermaid.
Mission Drive goes on a quarter mile farther to Alamo Pintado Road, past pastoral Mission Santa Ines and the Veterans Memorial Building where people scurried in and out of a library.
Our visit to Denmark was over.
Roadside Attractions is a biweekly chronicle of sights along the Central Coast's highways and byways. Sally Cappon can we reached at sjcappon@aol.com.