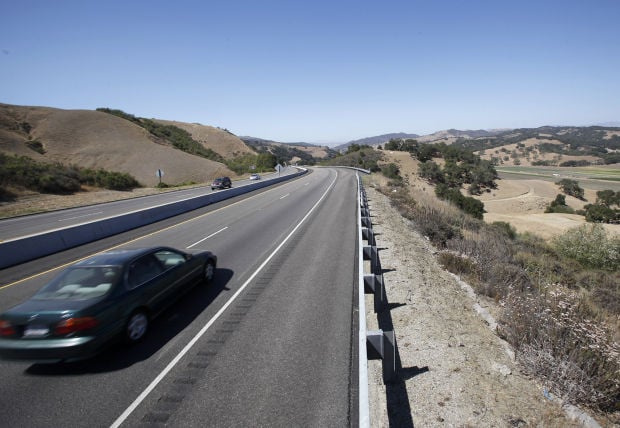 It's not much of a grade, less than 1,000 feet.
But Nojoqui Grade is the last hurdle at the entrance to the only low-level pass through the Santa Ynez Mountains at Gaviota.
Once the Old Coast Highway snaked over these mountains. Today, traffic speeds over smooth multilane Highway 101.
The southern end of the grade is hard to determine. A possible starting point is the Gaviota rest area with an elevation of some 80 feet. Past a short tunnel and intersection with Highway 1, the highway begins its sharp ascent, rising to the 945-foot summit two miles ahead.
To accommodate slower-moving trucks, a third lane has been added up to the summit.
Rounded hills edge the pass in this predominantly rural area. Once the tiny community of Las Cruces stood at the junction of Highways 101 and 1. The town was obliterated when the present highway was built.
You have free articles remaining.
Nojoqui Summit commands a divide, with Gaviota Creek going south to the ocean and Nojoqui Creek flowing north to the Santa Ynez River. The Santa Ynez Fault crosses here.
Once the summit held a popular, if unofficial, truckers' rest area. It was closed by Caltrans three years ago after repeated warnings to truckers about littering. When biohazardous material and human waste continued to be found there, it was shut down and will not reopen, according to Caltrans.
Without fanfare, remains of the Old Coast Highway veer off the northbound lane.
While Nojoqui Grade was once known for traffic accidents, today there are no more accidents here than anyplace else, due partly to restriping, said the California Highway Patrol.
Beyond the summit, stunning views extend over farm fields to mountains in the distance. Here, at the turn of the century, Swiss-Italian immigrant Natale Giorgi started a dairy in the lowlands. Today, Giorgi descendants still ranch the area.
On the downhill, a handsome log home stands on land once used by Giorgis for branding cattle.
Five miles from its start, Nojoqui Grade ends with a whimper, a mile below the summit.
Roadside Attractions is a biweekly chronicle of sights along the Central Coast's highways and byways. Sally Cappon can be reached at sjcappon@aol.com.