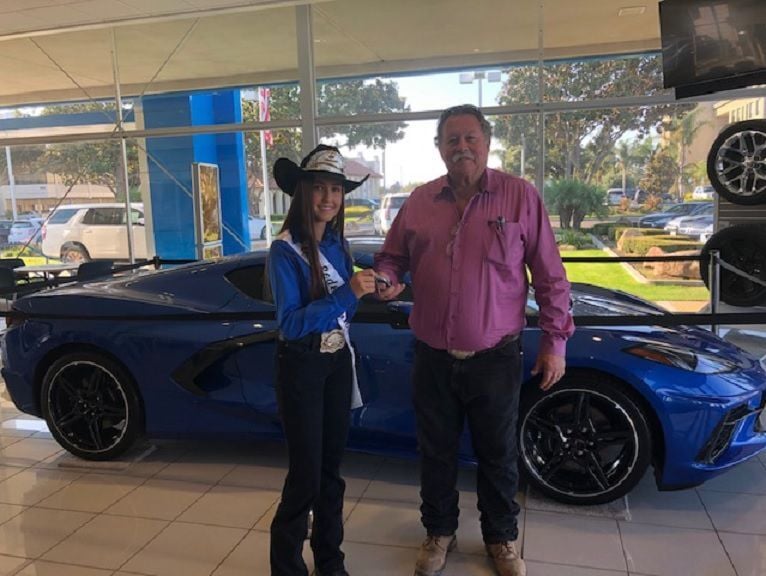 Newly crowned Santa Maria Elks Rodeo Queen Faith DeBrum on Wednesday morning handed the keys to a 2020 Chevrolet Corvette to the man who won it through her fundraising campaign for VTC Enterprises.
John Hochleutner received the keys to the Corvette C8 coupe at a small ceremony at Home Motors in Santa Maria.
Just 700 tickets were sold at $200 each for the drawing — the sixth time VTC Enterprises has given away a Corvette in queen candidate fundraising drives, said Erika Weber, sales and marketing manager for VTC Enterprises.
The Elks Rodeo queen candidate who raises the most money for her sponsoring organization wins the title each year.
Weber said this year's drawing was special, not only because of the car but also because Hochleutner, president of Pacific Petroleum California in Santa Maria, was the winner.
"John was born and raised here, and he's been part of the community his whole life," she said. "He supports all the nonprofits, year after year. He's really a pillar of the community."
Hochleutner now has a special car to park in his garage because 2020 is the first model year for the new mid-engine Corvette, and fewer were built than the 20,100 initially planned because the Bowling Green plant in Kentucky shut down due to the COVID-19 pandemic after producing just 2,700 units.
The plant resumed production from late May to early July but reportedly stopped building coupes and switched production to convertibles in August.
GM hasn't announced final production numbers, but with fewer 2020s built than planned, its value for car collectors will likely increase.
Get local news delivered to your inbox!
Subscribe to our Daily Headlines newsletter.