For the past year, retired San Luis Obispo Police Officer Greg Gallo always has Eddie by his side.
Since getting the service dog — a 3-year-old yellow Labrador retriever — he has managed to keep symptoms of his post-traumatic stress disorder under control.
After retiring from the police force due to a neck injury, the 14-year veteran said he began experiencing flashbacks, nightmares, depression and intense anxiety.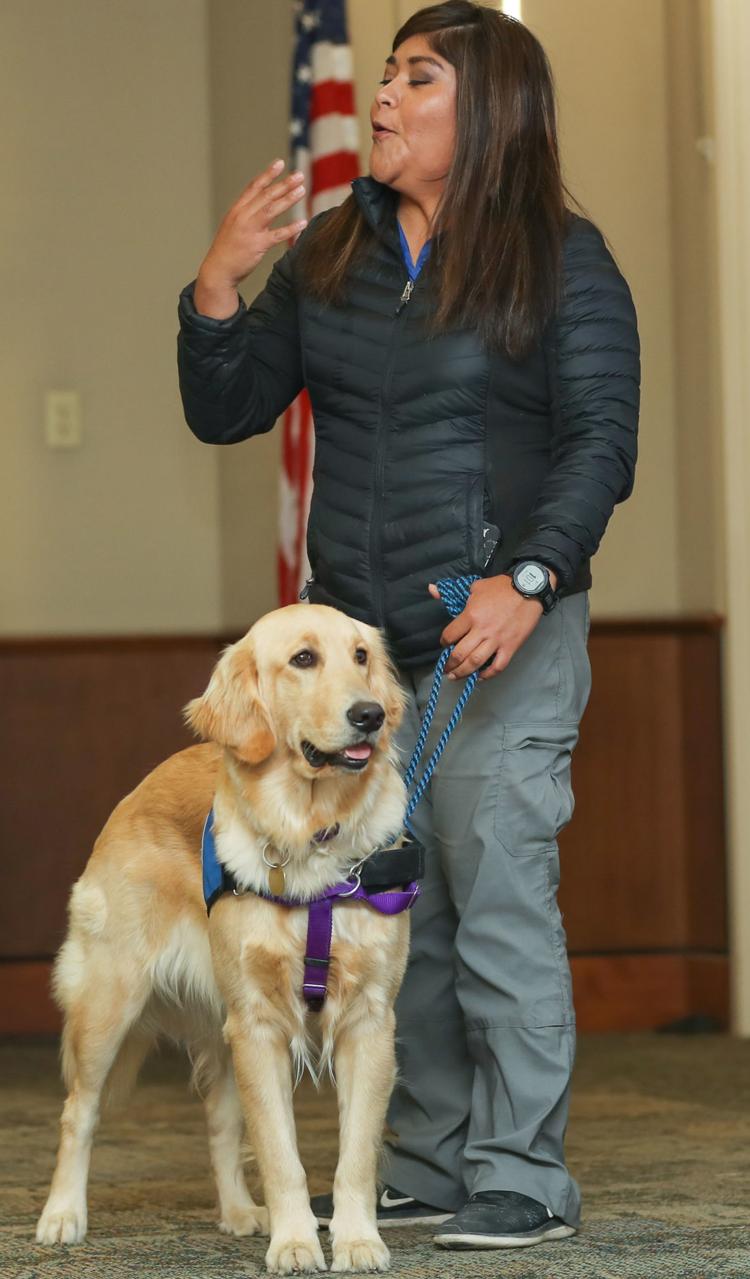 "I was isolating myself at home, and then isolating myself in another room from my family," he said. "I was majorly suicidal."
On Wednesday, Gallo spoke about his experience with a service dog at the Santa Maria Public Library during a presentation by New Life K9s, a San Luis Obispo-based nonprofit that provides service dogs to veterans and first responders with PTSD.
"[Eddie] has completely changed my life," Gallo said. "I am able to go out now with friends and family."
Normal, everyday activities like going to the grocery store were enough to trigger his PTSD, said Gallo, who now volunteers for New Life K9s.
"In the aisles of the grocery store where they're really high and I don't know if anyone's around the corner — I used to get startled by that," he said. "I like a bigger space bubble than most people. So, for example, if I'm standing in the line, he'll sit or stand behind me to create that bubble."
After retiring from the San Luis Obispo Police Department due to a neck injury, 14-year veteran Greg Gallo said he began experiencing flashbac…
On Monday, canine educator Rose Mendoza discussed the organization, which teaches state prison inmates how to train dogs to cut down the overall costs.
The saving allows the organization to help more PTSD sufferers with service dogs, which undergo two years of training to assist those with disabilities. The cost of that training can often run in the tens of thousands of dollars, Mendoza said. Any veteran or first responder in Central California with a PTSD diagnosis is eligible to apply for a dog.   
Since 2014, New Life K9s has placed 10 dogs with veterans or first responders with PTSD. The nonprofit currently has around 20 dogs being trained at the California Men's Colony prison in San Luis Obispo and Correctional Training Facility in Soledad.
Mendoza said the organization's inmate program has been successful, with their inmate-trained dogs passing the service dog certification around 60 percent of time, compared to a 30-percent national average.
New Life K9s has established inmate programs at state prisons rather than county jails due to the longer length of inmate stays in prison, Mendoza said.
"Usually with county jails, they're in and out," she said. "What we like to do is use 'lifers' who have been in a while because they've had a longer time to process why they're there. Also, it takes a lot to teach a dog and in jail they just don't have the time."
During the two-year training process, dogs stay in the prison from Monday through Friday. On weekends, they stay with volunteer dog raisers to learn how to handle being out in public as a service animal, Mendoza said. Once a week, each dog meets with New Life K9s trainers to ensure they are making progress.