As Heather Schiff thinks back to navigating her vehicle to her Mission Hills home from her job at Vandenberg Air Force Base on the afternoon of Sept. 29, 2017, she recalls the normally routine drive being anything but.
"It was the worst drive of my life," she said matter-of-factly, recalling the thoughts that swirled through her head on a day that was burned into the memories of both her and her husband, Eric.
Shortly before getting in her car, Heather received word from Eric that a fire had flared up near their small community just north of Lompoc.
After a quick online search, Heather realized there were actually a few fires that had been reported around the Mission Hills area and that residents were being asked to evacuate as soon as possible.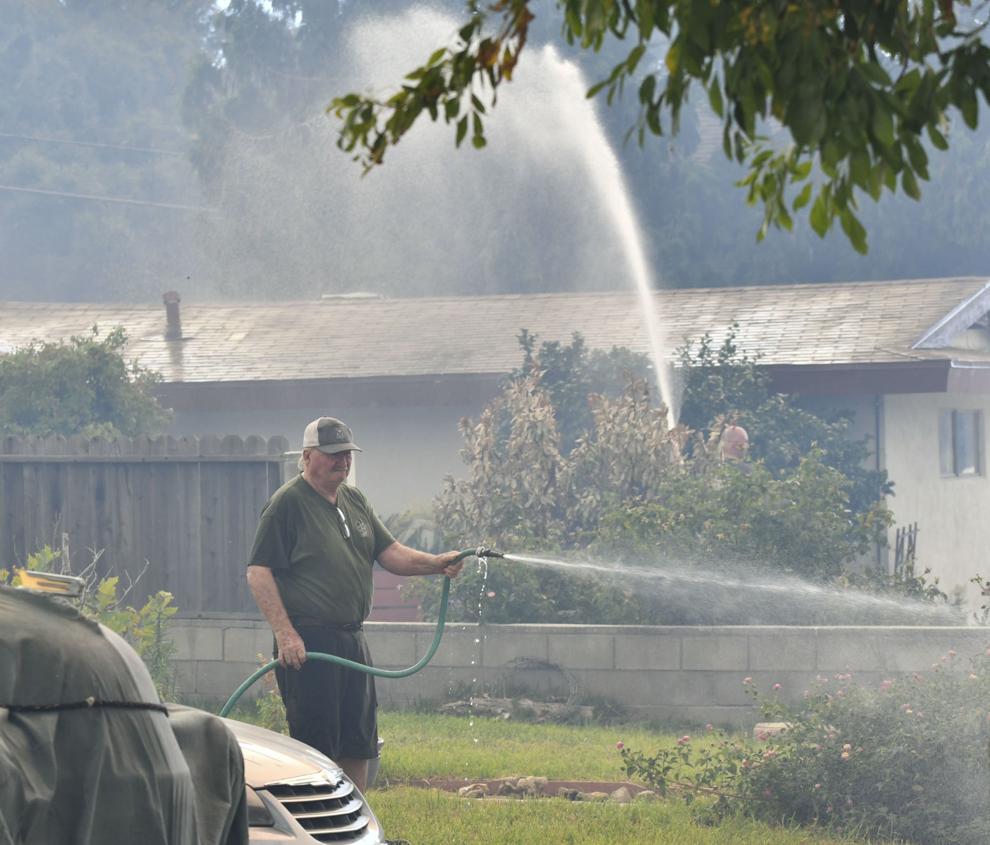 Heather's thoughts immediately turned to Eric and their 8-year-old daughter EmmaRose, who has special needs, including immobility.
"[The road] was blocked off, I couldn't get home and it just looked like our entire house was on fire from what I could see," Heather said.
The three fires that day were ultimately grouped together as the Rucker fire, a blaze that burned 444 acres over four days before containment.
More than 500 firefighters from seven area agencies fought the flames, which threatened more than 150 homes.
Officials blamed the series of fires, which seemed to spark alongside roadways, on a vehicle's malfunctioning catalytic converter.
While the Rucker fire did not result in any deaths or significant structure damage, it did serve as a wake-up call for many of the residents whose homes and lives were precariously close to its path of destruction.
"When we got back up there, we were just surprised at how close it actually got," Heather said of her family's post-evacuation return home the day after the fire started. "It was crazy."
Jennifer Valencia was at her home in the northwest portion of Mission Hills when she saw an alert online about a fire near La Purisima Mission.
When she walked outside to see if she could view the fire south of her house, she was surprised to see a fire burning in brush to the north of her home.
As she turned to go back inside, she saw the third fire in heavy vegetation at the end of her street.
Although first responders were not yet on scene, Valencia knew she had to get out.
Crews continued to battle the Rucker fire just north of Lompoc on Tuesday, though they had an anticipated finish line in their sights as well …
"Of course, you think you know what you'd grab, but you don't," she said. "I didn't know what to do. I was in my pajamas pretty much, so I changed really quickly, put flip-flops on and grabbed my dogs and left."
She decided to go to the home of a friend in Vandenberg Village but first took her dogs to the veterinarian to see if they could be boarded there.
A person at the vet's office asked if she was forced to evacuate due to the fire, and Valencia said her emotions took over.
"I just said, 'I don't know,' and started crying, because I really didn't know," she said.
Valencia made a quick call to her husband, who was working in Santa Barbara at the time, before setting out to reunite with her daughters, who were still in school — one at Cabrillo High School and the other at Vandenberg Middle School.
Like the Schiffs, though, she said she quickly realized that communication would be a problem.
Cellphone service became extremely limited, with many people in the area unable to send or receive calls or texts.
Valencia was among those who could at least receive messages — she said she couldn't send them — but that might've done more harm than good for her mental state.
"I'm thinking my house must've caught fire, because of all these messages I'm getting," she said.
Flames and heavy smoke clouded the northeastern horizon near Lompoc on Friday afternoon as at least two separate brush fires burned more than …
The lack of cellphone service was also increasing the stress level for the Schiffs.
"Everybody was calling everybody, I'm sure, so I was just getting a busy signal," Heather Schiff said of her calls to her husband as she tried to make it back home. "It was pretty much the worst. The last I heard [from Eric] was that he was trying to get the pets, so I was just telling him to get out and get what you can."
"I could imagine how freaked out she was," Eric said, noting his wife could only see smoke billowing from their neighborhood as she made her way down Highway 1.
Eric made sure to get his daughter into the family's van first, along with some of her medications, then went back to try to corral their two dogs and three cats.
Eric noted that his anxiety at the time was compounded by thoughts of a different emergency that ended tragically for his family: His father died in 1995 from flooding in Santa Barbara that also destroyed his parents' home.
"It just brought all that back and it was tough," he said.
He credited EmmaRose, who suffers from Angelman syndrome, as being a calming influence.
Due to her condition, EmmaRose is nonverbal, but she apparently enjoyed watching her dad scramble to evacuate.
"She thought it was great with me running around and all that stuff," Eric said. "I had her in her wheelchair [in the van] and she had the two big dogs jumping all over and she was just having a blast. She was cracking up."
Katherine Schupferling, who suffers from mobility issues as the result of a stroke, said she was thankful her Mission Hills home and surrounding neighborhood were spared during the 2017 scare.
Schupferling, who can walk slowly with the use of a cane, said she always worried about fires, particularly in light of her inability to run or even walk quickly if the need were to arise.
When the Rucker fire evacuation orders came — via a bullhorn from Santa Barbara County first responders who drove up and down each street — her husband, Mark, helped get her out to safety.
She was succinct when describing what would happen if her husband weren't around.
"I know I'm a goner," she said from an electric recliner she uses to raise and her lower legs.
Her worries, she said, are boosted by Mark's stated desire not to evacuate unless absolutely necessary.
Steve and Renée O'Neill consider their 70-acre ranch near the top of Tepusquet Canyon one of the most beautiful properties in Santa Barbara County. 
"I know the reality part," Mark said, adding he didn't think the conditions were conducive to having the Rucker fire spread to their home. "I didn't want to leave. But I had to go, and that was fine."
When the evacuation orders were lifted the next day, several residents said they were relieved to return to homes that were still standing, and some expressed gratitude for the support of their neighbors.
Throughout Mission Hills, neighbors and friends worked together to pressure-wash cars and homes that were covered with the Phos-Chek fire retardant that was dropped from firefighting aircraft.
Valencia noted that her husband and neighbors even offered to pressure-wash a passing Santa Barbara County Fire Department SUV that had been blanketed by the reddish-pink retardant.
The driver of the vehicle initially declined, then drove back around and took him up on the offer.
"It was a fun thing for them to do," she said.
"Still to this day, you can probably go and find traces of that stuff," she said of the retardant.
The Schiff and Valencia families moved away from Mission Hills in the months after the Rucker fire — both families cite the fire as among the reasons for their relocation — and acknowledge the blaze opened their eyes to just how dangerous a quickly spreading fire can be.
"The area was nice and quiet and our neighborhood was good," said Heather Schiff, who lived with her family in Mission Hills for four years. "I never even thought about [any dangers] until that day."
Fire officials attribute Santa Barbara County's high risk, in part, to its location in the wildfire "Goldilocks zone." The county sits far enough north to get good winter rainfall, but it's far enough south to feel the Southern California summer heat that cooks fuels tinder-dry.
Chaparral is the fuel that makes Santa Barbara County wildfires so dangerous and difficult to control. It most areas of the county, it makes up one arm of wildfire's triangle of ingredients — fuels, weather and topography.
While Santa Barbara County's fire marshal Rob Hazard doesn't believe wildfires are becoming more unpredictable in their behavior, he does acknowledge conditions are changing making them bigger, longer lasting, and being more difficult to contain.
The Cave fire that erupted Nov. 25 was a textbook example of Santa Barbara County wildfires, encompassing virtually all the elements that, in one combination or another, have characterized the South Coast's most significant blazes.
"Firenado" sounds like the title for a campy science-fiction flick, but it's a real phenomenon that firefighters say they're seeing more often as wildfires worldwide become more intense.
Steve and Renée O'Neill consider their 70-acre ranch near the top of Tepusquet Canyon one of the most beautiful properties in Santa Barbara County. 
With about 14,000 homes in the communities of Vandenberg Village, Mission Hills and Mesa Oaks located on and around the reserve, and with wildfires becoming increasingly stronger and more dangerous, protecting the region from wildland blazes has become a renewed priority for the Santa Barbara County Fire Department.
Biologists, botanists, ecologists and fire scientists generally embrace the concept that fire is a necessary part of the natural life cycle of…
Sundowners blow over, and through, the Santa Ynez Mountains onto the coastal plains around Santa Barbara. The bane of firefighters, they heat the air by compression as they push it downward against the land below, squeezing out its moisture and helping wildfires ignite and spread