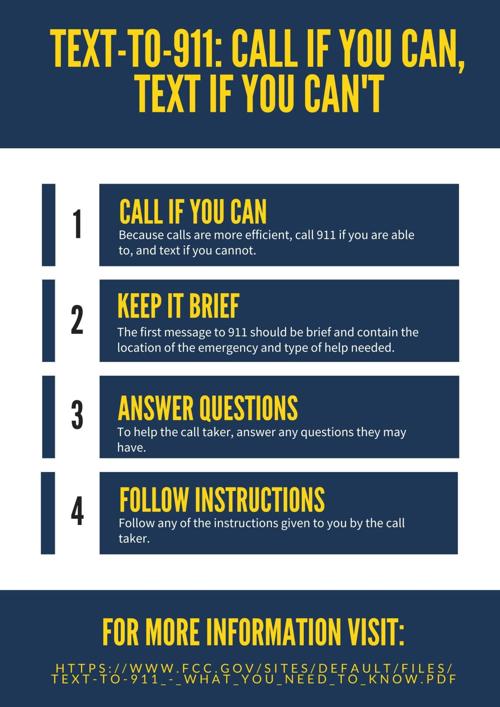 During a hostage situation or in the event of an active shooter, it's important that individuals remain quiet. These are prime examples of some situations where members can't make a phone call during an emergency. As a whole, what can Vandenberg Air Force Base do to combat a scary yet real concern?
In a time of crisis where it may be more difficult to make a phone call, Text-to-911 can be a lifesaver.
The newly implemented Text-to-911 service is accessible across Santa Barbara County and was made available to members on the installation June 15. To ensure that this service was optimal for base usage, it underwent a week-long testing session coordinated by the 30th Civil Engineer Squadron 911 dispatchers, 30th Space Communications Squadron network support staff and 30th Security Forces Squadron patrolmen, alongside local and county police and fire departments.
"Multiple tests were conducted at various locations across the base," said Carolina Milan, 30th CES emergency communications center manager. "Each test consisted of a text message directed to 911, while 911 dispatchers from Vandenberg, Lompoc PD, California Highway Patrol, and Santa Barbara County Fire and Police were monitoring and timing how long it took for the messages to be received, verifying the location accuracy, and that the transfer capabilities were working as intended."
The thorough testing process that guaranteed texts could be delivered both in- and outdoors and by all major cell phone carriers.
Once the dispatch center has received the text, it is treated the same as a 911 call.
"For on base emergencies, the text would go to our dispatch center, the same with calls," said Patrick Brunmeier, 30th CES emergency vehicle dispatcher. "When a text comes in, we get the location, name, number and nature of the emergency, and send a team to the location."
While the tests were determined successful, there are some restrictions to the service. Users should always contact 911 by making a voice call when possible, as the text-to-911 service does have limitations, to include, text location information is not equal to current location technology, 911 text messages can take longer to receive, they may be received out of order or not received, and photos and videos cannot be received.
An additional factor that individuals need to take into account is that if users attempt to send a text to 911 in an area where the service is not yet available, they will receive a message that will advise them to contact emergency services by other means, such as a voice call or using telecommunications relay service.
In an attempt to mitigate this pitfall, the 911 industry has teamed up with wireless carriers and the Federal Communications Commission and is working to expand the service's availability.
For more information on the Text-to-911 program, visit https://www.fcc.gov/sites/default/files/text-to-911_-_what_you_need_to_know.pdf
Be the first to know
Get local news delivered to your inbox!