Sixty-nine-year-old Orcutt resident Guy Cravath was part of the U.S. Coast Guard's search-and-rescue program before his profession became the domain of the highly-elite.
That was when the Coast Guard used hoists with baskets to pluck distressed boaters from the water, rather than rescue swimmers.
The year was 1968, and military service was the last thing on Cravath's mind during the height of the Vietnam War. But Cravath wasn't a great student in high school and so his father encouraged him to enlist in the Coast Guard out of Long Beach, his hometown.
"I had no plan," Cravath said. "I was going to graduate and get a job and wait to be drafted. That's how stupid I was. My dad wasn't going to have any of that."
Cravath almost didn't make it out of high school, but ironically he scored high enough on the test to get into the Coast Guard, and his service laid the foundation for a lifetime of education.
Following eight weeks of boot camp in Alameda, Cravath was sent to the Naval Air Station in Jacksonville, Florida for six months of school to be an aviation electrician. After that, he returned to the West Coast to U.S. Coast Guard Sector San Diego.
Cravath's job was to repair and maintain a variety of helicopters, namely the Sikorsky HH-3F Pelicans, which were used for search and rescue operations.
"They made us fly in what we worked on so we had to be careful," Cravath said.
Cravath conducted several search and rescue missions off the coast of San Diego during his four-year stint in the Coast Guard, including one in which his crew rescued a drunk, delusional, and nude fisherman "covered" in fishhooks whose boat wrecked off the coast of San Clemente Island.
During rescue missions, Cravath operated the hoist that picked those who were rescued from the water. Other times, he added, the helicopter would land directly on the water.
Among Cravath's missions were some involving the transport of premature babies, along with doctors and nurses, from the Imperial Valley to the Scripps Research Institute in San Diego. Training was constant.
"We trained and trained and trained," Cravath said.
Cravath acknowledged that he didn't take his first two years in the Coast Guard seriously. In the first two years, Cravath was assigned to the battery locker where they stored nickel cadmium batteries for the helicopters.
He organized and cleaned the locker, putting all the parts together. Cravath said his commander was so impressed by his effort that Cravath was rewarded with more school, which meant extra pay.
Operation WEBS founder and Air Force veteran tells her story of success to struggle and back with her mission to find housing for homeless veterans in Santa Maria, Calif. 
"I grew up and they treated me like that," Cravath said. "The last two years were great."
The Coast Guard is perceived by some as not being a part of the military. But that's not entirely correct.
Cravath said he wanted to clear up some misconceptions about the Coast Guard, which enjoys as much U.S. military history as other branches.
The Coast Guard's roots go back to the founding of the United States, when it was a part of the Department of the Treasury. About a century ago, the Coast Guard became part of the Department of Transportation. As of 2003, it's part of the Department of Homeland Security. The president or Congress has the power to make the Coast Guard part of the Navy during times of war.
In World War II, for example, the Coast Guard was involved in several missions, including the beach landings at Normandy during D-Day. Several landing craft were lost in battle.
"A lot of people think you go into the Coast Guard to avoid some of those hazards," Cravath said, noting the many fatal helicopter crashes. "There are a lot of guys that don't make it out."
In 1979, a four-man Sikorsky crew was performing a medical evacuation of a Japanese fishing vessel off the coast of Cape Cod. The helicopter lost power and it was forced to land in heavy seas. Waves overturned the helicopter, killing three crewmembers.
Until the early 1980s, the Navy sometimes assisted the Coast Guard in difficult operations until the Coast Guard developed its own rescue swimmer program. One person Cravath said was instrumental in the creation of Coast Guard rescue swimmers was a man named Larry Farmer, who Cravath described as a "big guy" and a "loner."
Cravath and Farmer shared a similar task of operating the hoist and its rescue basket inside the helicopter and, if necessary, would drop down onto the water inside the basket.
"He didn't talk much," Cravath said, noting that only added to Farmer's mystique. "He was operating the hoist and the hoist jammed. The cables were five-sixteenths of an inch and that guy pulled that stainless steel, slick cable up by hand."
Military service has always been a big part of Stacy Moody's family, and after a conversation with her older brother, who was a U.S. Army vete…
When Cravath's first enlistment term was finished, he got out, citing the level of control exerted over many aspects of his daily life, including where he had to live.
But that didn't mean he was done with the Coast Guard. It continued to pay off for him later in life including with housing and education.
He estimates he has a few more than 120 college credits, not including his military school. Cravath was never really interested in a single profession as much as he was interested in knowing everything, he said. He eventually earned a liberal arts associate's degree at age 30 and years later retired as a metal fabricator.
If he had to do the Coast Guard over, Cravath said he would serve his four year enlistment multiple times.
"The Coast Guard was an amazing influence on my life," Cravath said. "One of the most important things is how it grew me up. I was a scared little kid."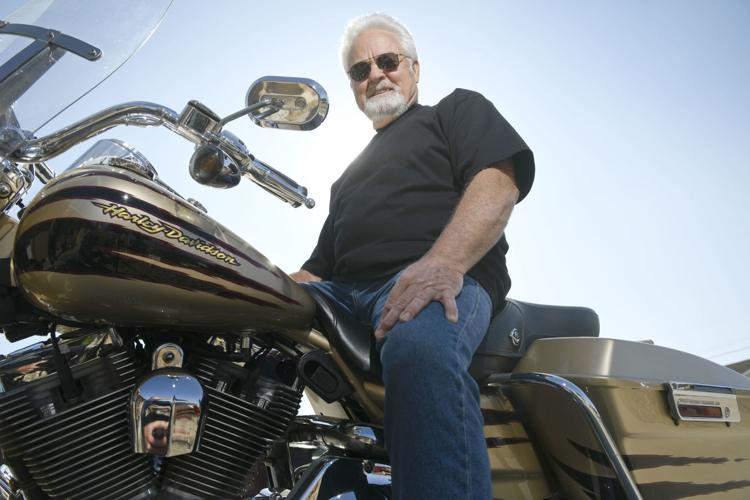 Be the first to know
Get local news delivered to your inbox!