Like his father and uncle before him, David Oliver joined the Navy in 2010 to be a corpsman, or the branch's version of an enlisted medical specialist. Oliver had a rich family background of military service and his time had come to serve, although he was hesitant at first.
After graduating from Righetti High School in 2006, Oliver tried college and a few other things but they didn't work out, he said.
"There just kind of came a point in my life where I think I matured enough and got enough balls to join," Oliver said. "It was something I wanted to do but was something I was afraid to do at first."
In the Navy, corpsmen serve in various capacities, including on ships or in hospitals on shore commands. Oliver was a Fleet Marine Force (or FMF) corpsman, serving with U.S. Marine detachments. He was the Navy equivalent of a combat medic in Afghanistan, a land he previously only experienced through the media. Now it's a part of his life from which he draws musical inspiration.
The Marines are a part of the Department of the Navy, which is why corpsmen serve with Marines on the battlefield but go through separate boot camps. Oliver went to Navy Recruit Training Command in Great Lakes, Illinois, followed by corpsman school in the same place months later.
He received high grades in corpsman training, allowing him to pick orders first — his choice was an FMF unit in Hawaii, which he said was a "no brainer."
Oliver went to Camp Pendleton for initial training, after which he reported to his command with the combined anti-armor team II in the weapons company with the 1st Battalion, 3rd Marine Division. Training work-ups continued, as they usually do before deployment.
Oliver said his medical training included a pig lab, which involves the use of live pigs to simulate combat medical conditions for corpsman deploying to Afghanistan. It's a grim and controversial training practice, but deemed necessary to keep U.S. troops alive in war zones.
Advancement in his field is tough because corpsmen must know everything in the medical field including dental, anatomy and OBGYN. But Oliver was only a combat medic.
"If you save someone's life, you're f ---ing doing your job," Oliver said.
In 2011, Oliver deployed to the Garmsir District in Helmand Province in southern Afghanistan. It was an eye-opening experience, he said, but uneventful for the most part.
Services are pending for World War II veteran Bindo Stasi Grasso, 96, of Guadalupe, who died Monday, Sept. 23, according to Magner-Maloney Funeral Home.
It's a mostly agrarian, populated part of the country filled with mud huts and is very arid. Oliver and his Marines deployed as many as three times each day on foot patrols, covering anywhere between five and 15 miles. They were near the Helmand River, which was used to transport things such as drugs, weapons, and materials for improvised explosive devices. U.S. forces had built a canal system to help farmers and in return, Oliver said, troops relied on locals for information.
Oliver's role on that first deployment was to not only take care of his Marines, but help the locals, who'd bring their wounded to Oliver's base.
He described it very much like a "hearts and minds" operation. He was there for nine months and came back to the U.S. on Thanksgiving Day 2011.
Oliver's second deployment came in 2012. The 3rd Marine Division was organizing embedded training teams (ETT) to train local Afghanistan security forces. After sitting through a board interview, Oliver joined the 12-man team as a corpsman and deployed to the District Chief of Police headquarters near Forward Operating Base Dehli, also in Helmand.
Much of Oliver's routine was dictated by what the security forces were doing. They'd patrol sometimes, but other times Oliver would also stand watch. There was more down time on this deployment.
Then on Aug. 10, 2012, Oliver was working out in the base's gym with several other Marines when a young man, an Afghanistan national who was living on the base, walked in and opened fire, killing three Marines and injuring one. Oliver was in the corner skipping rope when the shooting happened.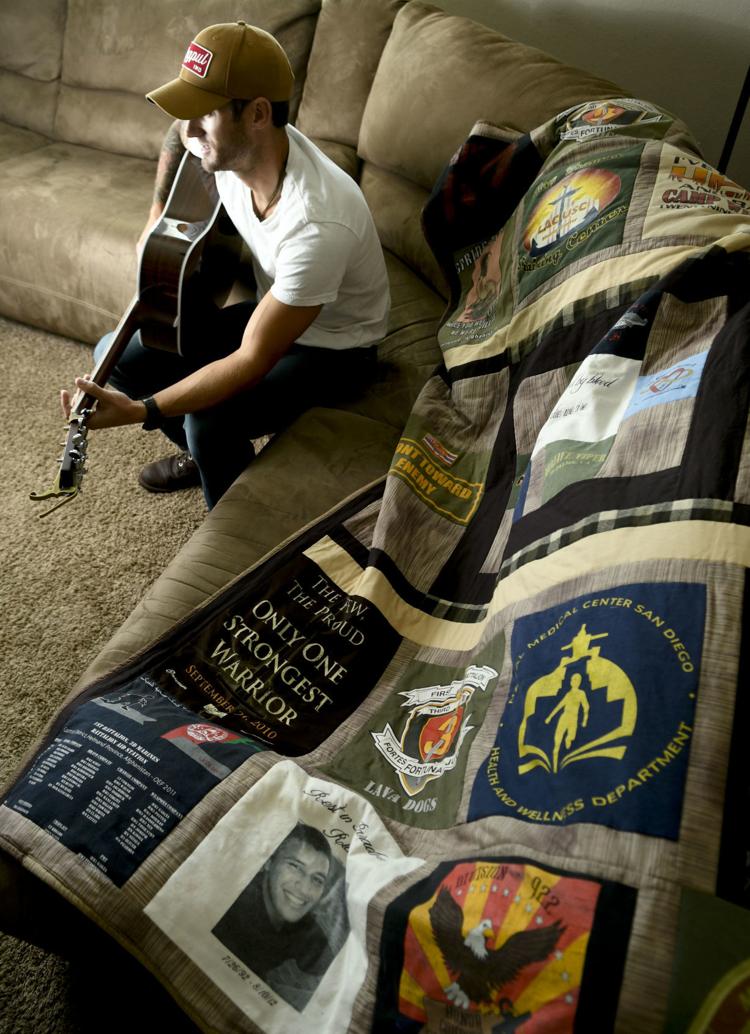 In the frantic seconds escaping the gunfire, Oliver sustained a concussion and dislocated his shoulder while scaling a fence. He came back, he said, grabbed his equipment, and immediately went into life-saving mode.
The first casualty Oliver got to was Staff Sgt. Cody Rhode, who was shot several times but survived. Oliver placed a tourniquet on Rhode, then found the next Marine, Cpl. Richard Rivera, who was suffering from multiple gunshot wounds.
It was not clear who the shooter was, initially, but later it would be known as a "green-on-blue" insider attack — when a member of the Afghan forces kills U.S. or coalition forces. 
"It's scary as f--- because there's all these Afghan police dudes with guns like walking around just casually," Oliver said, recalling the seconds he spent trying to save Rivera while guarded by armed Marines. "Ritchie died in my arms that night."
Staff Sgt. Scott Dickinson, Cpl. Richard Rivera, and Lance Cpl. Gregory Buckley were killed. The loss crippled Oliver's team and they were forced to return home.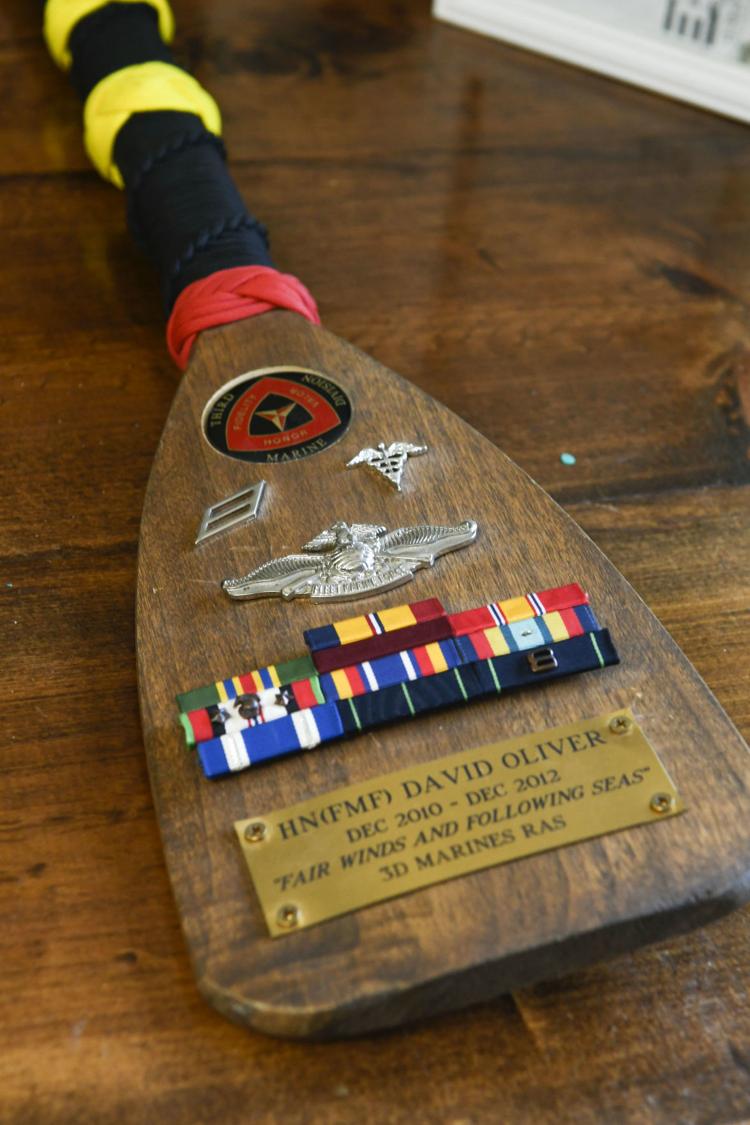 Oliver took two weeks of leave in California and married his wife in October 2012. They have three children, two boys and a girl.
Stateside, Oliver received orders to the Wounded Warrior Battalion at Camp Pendleton. He was to continue his care with Rhode at Balboa Naval Hospital in San Diego. At the same time, the Navy began processing Oliver for a medical retirement, although he said, he wanted to stay in.
Oliver left the Navy after three years at the rank of E4. He briefly worked as a firefighter with the U.S. Forest Service at Engine 338 at Figueroa Mountain and Helitack 528 at the Santa Ynez Airport.
Now at 31 years-old, Oliver lives a quiet life in Orcutt raising a family and a dog. Known as Doc Oliver, he writes and performs his own country music songs about his experiences in Afghanistan with a gritty vocal style. He recorded several songs at a studio in Lompoc that can be heard on Pandora and Spotify. Music is his therapy, he said. 
"Something that's helping me get along the way is music," Oliver said. "Music has been a way to deal with some of the stressors of life."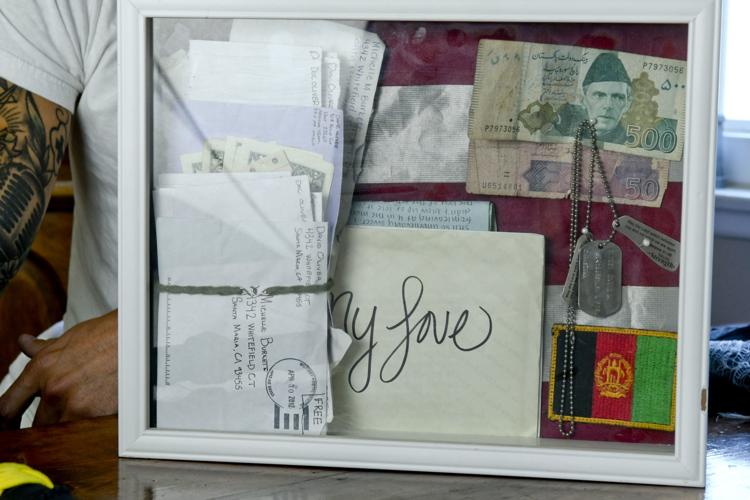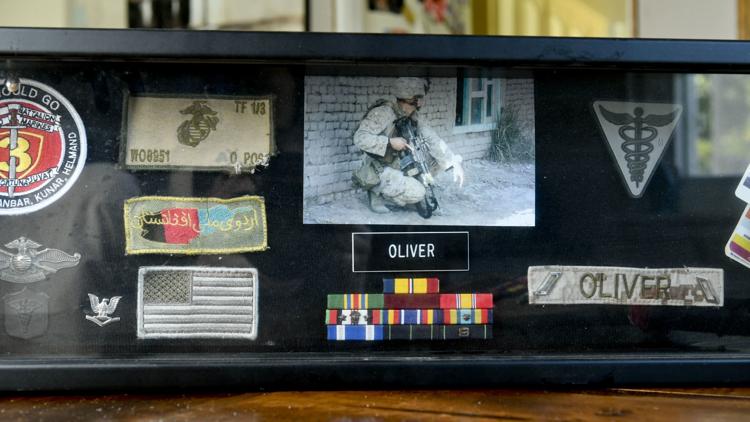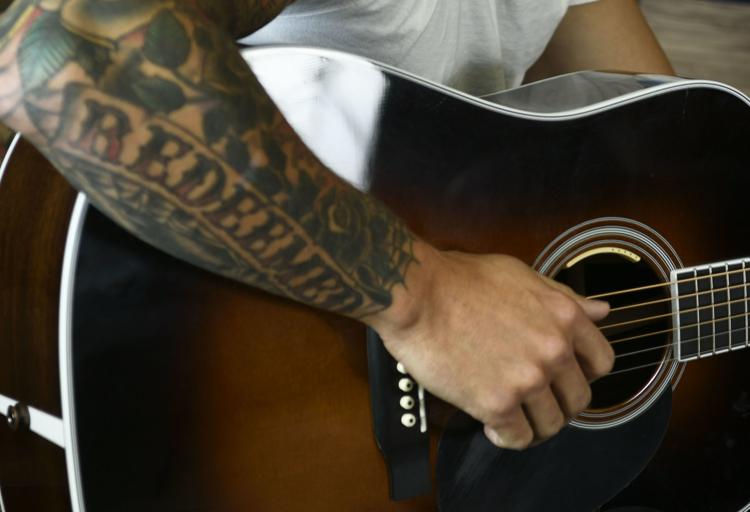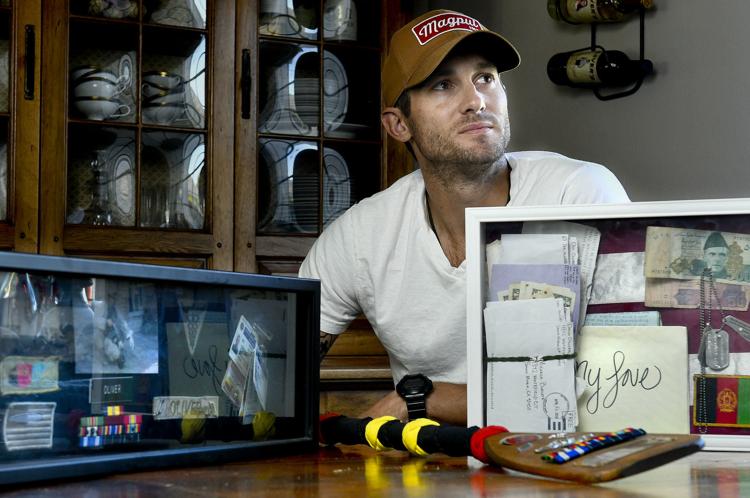 'Stories of Honor' is a series spotlighting veterans on the Central Coast, their lives, and their contributions to our country. Take a look th…
Be the first to know
Get local news delivered to your inbox!