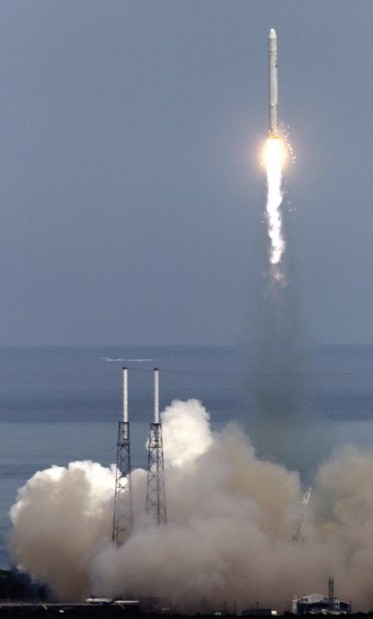 A company's plan to bring a new rocket to an old launch pad won't cause any significant environmental problems, according to a review of Space Exploration Technologies' newest proposal for Vandenberg Air Force Base.
The draft environmental assessment reviews the SpaceX proposal to launch the Falcon 9 and Falcon 9-Heavy rockets from  Space Launch Complex-4 East, a former Titan 4 launch facility on South Base.
"SLC-4E is an existing launch complex that would require minimal modifications to accommodate the Falcon 9 and Falcon 9-Heavy programs, thus minimizing adverse environmental impacts," the document notes.
The Hawthorne-based firm, led by PayPal founder Elon Musk, developed the Falcon rocket family as a low-cost vehicle to get to space while requiring reduced processing time. The Falcon 9 and Heavy versions are two-stage medium- and heavy-lift boosters standing about 18 stories high.
The firm had once intended to launch its first Falcon 1 rocket from Space Launch Complex-3 West but had to abandon those plans when the Air Force's Atlas 5 rocket moved into the nearby SLC-3 East. Since then, Falcon rockets have flown from Florida and the Kwajalein Atoll in the central Pacific Ocean.
At Vandenberg, the firm plans to demolish some structures at SLC-4, modify others and add new facilities, according to the report.
Specifically, the mobile service tower, the tall facility visible on the horizon looking south, would be removed along with some old fuel facilities.
A new integration and processing hangar, about 30,000 square feet, would be added within the SLC-4 boundaries.
Construction work at the pad should begin this year and stretch over 24 months while involving 100 workers on site and 100 transient employees, the report said.
After reviewing various aspects, the assessment concludes the proposal will not cause significant environmental impacts, according to base officials.
Once operational, the firm anticipates up to 10 launches annually, evenly divided between the two rockets.
During launch campaigns about 200 workers could be involved. The normal workforce at the site would range from 30 to 50 people.
After reviewing other options, SLC-3 West was rejected due to Atlas 5 still launching from nearby, and SLC-4 West, the former Titan 2 rocket facility, was ruled out as lacking the size and weight capabilities needed for Falcon 9.
Kwajalein also was ruled out as a regular launch site because of logistical headaches of getting equipment and personnel to the Marshall Islands locale about 4,200 miles southwest Central California.
The environmental assessment and finding of no significant impact can be reviewed at the Lompoc, Santa Maria, Santa Barbara, UCSB and Vandenberg libraries.
Public comments may be submitted through Feb. 18 and can be sent to 30 CES/CEA, 1028 Iceland Ave., Vandenberg AFB, CA 93437-6010, e-mailed to Paloma.Nieto@ManTech.com or faxed to 805-740-0819.
Be the first to know
Get local news delivered to your inbox!