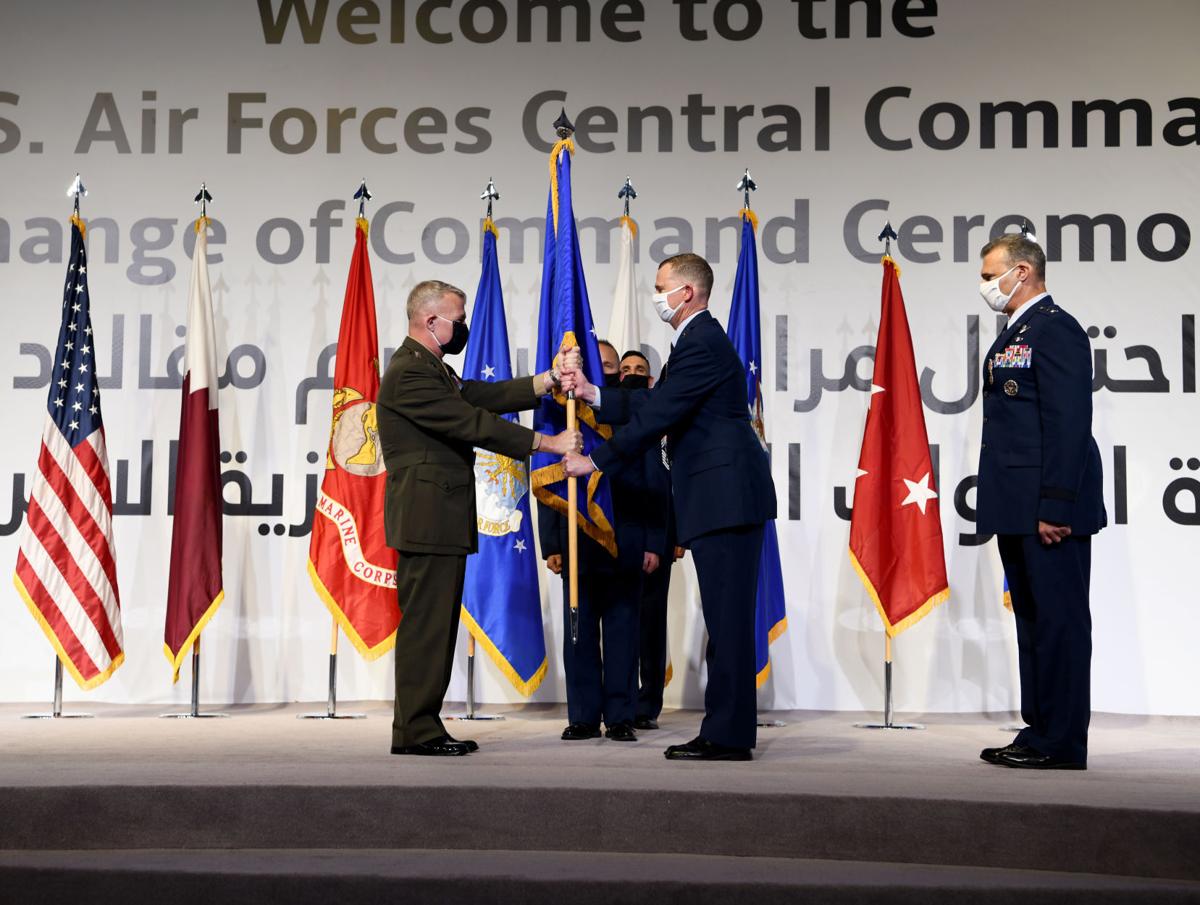 AL UDEID AIR BASE, Qatar (AFNS) -- U.S. Air Force Lt. Gen. Gregory Guillot became the 17th commander in U.S. Air Forces Central Command history July 16 as he took command from U.S. Air Force Lt. Gen. Joseph Guastella during a change of command ceremony at Al Udeid Air Base. U.S. Marine Corps Gen. Kenneth McKenzie, commander of U.S. CENTCOM, presided over the ceremony.
"(Guillot) is inheriting a high-functioning command that is operating on all cylinders," McKenzie said. "I have full faith and confidence in his leadership capabilities, and I know he will continue the tradition of excellence this command has achieved."
Guillot will serve a dual-hatted role as both commander of AFCENT as well as the combined forces air component commander. As AFCENT commander and CFACC, the 31-year veteran is charged with working closely with coalition, joint, and interagency partners to lead a combined force that delivers decisive air and space power, and promotes security throughout U.S. CENTCOM's 20-nation area of responsibility.
"The cornerstone of AFCENT's operational success over the years has been the unbreakable bond shared between our regional partners," Guillot said. "I assure all partners that we will remain unified in our efforts to deter adversaries and combat terrorism and extremism in order to bring lasting stability."
Prior to this assignment, Guillot served as the director of operations for U.S. Northern Command at Peterson Air Force Base, Colorado. AFCENT is familiar territory for Guillot, as he served as both deputy commander and deputy combined forces air component commander from April 2018 to May 2019.
"The CENTCOM staff and components comprise a great war fighting team, and I'm privileged to rejoin that team," Guillot said. "I promise to be a trusted and reliable teammate as we support each other across the region."
Guastella departs AFCENT after more than two years in command. Under his leadership, AFCENT flew more than 45,000 sorties in direct support of Operation Inherent Resolve and Resolute Support as well as providing a credible deterrent force for U.S. CENTCOM.
"There are 18 airpower nations represented right here at this (Combined Air Operations Center) that have come together to handle the threats in this theater," Guastella said. "We are more lethal, more precise, and more capable of defending ourselves from the air than we have ever been, and it's because of the coalition."
Guillot highlighted the skills of AFCENT Airmen and partners in his closing remarks.
"The strength of AFCENT has always been its Airmen. The enormity of the responsibility and privilege of leading these Airmen is not lost on me," Guillot said. "AFCENT Airmen will always get the best I can possibly offer every day, with full recognition that each Airman is an equally important member of this command, with contributions that are equally valued."
Guillot earned his commission in 1989 from the U.S. Air Force Academy. He is a senior air battle manager with more than 1,380 flying hours and has commanded a flying squadron, operations groups and two flying wings. He has served on the Numbered Air Force, major command, air, and combatant command staffs, was an Air Force Weapons School instructor, and is a graduate of the National War College.
Be the first to know
Get local news delivered to your inbox!