Although the cannabis industry has experienced considerable growth this year throughout Santa Barbara County — and within Lompoc, in particular — there remains at least one significant void in the local market.
A new multimillion-dollar facility in northwest Lompoc is closing in on filling that gap.
Merso Labs, a cannabis testing company based at 1204 W. Laurel Ave. in Lompoc, is on track to receive its state license from the Bureau of Cannabis Control this month, and its executives are targeting January to begin accepting clients.
If everything goes as planned, the lab would become the first such facility in Santa Barbara County and also the first along the Central Coast.
Seaweed, a dispensary and lounge located at 1101 E. Ocean Ave., celebrated its first sales after an impromptu opening Wednesday evening, less than an hour after the business received its tax certificate. The establishment became the first in Santa Barbara County that allows consumption on its premises, and is the only such business between Los Angeles and San Francisco.
Kaleb Asfaha, the company's CEO and one of its founders, said this week he is excited to finally be nearing his goal of providing crucial services to local cannabis cultivators who currently must send their products to the Los Angeles or San Francisco areas for testing.
"This is a dream come true, definitely," he said. "It's been two years in the making. The city of Lompoc has done a tremendous job helping us, whether that's through zoning or understanding the regulations.
"I've worked in some amazing labs," he added, "and I will definitely tell you this is the nicest lab I've ever worked in. Definitely it's something that we take pride in, all of us as a team. We do not take any detail for granted."
During a recent tour of the 2,200-square-foot facility, Asfaha and other Merso Labs leaders showed off some of their state-of-the-art equipment and detailed how they intend to benefit not only cannabis operators but also the local agriculture community at-large.
"We are set up with the best equipment that you can possibly get for this purpose," said Kelsey Gorter, the company's director of lab services. "It's super high-end analytical chemistry, and we have the expertise to do all this … and I think it's an important service we're going to provide to the county."
A clear point of pride for those within Merso Labs is the company's technology and equipment.
Asfaha noted the business spent about $1.6 million in brand-new machinery alone.
When Lompoc voters fill out their ballots for the Nov. 6 general election, their decisions could have a significant impact on one of the city'…
That equipment, detailed on the company's website at mersolabs.com, includes a mass spectrometer, automated handling systems and other machines that are able to provide detailed analyses of various metals and chemicals that can be traced within plants.
Gorter, who previously worked as a scientist in the wine industry, said the instruments are the best she's ever worked with.
"We toured a PhD candidate from UCSB [recently] and his eyes about fell out of his head," she said. "He was like, 'I haven't seen stuff this brand-new and nice in a long time.'"
The equipment is packed into a lab that was built specifically for its current use, but Gorter noted the walls are temporary and could allow relatively easy expansion if necessary.
"I would say we did an excellent job of setting up the laboratory to maximize our space," she said. "I think we have every instrument we need to do the job, plus some redundancy, which is important."
The lab's leaders intend to provide top-level testing for cannabis cultivators, particularly those in Santa Barbara County.
Due to the current lack of local testing facilities, some cultivators and manufacturers are being forced to endure long turnaround times while waiting on results from labs in northern and southern California.
Merso leaders said they will put a priority on local clients, who in turn should be able to expect shorter wait times on lab reports.
"We set up shop here in Lompoc on purpose," Gorter said. "The proximity is really important, I think, to our clients, and part of what we are going to be providing, in addition to that high-end level of reliability in the data, is also access to us, direct access to me overseeing all the operations."
Beyond that, the lab has its sights set on becoming a resource for farmers beyond cannabis.
When Kaleb Asfaha decided last year to start his own company and transition into California's burgeoning cannabis industry, the former Bay Are…
The company, according to Asfaha, is developing proprietary methods that would allow it to analyze a wide range of crops to develop reports on things like real-time soil data or real-time plant health.
Scott McDonald, Merso Labs' chief financial officer, noted so-called precision, or high-tech, agriculture is a growing trend.
The data produced by the lab's high-tech methods could then be used to help the farmers of those other crops develop more efficient methods that could reduce costs and improve plant viability.
That data can also be used to help growers of various crops co-exist within the same region, Gorter noted.
"Scientific data is one way to show how we are or are not impacting one another," she said of growers of different types of crops. "I want to help with that."
Asfaha said that type of service is built in Merso Labs' vision.
"We are going beyond just simply providing high-quality [cannabis] testing, which is already a very difficult task," he said. "[We're thinking:] What else can we do for our farmers and manufacturers in order to help them do their jobs better and to continue seeing Santa Barbara County thrive?"
Lompoc Mayor Jenelle Osborne, who was among the participants in the recent tour of the lab, said she was particularly impressed by the company's stated strategy to go beyond cannabis.
"What I like about their vision is they're not just looking to meet compliance regulations, which is the demand of the market," she said. "They're looking at ways to make sure their company remains healthy and growing, [and] as labs are opened and developed in other regions, they're identifying a path that says we go above and beyond the basic mandate for quality compliance.
"I think that's good for our community to have a business that's not just checking the immediate boxes but has a vision, because that really is going to change the local economy," she added.
The Merso Labs executives reported several cannabis companies have already reached out to them, inquiring about their start of operation and services.
"We know the demand is there," said Asfaha, who encouraged potential clients to visit the company's website and join its waiting list.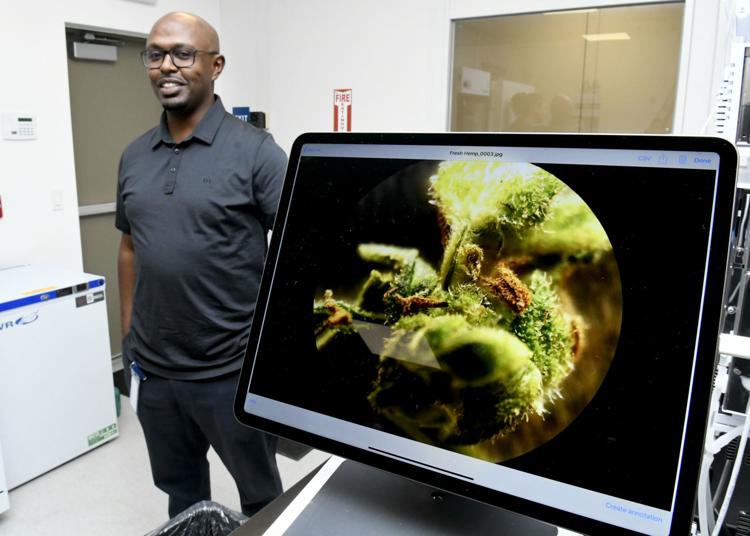 Asfaha and Gorter were initially "study buddies" during their undergrad schooling at UCSB, Asfaha said, and the two seem especially excited to get this new venture off the ground.
"We're stoked," Gorter said. "When you're raising a baby — a new business in a brand-new industry — it's very exciting when you get close."
Asfaha, who is already thinking about expansion, was blunt when describing how he views the business.
"This is an opportunity of a lifetime, and I think we're going to make sure that it's done well," he said. "We have the right staff, we have the right instruments, we're in the right city, and we feel very confident about that, and we only see ourselves growing."
Willis Jacobson Fave 5 Collection
2020 is here, and wow we are already almost through January?!? In this collection reporter Willis Jacobson chooses the top five stories that he wrote in 2019. Follow more of his work on LompocRecord.com, and sign up for a News+ membership to support the work of local journalists in your community.
Willis Jacobson covers the city of Lompoc for Lee Central Coast Newspapers. Follow him on Twitter @WJacobsonLR.
Get local news delivered to your inbox!
Subscribe to our Daily Headlines newsletter.