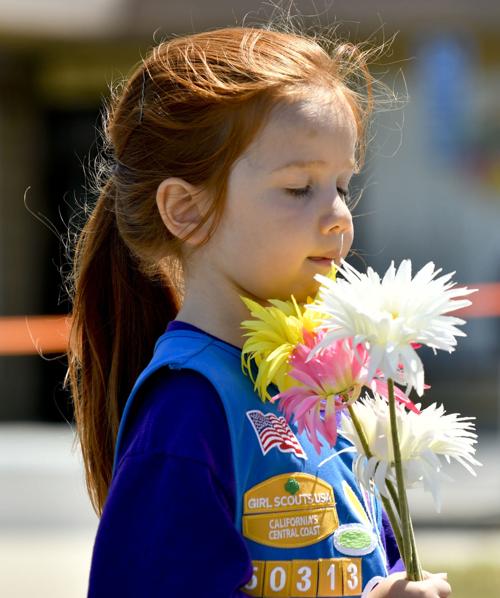 A Lompoc florist will join with hundreds of other floral businesses around the country on Wednesday for a campaign aimed at spreading smiles and reducing stress.
Ocean View Flowers, based in Lompoc, will participate in the "Petal It Forward" effort organized by the Society of American Florists. Through the campaign, which is being celebrated in more than 400 cities nationwide, unsuspecting passersby in Lompoc will be presented with two bouquets of flowers — one to keep and one to give to a friend, family member, colleague, or even a stranger.
The random-acts-of-kindness effort was designed to help people start their day happier. It was created after a study from the University of North Florida found that living with flowers reduces stress, according to the Society of American Florists. It was purposely planned for a Wednesday to help people combat a midweek slump.
Aaron and Alix Crocker, the owners of Lompoc's Grocery Outlet, have been announced as the fi…
"'Petal It Forward' is the floral industry's way of giving back," said Jennifer Sparks, vice president of marketing for the Society of American Florists.
Yvette Trevino, of Ocean View Flowers, said she was proud to be able to bring the effort to Lompoc.
You have free articles remaining.
"We want to share Lompoc-grown flowers with the members of our community," Trevino said. "Through the positive effects of flowers, we hope to make someone's day brighter, and provide a much-needed moment of calm amidst the hectic pace of life."
The Lompoc flower giveaway is planned to begin downtown around 11 a.m.
A survey conducted by Wakefield Research in July showed that 68 percent of Americans experience stress weekly, and 32 percent report feeling stressed daily, according to the Society of American Florists. That survey also found that women were more affected, with 25 percent reporting feeling stress multiple times a day.
Trevino said the original idea behind the "Petal It Forward" campaign's "keep one, share one" concept, which started in 2015, came after looking at statistics that showed that 80 percent of people reported that receiving flowers made them happy, and 88 percent said that giving flowers made them happy.
"We want to give people the chance to experience both," Trevino said.