With support from a $1.6 million federal grant, the Santa Maria Fire Department will hire staff for an additional response unit, doubling the number of firefighters at its downtown firehouse.
The grant, which the city learned it received late last week, will provide funding to support nine positions over three years. The money is from the Federal Emergency Management Agency's Staffing for Adequate Emergency Response (SAFER) grant program.
The new positions will increase the number of firefighters at any given time at Station 1 from three to six, according to Fire Chief Leonard Champion.
We've got a new batch of primetime players for Week Four.
Yes, there are some new faces up for Player of the Week, but there are some veteran playmakers.
Kidasi Nepa is a vet, though he's just a junior. And he only need four carries to top 153 yards and score three times against Soledad. Nepa has had a stellar junior year this far at Righetti. (Just about everyone on that roster is playing at a very high level).
There was a full house at Giavanni's Pizza in Orcutt on Monday.
Nearly 60 high school and junior college students, coaches and administrators filled the dinning room at the pizzeria in Orcutt for the weekly Northern Santa Barbara County Athletic Round Table.
Every school that is a member of the Round Table was in attendance.
Junior running back Kidasi Nepa was named the Male Athlete of the Week after scoring nearly every time he touched the ball in the Warriors' 42-0 win over Soledad last Friday. Hancock College soccer standout Hannah Montalban was voted the Female Athlete of the Week.
The Andersen Family float was named the overall winner in the 2019 Danish Days Parade on Saturday.
The float consisted of a towering, mobile castle topped with a Danish flag, representing this year's theme, "A Salute to Denmark's Flag: Celebrating 800 Years of Dannebrog."
Headed up by this year's grand marshals, Ken and Allie Andersen, the parade featured more than 30 entries, according to the Solvang Danish Days Committee.
The Guadalupe City Council on Tuesday will discuss putting a 1% sales tax on the ballot in November as the city looks to strengthen the financial position of the financially-strapped city.
 The city is running a general fund deficit of $45,000, according to a staff report prepared by Interim City Administrator Robert Perrault.
 The deficit is significantly lower than the $700,000 deficit the city was running before the 2014 passage of three tax measures, including a quarter-cent sales tax, but city staff are encouraging the council to put forward a 1% tax to help the general fund become sustainable and prepare for the city's pension obligations.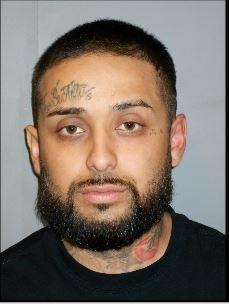 Santa Maria resident Francisco Gutierrez Ortega, who is accused of being involved in the shooting death of Lompoc resident Marlon Brumfield, has been formally charged with murder, the Santa Barbara County District Attorney's Office announced Monday.
Gutierrez Ortega, 24, made his first appearance in Lompoc Superior Court on Monday afternoon. His arraignment was continued to Oct. 17 by Judge James Iwasko. His bail has been set at $2 million.
In addition to the felony murder charge, Gutierrez Ortega is also accused of committing the murder for the benefit of, at the direction of, or in association with a criminal street gang.
Brumfield was home on leave from the Army — he had been stationed in Germany — when he was shot and killed in the early morning of Sept. 8 near the intersection of North A Street and East Ocean Avenue. He was 22 years old.
The Lompoc Police Department announced Friday that it had arrested Gutierrez Ortega in connection with the crime, while a second suspect remains on the loose. Police are seeking information from the public to locate the other suspect, 24-year-old Walter Alexander Morales Jr.
Hundreds of Lompoc community members participated in a march and rally Friday evening in honor of Brumfield, whose funeral was Saturday.
It's time to get back in the saddle.
Rodeo is back on the Central Coast.
This time it's high school rodeo, the last of the high school sports to kick off its season.
There were two events on a three-day rodeo weekend that began Friday with a cutting competition at the Jack Ranch in southern Monterey County. In cutting, a horse and rider demonstrate their ability to handle cattle before a panel of judges during a 2½-minute run.
Fall on the Central Coast abounds with great wine events. I know, right, more events. But most of our wine celebrations are far less costly than the price of dinner in a nice restaurant for a couple.
You know, we used to get just a few events in Spring and Fall, with one rather large event the Central Coast Wine Classic (one year it ran seven days) in summer. No more, wine and food events are going on each and every month. Some of them are a bit elitist with high dollar event passes for four days of events in six Santa Barbara County towns. I would love to do all of that at Taste of the Santa Ynez Valley (TSYV) but just can't afford the $975 per person price tag.
The really good news about the TSYV, is that most (but not all) events can be purchased at reasonable prices for a great tasting seminar, or even a restaurant's winemaker dinner.
A house in Santa Ynez was left uninhabitable after a truck crashed through the roof early Sunday morning.
Emergency crews from the Santa Barbara County Fire Department responded to a call of a vehicle into a structure around 12:45 a.m. Sunday, according to Capt. Daniel Bertucelli. 
When the crews arrived, they found that a truck had flown 150 feet off the roadway and landed on a house in the 3300 block of Sagunto Street in Santa Ynez.
The driver of the truck received moderate injuries and was taken to Marian Regional Medical Center for treatment. 
No one in the house was injured, however the house had to be "red-tagged" as the damage left the house structurally unsound and uninhabitable.
Express your feelings, be open to new ideas, and prepare to expand your interests, friendships and lifestyle. It's time to put an end to living in the past or dwelling on something you cannot change. Embrace the future with optimism, self-control and a positive attitude.
Mostly sunny skies. Becoming windy late. High near 95F. NNW winds at 10 to 15 mph, increasing to 20 to 30 mph.
Clear skies. Low 57F. Winds ESE at 5 to 10 mph.
A mainly sunny sky. High 87F. SSW winds shifting to WNW at 10 to 15 mph.
Mostly sunny skies. Becoming windy late. High near 95F. NNW winds at 10 to 15 mph, increasing to 20 to 30 mph.
Clear skies. Low 57F. Winds ESE at 5 to 10 mph.
A mainly sunny sky. High 87F. SSW winds shifting to WNW at 10 to 15 mph.
Sunny. High 97F. Winds WNW at 10 to 20 mph.
Clear skies. Low 57F. Winds N at 5 to 10 mph.
A mainly sunny sky. High around 85F. Winds SSE at 10 to 20 mph.
Get local news delivered to your inbox!
Subscribe to our Daily Headlines newsletter.