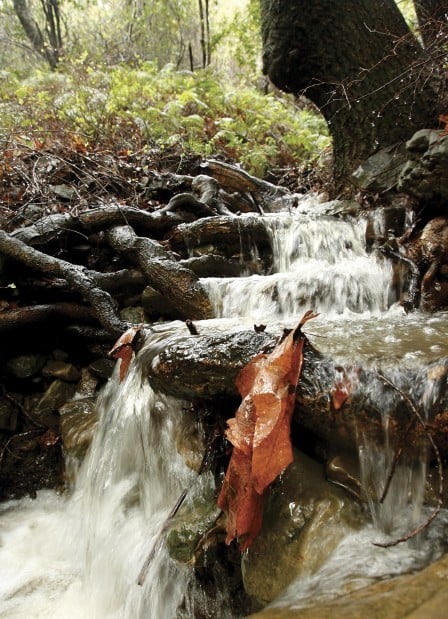 Heavy rains on the Central Coast make our creeks suddenly come alive.
One of the most dramatic is Gaviota Creek, which shares Gaviota Pass with Highway 101. In winters past, cars have been swept into the narrow channel, which at times overflows the access road to Gaviota State Park and Hollister Ranch.
Refugio Creek on the South Coast has tales of its own, including Queen Elizabeth's rainy 1983 visit when she traveled to then-President Reagan's ranch high atop Refugio Pass, fording the rapidly rushing creek. Sadly, another woman wasn't so lucky, losing her life when her car got caught in Refugio's swiftly moving waters, a ranger related.
The county is full of creeks, tumbling down hillsides, meandering through meadows and sloughs as they flow to larger creeks, rivers or ocean.
A few are El Jaro, Salsipuedes and Miguelito creeks south of Lompoc; Jalama Creek, which flows into the ocean at Jalama Beach, and Nojoqui, Zaca, Alamo Pintado and Zanja de Cota creeks in the Santa Ynez Valley.
You have free articles remaining.
San Antonio Creek is one of the longer creeks, winding from south of Los Alamos through the Barka Slough and Vandenberg Air Force Base to the ocean.
Remote Cachuma and Santa Cruz creeks flow into Lake Cachuma. Trails follow well-known Manzana Creek in the San Rafael Wilderness.
The South Coast is laced with creeks every mile or so, dropping off the mountains and creating canyon after canyon. The Goleta Slough is a gathering place of creeks — Tecolotito, Los Carneros, San Pedro, Las Vegas, San Jose, Maria Ygnacia and Atascadero creeks meet in that flood-prone area. In Santa Barbara, Mission and Sycamore creeks become treacherous and sometimes deadly in heavy rains.
Today, many of the county's major highways follow creeks. Highway 101 follows Gaviota, Nojoqui, Zaca and San Antonio creeks for part of its length. Highway 135 runs alongside San Antonio Creek through the Los Alamos Valley. Highway 1 largely follows El Jaro and Salsipuedes creeks between Highway 101 and Lompoc.
Several roads (Alamo Pintado, Jalama, Miguelito) bear the names of accompanying creeks.
Up a creek? It's possible for a motorist in Santa Barbara County.
Roadside Attractions is a weekly chronicle of sights along the Central Coast's main commuter routes. This feature originally ran Jan. 26, 2010. Sally Cappon can be reached at sjcappon@cox.net.