The Santa Maria Public Library has gone to the dogs.
On Monday, students from kindergarten to sixth grade were invited to Paws to Read, a program organized by volunteers for Love on a Leash that provides therapy dogs as reading companions for children.
Love on a Leash, a San Diego-based nonprofit, brings trained therapy dogs to libraries, assisted living centers and schools to provide pet therapy services in communities across the country.
Library technician Nuvia Andrades said the program aims to provide children with a nonthreatening environment where they can practice reading aloud.
"Sometimes young kids are a little shy about reading to an adult so they'd rather read to a dog who'll have no judgment," she said. "Lots of cuddles are what the dogs get and the kids get some time to pet a dog that they might not have at home."
An additional benefit, Andrade said, was that it brings new families into the library who might not otherwise be there.
You have free articles remaining.
"Then they pick up our monthly calendar and see what else they might want to come and join us for," she said.
Monday's Paws to Read event brought five different therapy dogs to the library's Altrusa Theater.
The dogs — which included a golden retriever and a Weimaraner — sat on the floor, listening attentively as kids read aloud and petted them.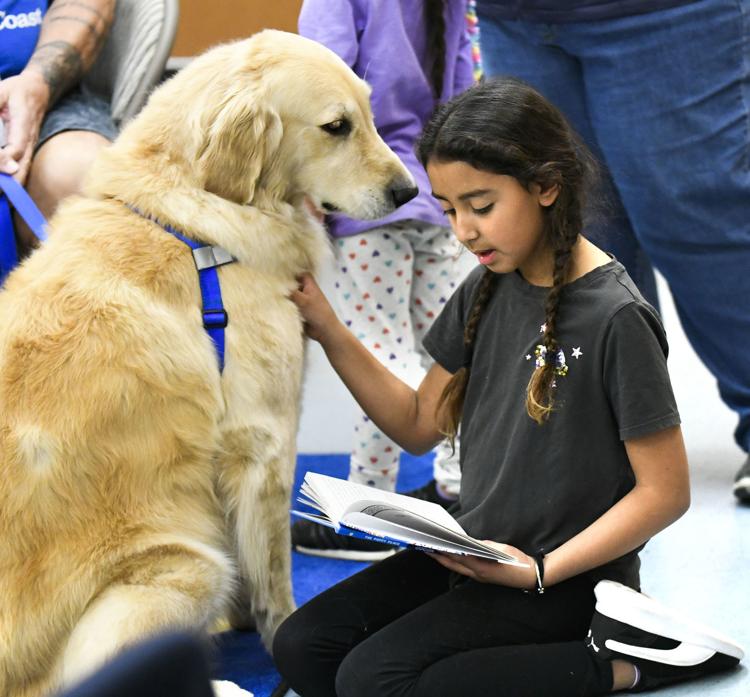 Toni Perez, who leads the Central Coast chapter for Love on a Leash, said the library visits help promote reading among students.
"It gives them a positive outlook and attitude toward reading just because the dog is there and it's a lot of fun for them," said Perez, who was at the library with Jack, her 10-year-old Dalmatian and pug mix.
Love on a Leash volunteer Greg Greeley brought Tessa, his 6-year-old golden retriever.
Tessa, who has done over 200 visits to different facilities as a therapy dog, encourages kids to read and brings them joy, Greeley said.
"You can see it right on their face — it's a big smile," he said.
Razi Syed covers Santa Maria City Government for Lee Central Coast Newspapers.  Follow him on Twitter @razisyed