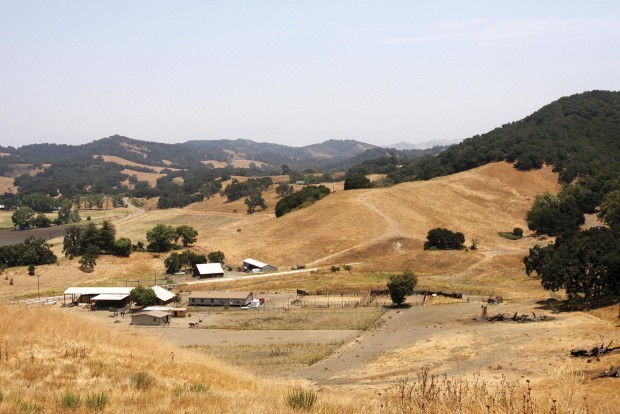 It's not the dreaded San Andreas, but Santa Barbara County has its share of faults that can shift, causing earthquakes.
One of the largest is the Santa Ynez Fault, which runs along the north side of the Santa Ynez Mountains.
Starting in Ventura County, the fault follows the upper Santa Ynez River and crosses Highway 154 north of Paradise Road.
Approaching Highway 101 further west, it splits into north and south branches.
Motorists may not be aware they are crossing an earthquake fault just north of the Gaviota Tunnel, but that's the case, according to "The Geology and Landscape of Santa Barbara County, California and Its Offshore Islands," a book by retired UCSB geology professor Robert Norris.
You have free articles remaining.
Gaviota Hot Springs are also on the southern branch of the fault, which continues out to sea at Hollister Ranch.
The north branch crosses Highway 101 atop Nojoqui Grade. A half-mile below Nojoqui Summit, the Old Coast Highway crosses the fault which follows a narrow valley lined with sycamores, Norris noted.
Westward, the fault continues across Highway 1 to Jalama Road, where it dies out.
"We know so little about it, we don't know its capabilities," said Arthur Sylvester, a retired UCSB geology professor considered an expert on the fault, which is largely responsible for the uplift of the Santa Ynez Mountains. Based on its length, he said, it is capable of producing a 7.0 earthquake.
But major earthquakes are rare. The strongest known earthquake here was in 1812 when Mission La Purisima was severely damaged and a gash opened in the hills above Lompoc. The Santa Ynez and Santa Barbara missions were also damaged.
Other major temblors occurred in Los Alamos in 1902, Santa Barbara in 1925 and Lompoc in 1927.
The San Andreas Fault, incidentally, misses the county by just a few miles northeast of Cuyama. That fault, because of its length and history, is capable of producing a very destructive quake, Sylvester said.
Roadside Attractions is a weekly chronicle of sights along the Central Coast's main commuter routes. This feature originally ran July 15, 2008. Sally Cappon can be reached at sjcappon@aol.com.