The first annual report on Immigration and Customs Enforcement agents' access to inmates in Santa Barbara County Jail was delivered Tuesday to the Board of Supervisors, who heard pleas from immigrant family members and supporters to stop cooperating with the federal agency.
Twenty-one members of the public who spoke at the meeting in Santa Maria urged the board to "not take part in the deportation machine" and wished for "local law enforcement to disentangle themselves from federal agencies."
Many of the more than two dozen in the audience gathered outside the Joseph Centeno Betteravia Government Administration Building, just prior to the board taking up the issue, to protest the county's involvement with ICE.
They particularly asked that the Sheriff's Office stop providing the release dates for inmates whom ICE has an interest in, saying when the agency scoops them up at the jail entrance it creates fear in immigrant communities and tears families apart.
But Sheriff Bill Brown told the board he's following the provisions of a trio of state laws and providing public information on inmates, including their release dates, only when requested for specific individuals.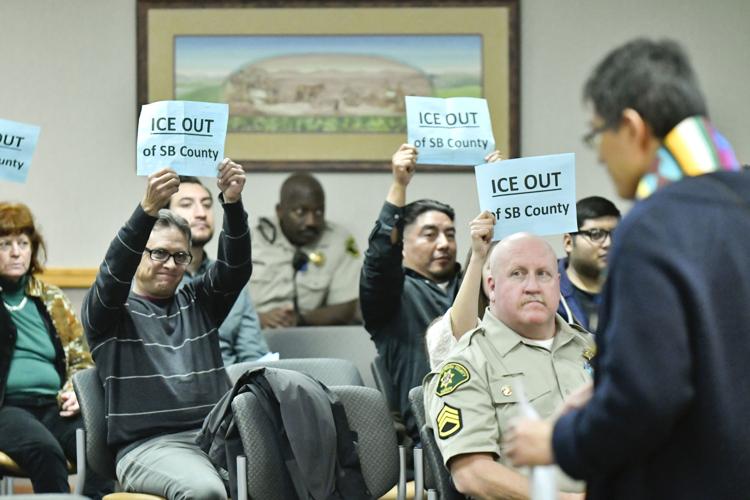 Brown also said the Sheriff's Office doesn't inform ICE of who has been booked into County Jail and doesn't have to, because the agency finds out on its own when inmates' fingerprints are entered into a federal database.
Supervisors and audience members alike blamed the federal government, particularly Congress, for the complex problems swirling around immigration.
"We find ourselves in a national situation that, frankly, we find quite ugly" and "polarizing," said 3rd District Supervisor Joan Hartmann. "We know this national atmosphere creates fear and anxiety in our communities. We're all caught in the crosshairs of something not of our making."
Brown agreed local law enforcement will remain in a tough position "until the federal government really takes (the issue) by the horns and does so in a bipartisan manner to come up with immigration reform."
Required report
Brown said the Sheriff's Office interaction with ICE is governed by the TRUST Act, the TRUTH Act and the Values Act, which became effective in 2014, 2017 and 2018, respectively.
"This is a convoluted area of the law," he said. "The three pieces of legislation were passed separately, and (the last) one has an impact on one of the previous pieces."
Essentially, the TRUST Act created a state-level sanctuary policy limiting law enforcement cooperation with ICE deportation efforts unless an arrestee has already been convicted of serious crimes.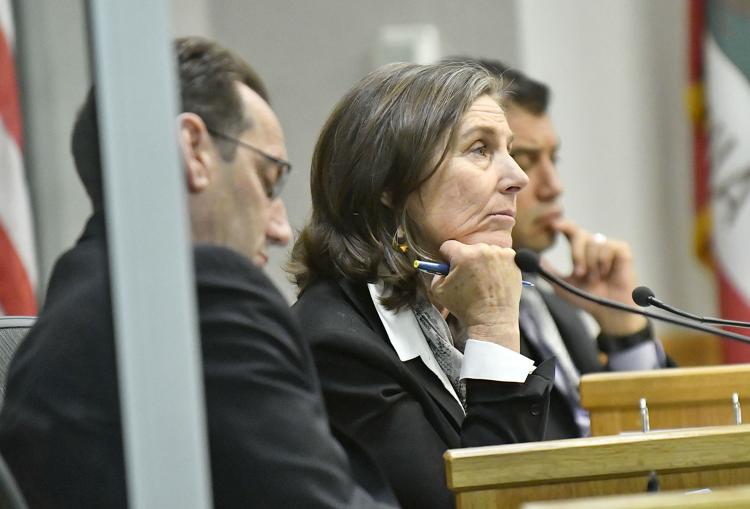 The TRUTH Act was aimed at protecting the rights of immigrant inmates of county jails by requiring sheriff's departments to take certain steps before allowing ICE agents to interview them.
Those include providing the inmate with consent form, explaining what it's for and informing the inmate that an ICE interview is voluntary and providing the inmate with his or her release date and time if that information is provided to ICE.
The law also requires a sheriff's department to provide the public with a report on ICE access to inmates if that was allowed in the previous year and that public records be provided upon request.
Local agencies' enforcement of federal immigration regulations was further curtailed by the Values Act, and the county has a local policy that reinforces that.
"It very clearly indicates the Sheriff's Office does not conduct any immigration enforcement," Brown said.
The report he delivered to supervisors Tuesday covered activities in 2017, but he noted that until the jail management system was upgraded in January, the Sheriff's Office did not maintain public records on ICE access to inmates.
Data for the report was collected by the staff manually researching booking packets.
Brown said in 2017, a total of 15,241 inmates were released from County Jail. Of those, ICE requested interviews or release information on 526, but the agency only picked up 351 released inmates.
That represented just 2.3 percent of the total number of inmates released from jail that year.
"They do not always come," Brown said of ICE agents. "They ask for release data, but they do not always pick them all up. They have limited resources just like we do."
So far this year, the jail has released 11,551 inmates. ICE requested interviews or release data on only 390 of them and actually picked up just 74, or 0.6 percent of the total.
Brown also provided a list of 14 immigrant inmates who had charges or prior convictions that would qualify them for deportation.
He noted one inmate had been arrested 52 times and was jailed on suspicion of misdemeanor shoplifting and threatening a witness with force or fear.
Other crimes ranged from domestic violence and lewd acts on a child to narcotics sales, driving under the influence and assault with a deadly weapon.
Perception and opinion
Brown said the people in the Sheriff's Office understand that whether they should be cooperating with ICE or not is a very emotional issue.
"Most immigrants in our county, be they documented or not, are good, hardworking people," Brown said.
But he added that bad elements exist in every population, whether they are immigrants or were born in the United States.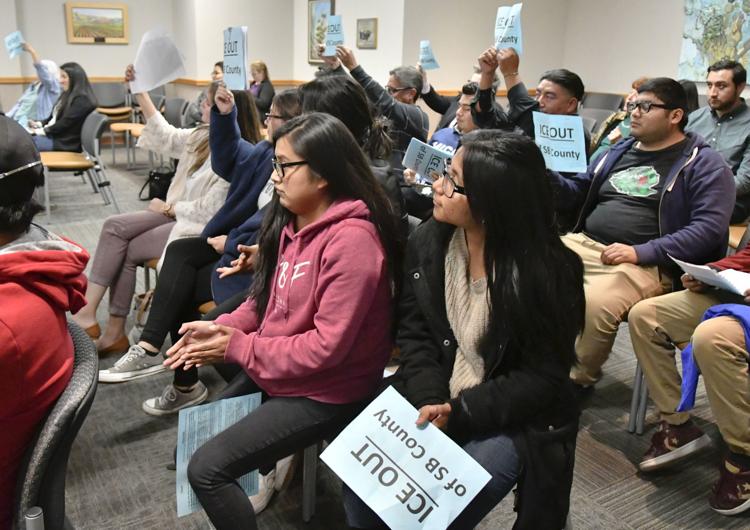 "The reality is there should be a common desire in our community (that criminal elements) be removed from the community so they don't continue to commit these crimes," Brown said.
Members of the public were still critical of the Sheriff's Office's cooperation with ICE, saying it led to fear and distrust of law enforcement, which prevented immigrant victims from reporting crimes.
They also said ICE was not trustworthy, people who had not committed crimes had been deported, sometimes through cases of mistaken identity, and some had been picked up by ICE as they left the jail and couldn't be contacted by their family.
Many of them asked that the Sheriff's Office stop posting information about inmates and their release dates, others demanded that ICE get out of Santa Barbara County.
Two related personal stories of ICE actions that devastated their families.
Fourth District Supervisor Peter Adam pointed out the county has no jurisdiction to change federal or state laws.
He also noted that in August, the board unanimously approved a resolution celebrating the county's diversity and its benefits.
"People looking for a better life should come here," Adam said, but he added they should do it legally.
But 2nd District Supervisor Janet Wolf said that's no longer an option.
"Adam mentioned we have a front door to get into our nation," she said. "That door has been slammed shut. There is no way to seek asylum."
Fifth District Supervisor Steve Lavagnino said the country needs immigrants but doesn't want them.
"We kind of suffer from a little bipolar disorder," he said.
Board Chairman and 1st District Supervisor Das Williams agreed: "I do think there is a historical irony to all of this."