Today, millions of people live in cities, and yet, there is still access to a wide variety of food at our local supermarkets. This all is due to modern agriculture, which has allowed people to evolve from small family groups of hunter-gathers to large sedentary civilizations. 
While California has become the No. 1 agricultural state in the country, producing over $50 billion in farm products, Santa Barbara County ranks 12th in the state for agricultural production among 48 counties.
Below is a brief history of how we got here: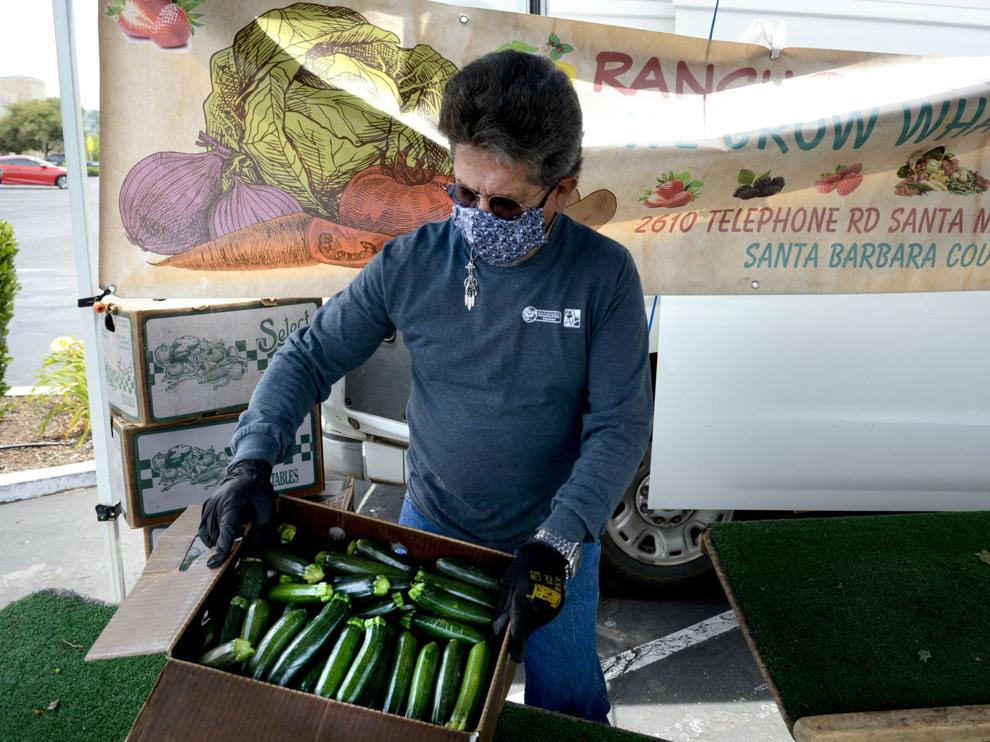 In 1890, California's primary crop was wheat, ranked as the the second-largest wheat-producing state, following Minnesota. However, by 1914, California's farm economy shifted from large-scale ranching and grain-growing to smaller fruit-cultivation farms. Grapes, citrus, fruits and nuts became the primary crops.
Between 1859 and 1929, the number of farms increased by 700%, thanks to irrigation technology. The average size of farms fell from 475 acres in 1869 to about 220 acres in 1929.
Cultivated land dropped to an average of 84 acres per farm — illustrating the difference between grain farming and fruit/vegetable farming. 
The transcontinental railroad and refrigerated boxcars helped California export its fruits and vegetables. (Most people don't realize that cotton was a major crop in California until the 1980s, when fruits and vegetables became more profitable.)
Fruits and vegetables are labor-intensive crops. During the Great Depression and Dust Bowl days in the Midwest, many migrant farmworkers came to California seeking work. John Steinbeck's book, "The Grapes of Wrath," along with Dorothea Lange's photo of a migrant mother taken in Nipomo in 1936, shows the hardships of migrant labor. Labor issues are still a significant factor in California agriculture.
Today, the top five agricultural products in California are: No. 1, dairy (milk and cream) with an annual value of $6.56 billion; No. 2, grapes, $5.79 billion; No. 3, almonds, $5.60 billion; No. 4, cannabis (legal sales), $3.1 billion; and No. 5, strawberries, $3.1 billion.
Santa Barbara County agriculture
Agricultural history in Santa Barbara County mirrors the history of California.
At first, Santa Barbara County was mainly rangeland supporting cattle and sheep. Then, of course, grapes and other fruits and vegetables were grown at the three missions in the county. Today, there are more than 720,000 acres of agricultural land. Of this, 583,310 is open grazing land, while the remainder grows fruits, vegetables and nuts.
The farm sector contributes about $2.8 billion annually to the Santa Barbara County economy. In fact, one Santa Barbara County farmer grows enough food for 155 people.
According to records, there are 159 registered organic farms in Santa Barbara County that grow over 100 different products. Farming in the county is becoming increasingly concentrated, with 95% of the value of farm products being produced on 16% of the acreage. Fifty-six percent of the agricultural lands is used for grazing.
Records also show that animal husbandry is decreasing in the county, putting pressure on landowners to convert to other uses, such as residential and commercial development.
The Santa Maria Valley has the largest concentration of prime soils and is the fastest growing area for population. The need for housing and protection of prime farmland could be a future conflict in the North County.
According to the latest County Agriculture Commissioner's report, the total value of agricultural crops in Santa Barbara County is $1.8 billion. Below are the more recent top-producing crops in Santa Barbara County.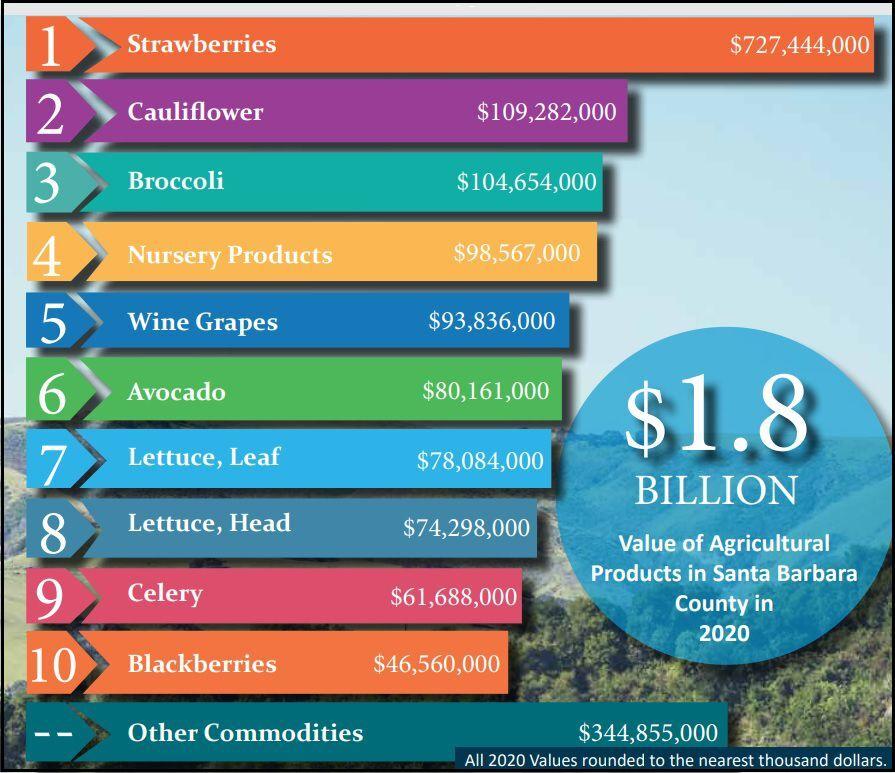 Strawberries — $727.4 million
Cauliflower — $109.3 million
Broccoli — $104.7 million
Nursery Products — $98.6 million
Wine Grapes — $93.8 million* 
Avocado — $80.2 million
Lettuce, Leaf — $78.1 million
Lettuce, Head — $74.3 million
Celery — $61.7 million
Blackberries — $46.6 million
*Wine grapes, which are usually the second income producer, slipped to fifth due to vines having to be replaced and sweltering weather in 2020, forcing an earlier than usual harvest.
Cannabis crop values were not included in the report. Still, it would have ranked second with a total crop value of $194.6 million grown on only 400 acres.
Santa Barbara County should be proud of its agricultural industry. The diversity of our crops, cutting-edge approaches to water conservation and the move to organic farming are at the forefront of farming techniques worldwide. Further, California universities like UC Davis and Cal Poly are leading agricultural research and education.
So, as you drive along our highways, take pride in seeing our prime land being farmed and used to help feed not only our citizens but the world.
28 stories about Santa Barbara County's history, landscape and traditions | Judith Dale
Get better acquainted with our beautiful slice of California with this collection of columns from Judith Dale highlighting the culture, geography and history of the Central Coast.