A fire that ravaged portions of Goleta over the weekend was at 90-percent containment Monday morning, according to a Santa Barbara County Fire spokesman.
The Holiday fire, which sparked Friday night in northern Goleta in the 1500 block of Holiday Hill, burned through about 100 acres. The blaze, as of Monday, had destroyed 13 homes and 15 outbuildings, including barns, workshops and sheds. Another three homes in the area were damaged, according to County Fire officials.
About 150 firefighters were still working the incident Monday, with full containment expected by Wednesday.
To help those residents who were displaced, a local assistance center was scheduled to be open from noon to 7 p.m. Monday at the Goleta Union School District office at 401 N. Fairview Road. The evacuation center at the Goleta Valley Community Center was set to close at 5 p.m. Monday.
The local assistance center is scheduled to remain open from 9 a.m. to 7 p.m. on Tuesday and Wednesday, and, depending on the community's needs, may be open through the weekend.
Firefighters battling a vegetation blaze that sparked Friday night in northern Goleta and bu…
"Representatives from state, local and nonprofit agencies will be on site to provide resources such as housing assistance, counseling support, information to aid in rebuilding, permitting, loss of business and/or employment, hazardous materials cleanup, basic health and human services resources, and other issues that have impacted people," read a statement from the county.
Also, effective at 6 p.m. Monday, the areas that remained under mandatory evacuation for the fire will be downgraded to an exclusion zone open to residents only. Evacuation warnings for the area had been lifted as of Monday morning.
Th exclusion zone includes the neighborhoods accessed from North Fairview north of the intersection with North La Goleta, including:
Sunset Ridge Road;
Franklin Ranch Road;
North parts of La Goleta Road;
North Fairview, north of La Goleta Road;
El Camino Ratel;
Holiday Hill Road;
Villa Lemora;
Cuesta Verde;
Edward Place; and
Pine Tree Lane.
"Residents and homeowners living in these areas are permitted to return by showing identification at law enforcement checkpoints," read a statement from the county. "Residents will want to be aware that not all power has been restored and the area may be congested with fire, public safety and utility crews."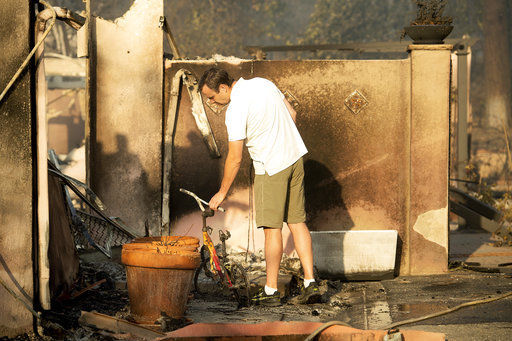 Additionally, county staff, counselors, public safety personnel and volunteers from the Red Cross were scheduled to meet with residents returning to their neighborhoods Monday night. Law enforcement and fire personnel were slated to remain in the area through the night.
"Firefighters will continue to do aggressive mop-up of hot spots in the impacted area," read the statement from the county. "The area does not have electrical power and may not for up to 72 hours."
Residents are encouraged by county officials to stay vigilant. That includes driving slowly, adhering to road closures, and yielding to emergency personnel and work crews.
"As you re-enter your property, be aware hazardous conditions may still exist," continued the county statement.
No cause of the fire had been revealed as of Monday morning. Initial dispatch reports indicated that the blaze began in a structure and spread to nearby vegetation, but investigators had yet to make that determination, County Fire Capt. Dave Zaniboni said Saturday.
For updates, resources and information about recovery and rebuilding, visit to ReadySBC.org.