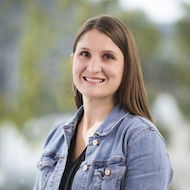 It started as a simple idea.
Find a way to put people in need in touch with people or organizations that can help during the coronavirus pandemic.
Out of that idea, HelpSLO was born.
"I realized that there were all these groups helping people in all kinds of ways during this emergency but there wasn't one organization that tied all the different groups together," said HelpSLO founder Dr. Leah Wood, a faculty member at Cal Poly's School of Education. "I thought we needed one place to go, a clearinghouse, to help put San Luis Obispo people in contact with other people."
So Wood started the Facebook group to act as that clearinghouse.
The immediate response was far greater than she ever expected.
"It really took off. I started it on March 14 and we had almost 6,000 people join in the first few days. I didn't know there was such a big need," said Wood. "We have food partners reaching out requesting food and volunteers for food pantries. A lot of them had work done by senior volunteers but that's taken a big hit since seniors are the most vulnerable to the virus. Hospitals have posted lists of things they desperately need."
At HelpSLO you can find a local distiller offering hand sanitizer or instructions on ways to make your own medical masks. A list of where to go for COVID-19 testing can be found at each of the Help sites.
People are offering help with transportation and groups are asking for volunteers.
"We started getting questions from other cities asking for information about sharing resources like HelpSLO," said Wood. "So we set up HelpFiveCities and over 1,000 volunteers joined. That led us to add Help Atascadero, HelpTempleton, HelpNorthCoast and now HelpSantaMaria. We're adding moderators to help run the community sites."
Wood quickly realized the need to expand from solely a Facebook-based group to building a website that would tie all the Help groups together.
"We've got helpslo.com up and running," said Wood. "That lists all our affiliate groups on one web site and makes it easier for people to connect with the Help site in their community."
There are simple rules for posting requests at the sites that everyone is asked to observe.
They can be found under the "Revised Group Rules" post at each site and include instructions on how to post messages asking for or offering help and where to place general community announcements.
The sites do not allow any self-promotion, requests for money or fundraising, or posts providing medical advice or services.
"This is expressly meant to be a forum for people to posts needs for help and offers to provide that help," said Wood. "This is not a place for politics or political discussions. We don't want general news stories about COVID-19 but news stories that tell how to access essential local goods or services are allowed."
Woods adds that the SLO Facebook sites are not a place for pictures of cute kids or animals but does have an idea for anyone who might like to help in that area.
"I'd like to know if anyone wants to start a companion site called HelloSLO, or whatever you want to call it," said Wood. "This could be a place to spread positivity and encouragement to each other. It would be neat to share this site with staff in the facilities that care for senior citizens. I cannot manage a new group but I'd happily help set it up."
Concerned about COVID-19?
Sign up now to get the most recent coronavirus headlines and other important local and national news sent to your email inbox daily.