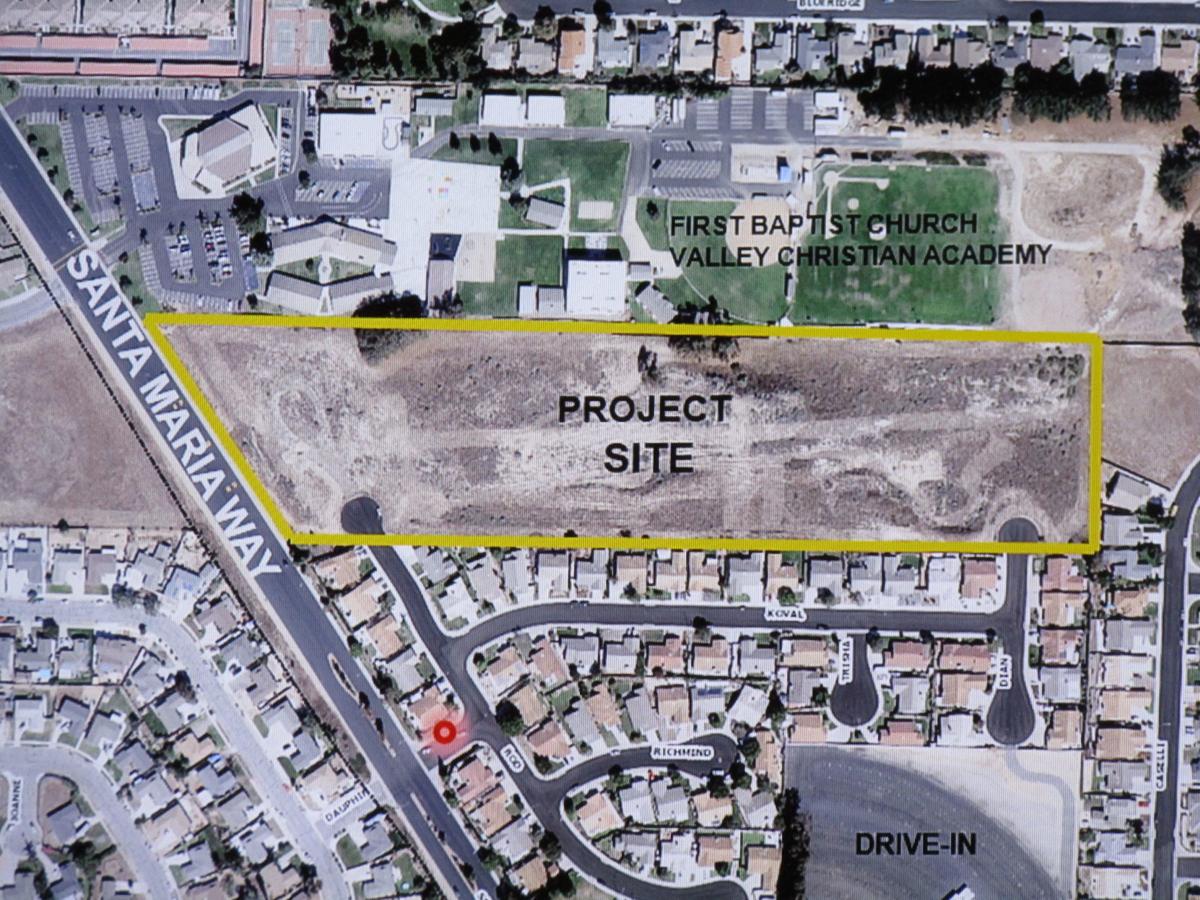 After concerns about traffic circulation and overcrowding were expressed by neighbors, the Santa Maria Planning Commission voted Wednesday to continue its review of a proposed 60-home subdivision in the southeast part of the city.
The project calls for 60 single-family homes, a drainage basin and a recreational open space built on a 13.2-acre parcel off Santa Maria Way, sandwiched between Valley Christian Academy and an existing residential neighborhood.
The developer, Eric Northman, proposed constructing homes of both one- and two-story on lots that would each be a minimum of 6,000 square feet. The density would be 4.5 units per acre.
On Wednesday, the Planning Commission voted 4-0 to continue discussion to its June 19 meeting after five neighbors from the adjacent Rolling Hills Estates neighborhood expressed concern about traffic safety near Santa Maria Way and Dauphin Street.
Commission Chair Robert Dickerson was absent.
Among the primary points of concern for neighbors was traffic around the access to the subdivision along Santa Maria Way.
The sound of a bugler playing taps and firing of a gun salute filled the parking lot of the Santa Maria Police Department headquarters Wednesday as ten peace officers were honored during the annual Peace Officers' Memorial ceremony.
The Northman subdivision would have two entry points: one newly created right-in, right-out road into the neighborhood and Dauphin Street — an access that would be shared with residents from Rolling Hills Estates.
During the meeting, residents said it was difficult to turn onto Dauphin Street as it is because the left-turn pocket is not large enough to accommodate the number vehicles during peak traffic hours.
Madelena Nieto, 18-year resident of Rolling Hills Estates, said she was concerned the project plan as proposed would overcrowd the neighborhood.
"Combining their development with ours makes 129 homes that are expected to share just one left-turn exit with emergency vehicles and Orcutt school buses that are required to travel south during peak traffic hours," she said. "How are we going to make it work? It's not working now, and it's not going to work with an additional 60 homes."
Commissioners asked city staff and the developer to take a look at traffic safety and what could reasonably be done to improve safety in the area before the project is revisited.
A California appellate court has reversed a $450,000 judgment against the city of Guadalupe, ruling the city's urgency ordinance establishing a moratorium on the conversion of apartment buildings into boardinghouses was lawful.
"If we can come up with something that can help these people get in and out, and the new people get in and out, it would certainly help my decision here," Commissioner Tim Seifert said. "It's a huge impact what we're doing on that street."
Urban Planning Concepts' Brian Schwartz, who represented Northman, said the developer was open to extending the median to help alleviate traffic concerns.
Planning Commissioners also asked that Northman consider revising the tract map to have each lot sit at a minimum of 6,500 square feet to better match the characteristics of neighboring subdivisions. The smallest lots in the proposed tract map are currently 6,000 square feet.
The Paul Nelson Aquatic Center and Santa Maria Valley Family and Youth Center were some of the beneficiaries of $1.4 million of federal funds were apportioned among different projects and community organizations during the Santa Maria City Council's Tuesday meeting.
Seifert said he believed the increase in lot size could reduce the number of irregular-shaped lots and cul-de-sacs that did not meet the zoning's frontage width or setback requirements.
"You'd be eliminating one or two of these homes and your setback problems might be going away," he said.
Razi Syed covers Santa Maria City Government for Lee Central Coast Newspapers.  Follow him on Twitter @razisyed
Get Government & Politics updates in your inbox!
Stay up-to-date on the latest in local and national government and political topics with our newsletter.