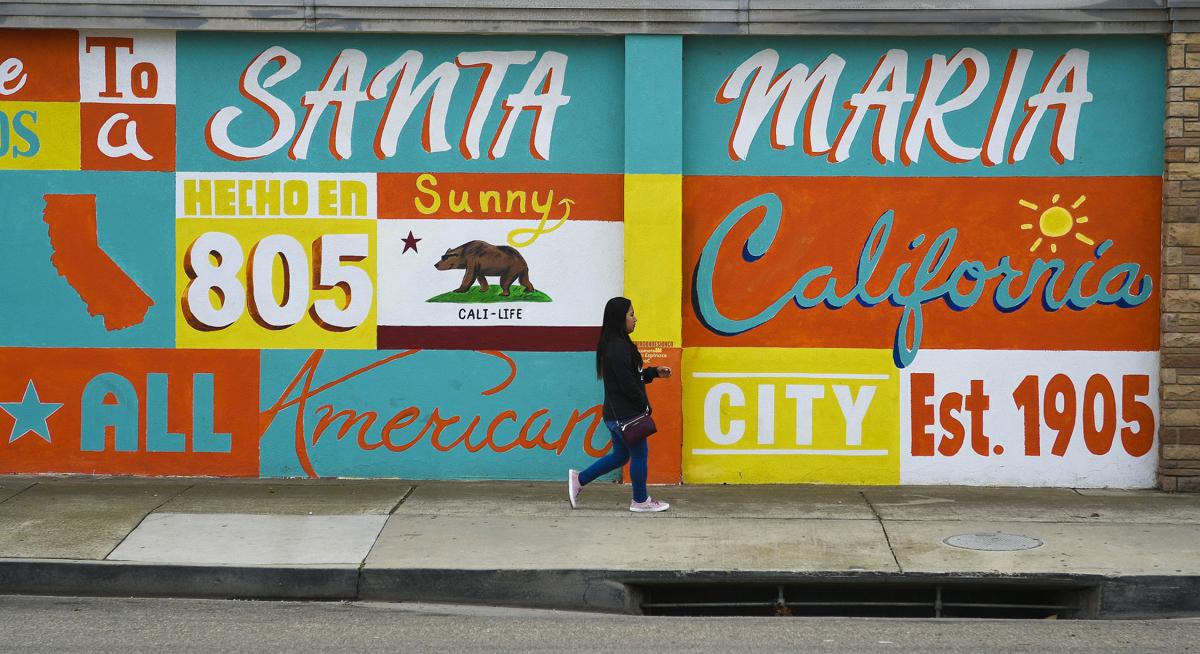 After a nearly two-hour discussion, the Santa Maria City Council on Tuesday approved a master public art plan for the city but rejected mandating any city or developer funds to pay for the development of public art.
The public art master plan, which dates back to 2016 in its earliest iteration, is intended to guide the investment of funds into public art that would enhance the cityscape, reinforce Santa Maria's unique identity and encourage a more walkable city.
On Tuesday, council members voted 4-1 to adopt the plan but declined to establish a city art fund made up of revenues from a quarter-percent fee charged developers based on the value of building permits issued by the city.
The fee would have been capped at a valuation of $2 million and would not have applied to permits valued at less than $50,000.
Councilwoman Gloria Soto — the sole no vote — said she feels it is important to have a fee that would provide funds for public art.
Councilwoman Etta Waterfield said she doesn't believe it is the role of municipalities to levy fees to fund art.
In place of a fee on building permits, council members asked staff to look into the formation of a city-run nonprofit organization that could solicit donations for public art projects.
The art plan and the proposed quarter-cent fee came to the council two years after council members declined to move forward with a half-percent permit fee for public art.
During the public comment portion of the meeting, 13 people spoke in favor of the arts fee while four asked the council to reject it.
Gale McNeely, who runs Youth Arts Alive, encouraged the council to adopt the arts fee, saying it would benefit the entire community, especially the city's youth.
"[A quarter-percent fee] is not going to keep a developer from developing a property in Santa Maria," he said. "The amount is so low at this point.
"It's more of a philosophical problem with some people: Should public money be spent on public art?" McNeely said. "The answer that we will give you tonight is, 'Yes, it should.'"
Santa Maria artist Ruben Espinoza also asked the city to provide a funding mechanism for public art.
Espinoza, who has painted two murals in Santa Maria, said much of his work is done in Los Angeles and other cities that charge developers fees for public art.
While the exact terms differ between localities, numerous cities across the state and the rest of the country have implemented ordinances requiring developers to invest in the production of public art.
San Luis Obispo requires large-scale private developers to set aside a half-percent of development costs on nonresidential projects for public art.
In Los Angeles, the city asks that each private development project valued at $500,000 or more pay an arts fee based on the square footage of the building or 1% of the project's permit valuation.
Both cities also mandate that publicly funded capital improvement projects devote 1% to public art development.
Espinoza also said investment in public art provides economic benefits to local businesses.
In the age of social media, public art that provides good backdrops for selfies and Instagram posts helps drive increased foot traffic to retail stores, he said.
Lindy Hatcher, executive director of the Homebuilders Association of the Central Coast, asked the council to adopt the plan but find another way to fund it.
The burden for funding public art shouldn't fall only on the backs of developers, Hatcher said.
Santa Maria Valley Chamber CEO Glenn Morris asked the council to reject the fee and instead encourage developers to voluntarily spend money on art with incentives, like granting additional density on the projects in exchange for public art on the development site.
Razi Syed covers Santa Maria City Government for Lee Central Coast Newspapers.  Follow him on Twitter @razisyed
Get Government & Politics updates in your inbox!
Stay up-to-date on the latest in local and national government and political topics with our newsletter.