A new online dashboard giving the public more data on COVID-19 in Santa Barbara County was unveiled Tuesday when the Board of Supervisors took a guided tour through the interactive site created through a public-private partnership and paid for with philanthropic funding.
The new user-friendly dashboard, fully available in Spanish as well as English, is an ongoing effort that will be regularly updated, said Carl Palmer, founder and chief executive officer of LegacyWorks Group and a member of the development steering committee.
Data is still available as it was presented on the old dashboard, but Palmer said the new version will give the public — including business owners, school administrators, health-care providers and government officials — additional information they can use to make more informed decisions about their health.
"This dashboard, I think, is going to be incredibly empowering," said Dr. Lynn Fitzgibbons, an infectious disease specialist for Cottage Health and steering committee member, who said the dashboard has two goals, one of which is telling people what happened.
"We want to tell the story of the impact this epidemic has had on our community and on every corner of our community," she said. "But, of course, the second critical aspect to this dashboard is functioning, perhaps, as a crystal ball."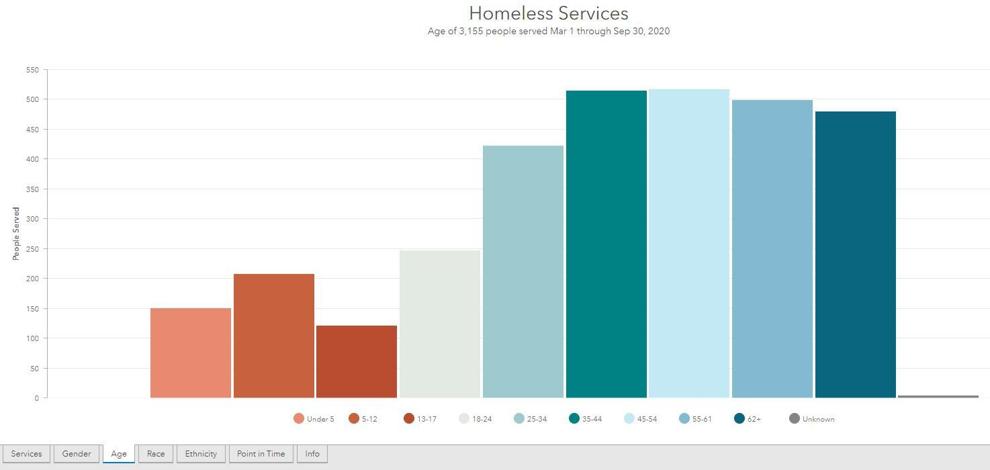 Fitzgibbons said it will help people make "the most data-driven predictions" of what's to come, and she said considering what's happening globally and nationally, as shown through the dashboard's links, "There may be changes afoot."
Organized by topic, features in various tabs will allow visitors to bring up details by hovering a cursor over graph points, change time sequences, turn data elements on and off and see statistics in multiple formats, Palmer explained as he conducted the tour.
Information not previously available is now provided on the dashboard, Palmer said.
As an example, he used bar charts under the demographics tab to show how people 70 and older who make up 11% of the population have only 6% of the COVID-19 cases but account for 22% of hospitalizations and 66% of the deaths from the disease.
"So, at a glance we can see, really, we need to focus quite a bit on protecting this segment of the population," Palmer said, noting the page also shows how the virus has hit the Latinx community especially hard.
The community impact tab is also packed with previously unavailable information, from unemployment data provided by UCSB Economic Forecast Project, the status of schools from the County Education Office and food distribution reported by the Foodbank and the CalFresh program.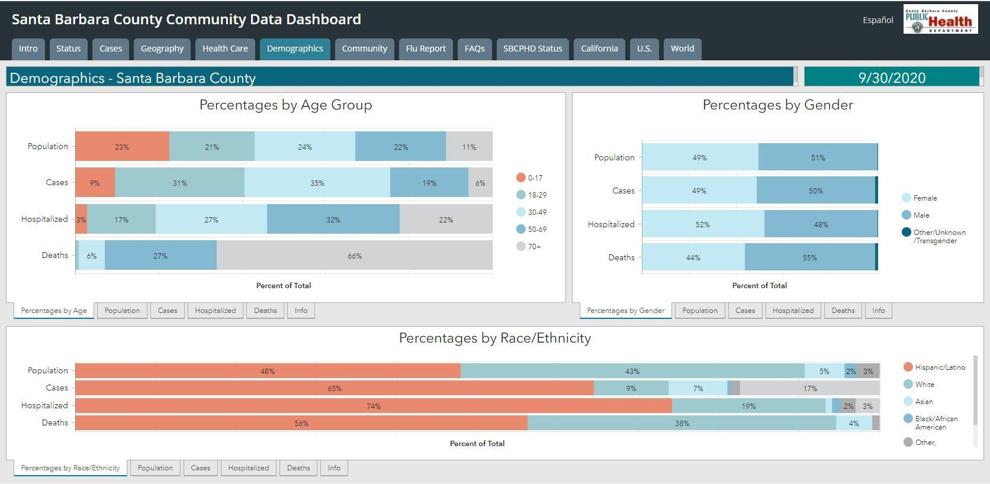 Surprising statistics found under the health tab include that since the pandemic hit, fewer people are obtaining services for substance abuse, fewer suicides have been reported, overdoses treated with Naxolone have doubled, and fewer deaths from alcohol and drugs have been reported.
Other new features on the site include data on influenza in the county and tabs that provide links to COVID-19 status reports for the nation and the world.
Board Chairman and 2nd District Supervisor Gregg Hart praised the new dashboard as "a really incredible thing."
"I know the community will be better served by having this tool," he said.
Third District Supervisor Joan Hartmann said her vision is to apply the dashboard's concept to all the county's various programs.
Santa Barbara County's unemployment rate has fallen to about half of its April spike brought on by the COVID-19 pandemic, but it's still runni…