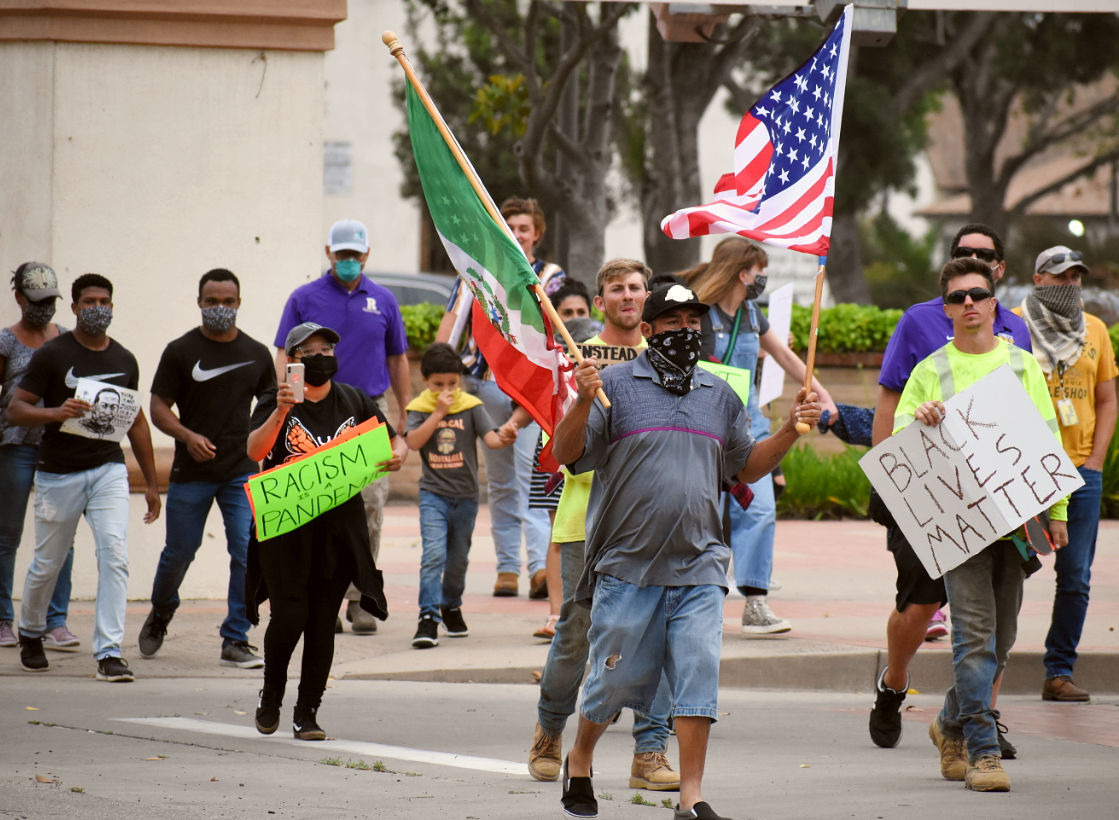 More than 90 people told the Santa Barbara County Board of Supervisors and staff that more must be done to address racism and inequalities in the criminal justice system Thursday in what was termed the first of many such discussions on the issue.
Board Chairman and 2nd District Supervisor Gregg Hart and 1st District Supervisor Das Williams called for Thursday's hearing in response to protests and pleas for criminal justice reform across the county following the May 25 death of George Floyd, who was black, under the knee of a white Minneapolis police officer.
The hearing, which lasted more than six hours, was facilitated by Wendy Sims-Moten, executive director of First 5 of Santa Barbara County, and Aaron Jones, director of the Educational Opportunity Program at UC Santa Barbara.
"When our citizens are calling up on this county, how are we going to answer the call?" Sims-Moten said in her introductory remarks.
Supervisors' immediate response was to vote 4-0, with 4th District Supervisor Peter Adam absent, to direct the heads of the various criminal justice departments to return with a report on what's being done to reduce the number of people incarcerated in County Jail.
The goal is to divert more people into alternative mental health and substance abuse programs and keep innocent people from being held in jail for long periods awaiting trial.
Although it wasn't included in the motion, Hart also asked County Executive Officer Mona Miyasato to report back to the board with a list of people who can form a working group to address equity, racism and criminal justice reform.
Hart said the group would use the $500,000 supervisors set aside to address those issues in Tuesday's budget hearings.
The sheriff, district attorney, public defender and chief probation officer as well as the supervisors all pledged to work toward structural changes to the systems that unequally affect people of color, although to some degree or another, they all said those efforts are already underway.
No specific timelines were set for the reports from Miyasato and the criminal justice officials, who included Sheriff Bill Brown, District Attorney Joyce Dudley, Public Defender Tracy Macuga and Chief Probation Officer Tanja Heitman.
Before the board heard emails and spoken comments from the public, Jones set the background for the discussion with a history lesson.
"Until we begin to acknowledge that law enforcement is based out of slave patrols; that there was no such thing as law enforcement in this country save for the organization of predominantly, primarily white men who had the legal authority to hunt and kill black bodies as capital, as property; and until we can see the connection [of] that to this very moment, to George Floyd, to Sandra Bland, to all these people; until we can make those connections legitimately, we will continue to be here," Jones said.
"This is nothing new," he said. "And what are we going to do … to start to really get at the structure?"
Brown responded to three demands he said were mentioned in the public comments and in many letters he has received, the first being to update the Sheriff's Office use-of-force policy to emphasize de-escalation.
He said the department's policy discusses the sanctity of human life, calls for deputies to use discretion, addresses reasonableness and necessity of using force and says deputies have a duty to intercede if they see another deputy using excessive force and to report that.
A second demand was to not quarantine County Jail inmates returning from court or meeting with attorneys.
Brown said following the COVID-19 outbreak, the Sheriff's Office took steps to protect inmates and staff by placing returning inmates in a special section for 14 days.
But when the courts began reopening, that stopped. Instead, every inmate was issued N95 masks and required to wear them when going to court or meeting attorneys, who also were required to wear masks.
The third demand was to reduce jail admissions by redirecting those taken into custody to mental health and substance abuse programs.
"We have been a leader in this area for many years," Brown said, citing the formation of the Sheriff's Behavioral Unit, required crisis intervention training, the formation of three co-response teams consisting of a deputy and a mental health professional and creation of the Crisis Recovery Engagement Diversion Stabilization Center.
Get Government & Politics updates in your inbox!
Stay up-to-date on the latest in local and national government and political topics with our newsletter.