Supervisors have been concerned about the economic impacts of state restrictions, and the report included some of that data gleaned from a number of sources.
For the most part, the report only included statistics from February through October, which doesn't include impacts from the governor sending most of the state back to the purple tier of disease transmission nor his recent stay-at-home order.
Unemployment dropped to 6.3% in October from its peak of 13.9% in April, but it still hasn't reached the low of 4.6% reported in February just before the pandemic hit, according to the California Employment Development Department.
Two sectors have fully recovered, and one even added more jobs from April to October than it lost from February through April, according to EDD statistics, but most sectors are looking at recovery rates of 50% or less.
The construction industry lost 800 jobs from February through April, but from April to October it added 1,600 jobs. During the same time periods, the mining and logging industry lost 100 jobs but recovered all 100 of those.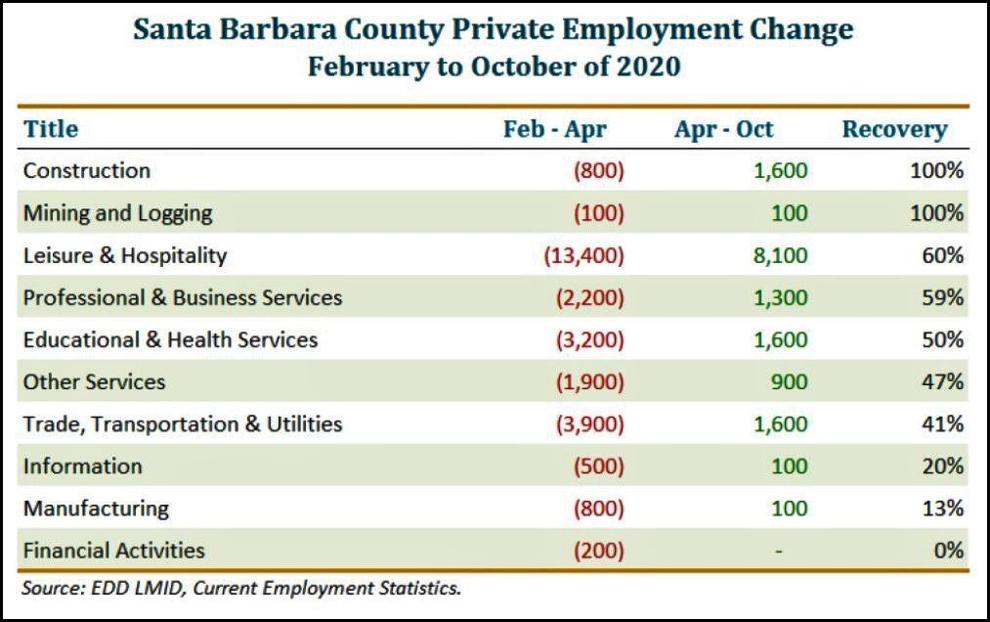 Leisure and hospitality businesses lost the greatest number of jobs at 13,400 and only added back 8,100 of those for a 60% recovery rate.
The trade, transportation and utilities sector lost the second-greatest number of jobs at 3,900 and only returned 1,600 of those for a 41% recovery rate.
Educational and health services jobs fell by 3,200 at the outset of the pandemic and added back 1,600 of those for a 50% recovery rate.
Professional and business services lost 2,200 jobs and recovered 1,300 of those for a 59% recovery rate.
Two industry sectors with poor recovery rates are information, which lost 500 jobs and returned 100 for a 20% recovery rate, and manufacturing, which lost 800 jobs and added back 100 for a 13% recovery.
But the worst performing sector is financial activities, which lost 200 jobs and has recovered none, according to the EDD.
Notably, notices of default on mortgages have declined during the pandemic to an average of 9.4 per six-month period, according to statistics from the County Clerk-Recorder-Assessor's Office.
The three-year average before the pandemic was 28.6, and the 40-year average was 81, with a large bulge in defaults from roughly late 2005 to late 2013.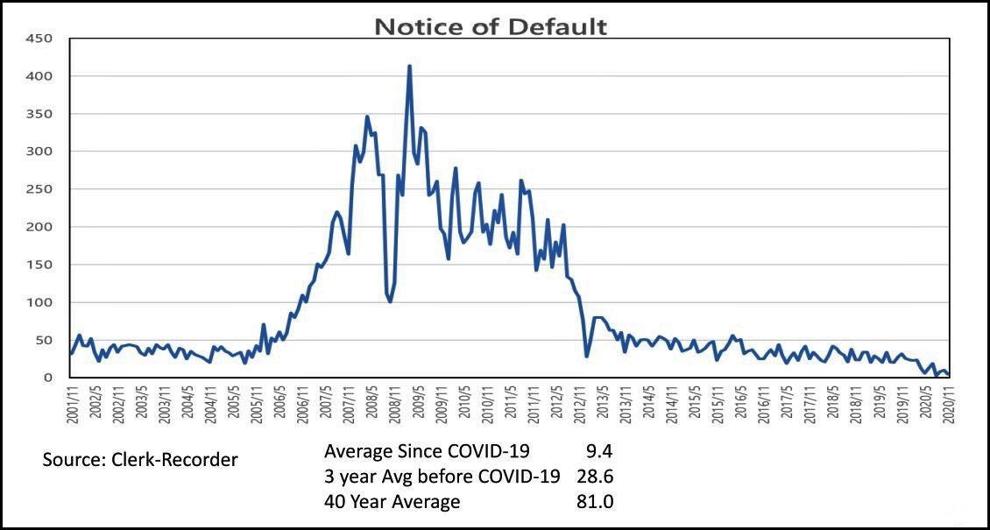 Reporting on the county's Reopening in Safe Environment, or RISE, program, Assistant County Executive Officer Nancy Anderson said as of Dec. 4 a total of 4,397 businesses had applied for self-certification for meeting requirements for reopening.
Cities accounted for 3,974 of those businesses, with the remaining 423 located in unincorporated areas.
Retail stores made up the greatest number at 1,015, followed by 896 restaurants, 484 offices, 191 hair salons and barbershops, 177 limited services businesses, 168 gyms and fitness centers, 137 hotels, 115 wineries and bars, 108 personal services businesses and 87 places of worship.
However, the governor's latest stay-at-home order either closes or severely restricts all those commercial sectors.
It requires wineries, bars, hair salons and barbershops to close, restricts restaurants to only delivering or serving food to go and allows hotels only to open for necessary infrastructure.
The order requires all office employees to work from home except those in critical infrastructure jobs who can't work remotely and restricts gyms, fitness centers and places of worship to outdoor activities.
Retail stores may remain open but can only allow 20% of their capacity of customers inside.
Series: Recent Santa Barbara County Supervisors coverage
Read this collection of stories on Santa Barbara Board of Supervisors from the past year. Read all of our coverage of county government online.