Santa Barbara County's libraries were "saved," cannabis taxes will be audited and longtime deficiencies in the district attorney's Santa Maria office will be dealt with as a result of allocations made Tuesday in the final 2019-20 budget adopted by the Board of Supervisors.
In a hearing lasting about three hours and 15 minutes, supervisors hashed out revisions to the staff-recommended budget and approved the final result on a 4-1 vote, with 4th District Supervisor Peter Adam dissenting.
Adam said he agreed with the recommended budget and could accept most of the additional allocations.
But he thought the board should have reduced or eliminated some of those and pumped more money into addressing a growing backlog of deferred maintenance.

"That thing should be just frightening to everybody," Adam said, noting the cost of deferred maintenance rose 50% in the last six years. "If that continues at that rate — you're going to have a hard time catching that now.
"You're going to throw ($22,000) at it, and it's gone up ($38,000)," he said. "That's out of control; it's irresponsible."
He later said, "If I can't support this budget this year, it's because I want to set the bar higher."
Other supervisors were more optimistic about the budget.
"It's a bragging point we're not dipping into reserves, and we've increased the cannabis enforcement team," 1st District Supervisor Das Williams said. "It helps save a whole lot of libraries, too … paid for by the cannabis tax."
The budget recommended by the staff is balanced at $1.141 billion in operating revenues and expenses, plus a net increase in the reserves, with no reduction in service levels. Staff will increase by 78, with 23 of those positions to staff the Northern Branch Jail scheduled for completion this year.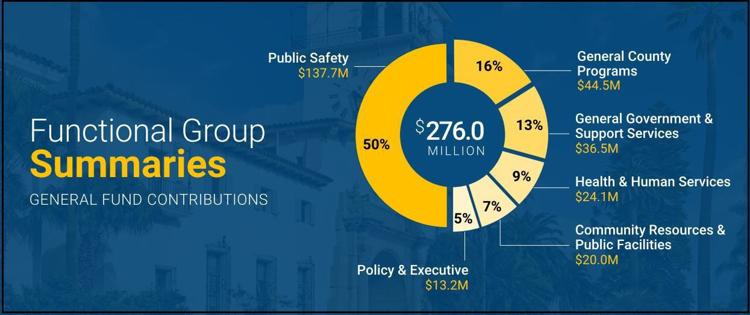 But with cannabis tax revenue estimated at $5.615 million, with an anticipated carryover of $323,500 in unspent revenue from the current fiscal year, and expenditures budgeted at nearly $5.048 million, that left $889,600 in unallocated funds.
You have free articles remaining.
Added to carryover money from other funds, supervisors were left with just over $1.086 million to allocate to expansion requests submitted after the budget workshops in April.
Requests for allocations in ongoing funds included $135,000 for libraries and, in one-time funds, $750,000 in start-up revenue for Community Choice Energy, $350,000 for a recreation master plan, $100,000 to encourage county employees to use alternative methods for commuting and $175,000 for cannabis tax auditing.
Second District Supervisor Gregg Hart also added last-minute requests of $35,000 to deal with space and safety issues in the district attorney's Santa Maria office and $40,000 to improve an area where the public interacts with the staff at the Animal Services Department shelter in Goleta.
Most of the supervisors supported most of the requests, although not necessarily for the amounts requested, but Adam didn't support any, instead asking for the $899,600 to be applied to cannabis enforcement and $196,000 to one-time maintenance funding.
Despite potential budget deficits projected for the next five years, the Santa Barbara County Board of Supervisors decided citizens won't get …
Board Chairman and 5th District Supervisor Steve Lavagnino didn't support funds for Animal Services and the alternative commuting incentives but did support $381,100 for cannabis enforcement.
The final compromise included $135,000 to libraries, $35,000 to the district attorney's Santa Maria office, $100,000 to the cannabis tax audit, $350,000 to a recreation master plan, $50,000 to alternative commuting, $391,100 to Consumer Choice Energy and $25,000 to the Animal Services facility.
Lavagnino overall was pleased with the budget process, noting he initially pushed back against the idea of getting the budget approved in one day.
"Where in the past we had drama, we now have formulas," he said. "I liked the drama, but I love the formulas."