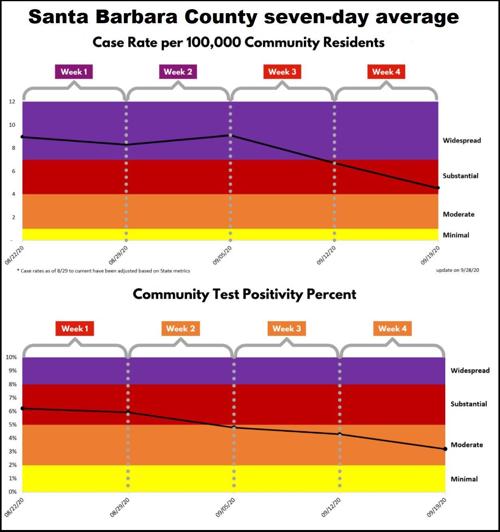 Santa Barbara County officially went red Tuesday after the state certified its COVID-19 new case rate had remained at that level for two weeks and the testing positivity rate continued in the orange tier level.
The official move from the purple to the red tier will allow more businesses to reopen indoor operations at various levels of service, county staff told the County Board of Supervisors on Tuesday.
Board Chairman and 2nd District Supervisor Gregg Hart set a goal for the county to move into the even less-restrictive orange tier by Halloween.
"Let's not blow it," 1st District Supervisor Das Williams said. "If we continue to practice some level of personal restraint, we can continue better health outcomes and limit the spread [of COVID-19] but still allow people's dreams of [having a] job and owning a business to survive."
However, County Public Health Department Director Van Do-Reynoso told supervisors the state on Tuesday was expected to release its new Equity Metrics, designed to ensure the rate of positive test results in the counties' most disadvantaged areas doesn't lag significantly behind the overall county rate.
When those become effective Oct. 9, the positive test rate for the lowest quarter of the county's population will have to meet specific thresholds, in addition to the county meeting current metrics, to move to the next lower tier.
To move from the purple, or "widespread" risk of disease transmission, to the red, or "substantial" risk, tier, the county had to have four to seven new COVID-19 cases per 100,000 population and a 5% to 8% rate of positive test results.
The county had 4.8 new cases per 100,000, adjusted to 4.5 based on the number of tests the county conducted, and a testing positivity rate of 3.2%, Do-Reynoso said.
She also displayed a graph of new cases for Sept. 7 through 21 with lines representing 11 areas of the county either flat or descending in the last seven days.
"For the first time, we see a unanimous decrease in all of our trends in all of our areas," she said.
Under the red tier classification, businesses allowed to reopen indoor operations at 10% capacity include gyms and fitness centers, while zoos and museums can reopen indoors at 25% capacity.
Places of worship, movie theaters and restaurants also can reopen indoors at 25% capacity or 100 people, whichever is less, Do-Reynoso said.
All retail stores, malls, destination centers and swap meets, which had been allowed indoor operations at 25% capacity, now can increase to 50% capacity.
Malls can reopen food courts with restrictions, but common areas must remain closed, according to Assistant County Executive Officer Nancy Anderson's report on the county's Reopening in Safe Environment, or RISE, program.
Personal care services, like massage and tattoo parlors, which could only open outdoors in the purple tier, can now open indoors with modifications, and hotels can reopen their fitness centers at 10% capacity, according to the RISE report.
Do-Reynoso said the county received new guidelines on playgrounds reopening and was working on Halloween guidelines.
"Halloween cannot be celebrated as in previous years," she said, adding the guidelines will provide ways to hold safer Halloween activities.
"I would just urge people to find creative ways to celebrate the holidays coming up," Williams said.
Do-Reynoso also said 19 kindergarten-through-sixth-grade schools and two districts had received waivers to reopen classes on campus, and applications from one district and three schools had been forwarded to the California Department of Public Health for approval.
The county was awaiting additional information from two schools, and three schools had submitted applications.
Concerned about COVID-19?
Sign up now to get the most recent coronavirus headlines and other important local and national news sent to your email inbox daily.