Santa Barbara County's Independent Redistricting Commission will face a difficult task when it meets Monday morning to choose the last six members while hitting as close as possible to the bull's-eye of the demographic target prescribed by county ordinance.
The five initially chosen members are scheduled to interview a final candidate from District 1, then will each reveal their "dream team" of six potential commissioners — one for each of the five supervisorial districts and one "at-large" — when they meet in a virtual format at 11 a.m.
Following a series of public meetings, the commission has winnowed down the list of applicants to 12 finalists consisting of three each from the 1st and 4th districts and two each from the 2nd, 3rd and 5th districts.
Given the demographic makeup of the five already-chosen members, the difficulty will be in choosing six who will bring the demographics of the commission in line with those of the county.
Commissioners have already admitted they can't precisely do that but will have to match them as closely as possible, which is provided for in the ordinance.
To match the demographics, the commission would have to select five women and one man; five Hispanics and one Asian, Black or Native American; one to two Republicans, two to three Democrats and one with no party preference; and at least one representative from each of three age groups younger than 45 and one from each of two age groups older than 75.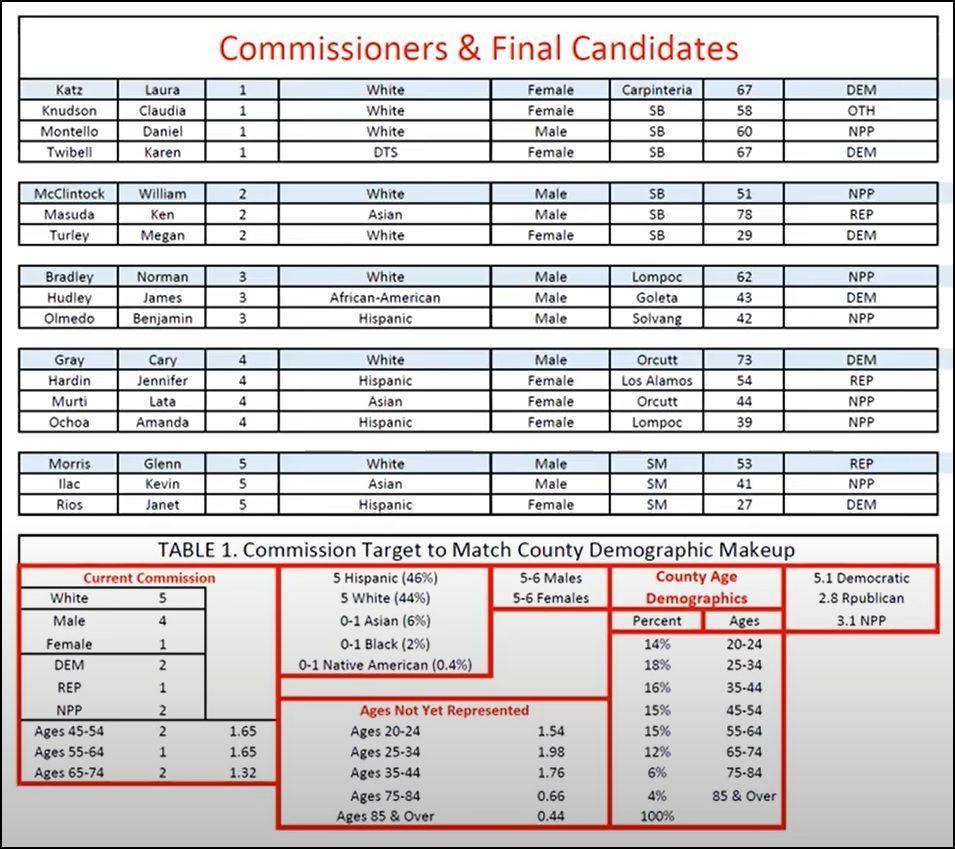 "And quite frankly, as we look at the remaining candidates, we're not going to hit every mark," said interim Chairman Glenn Morris of the 5th District, noting that reaching consensus on the six will require compromises and trade-offs.
"I just want everybody in the audience to appreciate that, because I think we're going to do our best but we are not going to please everybody and we are not going to hit the actual breakdowns perfectly in every category," Morris said.
The 12 finalists include seven women and five men; three Whites, four Hispanics, three Asians, one Black and one who declined to state ethnicity; six from the unrepresented age groups under 45 but none from the unrepresented age groups over 75; four Democrats, two Republicans, five with no party preference and one listed as "other."
Cary Gray, representing the 4th District, referred to a spreadsheet showing the five commissioners and six finalists by district, their demographics and the demographic targets for the full commission that he said was a way to "understand what a difficult balancing act we must now attempt to accomplish by next Monday."
"We currently have four male and one female commissioners, so we're all White, all over 51 years of age," Gray said. "To follow [the] guidelines, we can pick four or five women as new commissioners but only zero to one male commissioner.
"We can only pick zero to one more White commissioner," he continued. "The table tells us to target five Hispanics, but that only leaves one position for a highly qualified Asian, African American or Hawaiian Islander.
"If we want to have two commissioners who represent both an Asian and African American community, then we can only select four Hispanics."
Gray said commissioners also need to balance gender with heritage, address the county's age diversity and balance all those with political affiliations.
"But I feel certain we'll be able to pick a 'dream team' on Monday that will make the citizens of Santa Barbara County proud of the difficult task we have successfully completed," he said.
Norman Bradley, representing the 3rd District, pointed out that, per the ordinance, none of the commission members can hold an elective county office within the next 10 years but some of the finalists would make excellent elected city and county officials.
"In some ways, we may be doing [finalists] a favor by not selecting them so they can run for office in the next 10 years, because we have an outstanding pool of people to select from," Bradley said.
In addition to Bradley, Gray and Morris, the current commission consists of Lara Katz of the 1st District and William McClintock of the 2nd District.
The 12 finalists for the remaining six seats are Claudia Knudson, Daniel Montello and Karen Twibell from the 1st District; Ken Masuda and Megan Turley from the 2nd District; James Hudley and Benjamin Olmedo from the 3rd District; Jennifer Hardin, Lata Murti and Amanda Ochoa from the 4th District; and Kevin Ilac and Janet Rios from the 5th District.
Series: Recent Santa Barbara County Supervisors coverage
Read this collection of stories on Santa Barbara Board of Supervisors from the past year. Read all of our coverage of county government online.