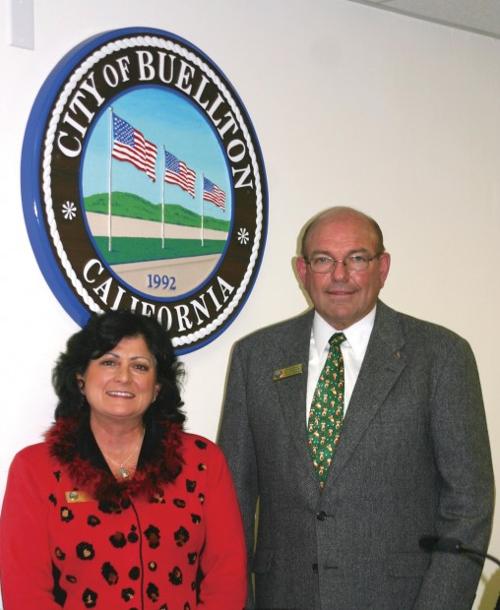 The Buellton City Council has selected Victoria Pointer as mayor for next year and Ed Andrisek as mayor pro tem.
In response to public complaints, the council has also decided to open the city's trash-collection process to multiple bidders.
At Thursday night's council meeting, outgoing mayor Russ Hicks was given a watch, and retiring Finance Director Kathy Wolin was given a globe inscribed by city staff.
"It's hard to believe it's been 18 years. It has been interesting watching Buellton become a city. Through all the growing pains, Buellton is a beautiful place — and thank you for the opportunity to serve the community," Wollin said to the council and audience.
In response to public complaints and questions about the potential renewal of the city's trash-collection contract with Waste Management Health Sanitation Services, the council formed a committee of Andrisek and Councilman Dave King to help incoming City Manager John Kunkel and City Attorney Ralph Hanson modify Buellton's current contract for solid waste collection and put it out to bidders.
The updated contract is scheduled to be brought back to the council Jan. 14 for potential approval and release to bidders.
After a long discussion Thursday about possibly putting out a request for proposals (RFPs) and the impact that might have on the city staff's time and budget, four of the five council members decided to take the existing contract, update it to current codes and regulations, and have interested parties make bids off that.
Hicks routinely recuses himself from all trash-collection discussions because he is employed by Waste Management.
"The current RFP is off to a good but very slow start," Pointer said.
All the council members expressed concern with wording in the proposed RFP regarding a $5 million letter of credit. City Engineer Rose Hess said the RFP had been put together from policies in other cities, and any clause could be changed.
"Most cities don't have letters of credit anyways, they have assurance bonds," said William O'Toole, the city's solid waste consultant.
The current contract with Waste Management expires June 30, 2010, and company representative Keith Ramsey asked the council to extend the contract for four years to see where waste conversion technology goes with Santa Barbara County. In exchange, he said, the company would not raise Buellton customer's rates for the next year.
"We have the ability to create our own natural gas, which is used in 400 of our trucks in Ventura and Los Angeles counties, and we could set up a station at our yard in Santa Maria so it's available to you. We have provided good service to you for 40 years, so why change it?" said Mike Smith, director of operations for HSS.
In response, Pointer sharply asked Smith why his company hadn't already taken the initiative to come before the council and offer those services.
"It's unfortunate we haven't heard this before. Our community is just as important as others who benefit from those services," Pointer said.
The next council meeting is scheduled for 6 p.m. Thursday, Jan. 14, in City Chambers at 140 W. Highway 246.
Get Government & Politics updates in your inbox!
Stay up-to-date on the latest in local and national government and political topics with our newsletter.