Fourth District Supervisor Peter Adam was sent off into private life Dec. 15 by a steady stream of Santa Barbara County current and former department heads and elected officials who praised his straightforwardness, honesty and focus on his goals.
Seventeen people spoke in the Board of Supervisors' afternoon session devoted to Adam's sendoff, which included a resolution commending his eight years on the board and several parting gifts, from rose-colored glasses and a bank with unicorns and rainbows from a fellow supervisor to his own county park sign and a humidor and box of fine cigars from the county staff.
"That's very politically incorrect of you. I'm proud of you," Adam said of the humidor and cigars.
Adam was often the lone dissenter on votes, taking more libertarian and conservative stances on issues and was described by some observers as the board's "contrarian."
Many of the speakers recounted humorous anecdotes that set Adam laughing, while others offered more serious tributes that left him visibly fighting to hold back his emotions.
Speaking as a member of the public, Joe Armendariz said it's refreshing when someone like Adam takes the time out of his schedule to serve the people.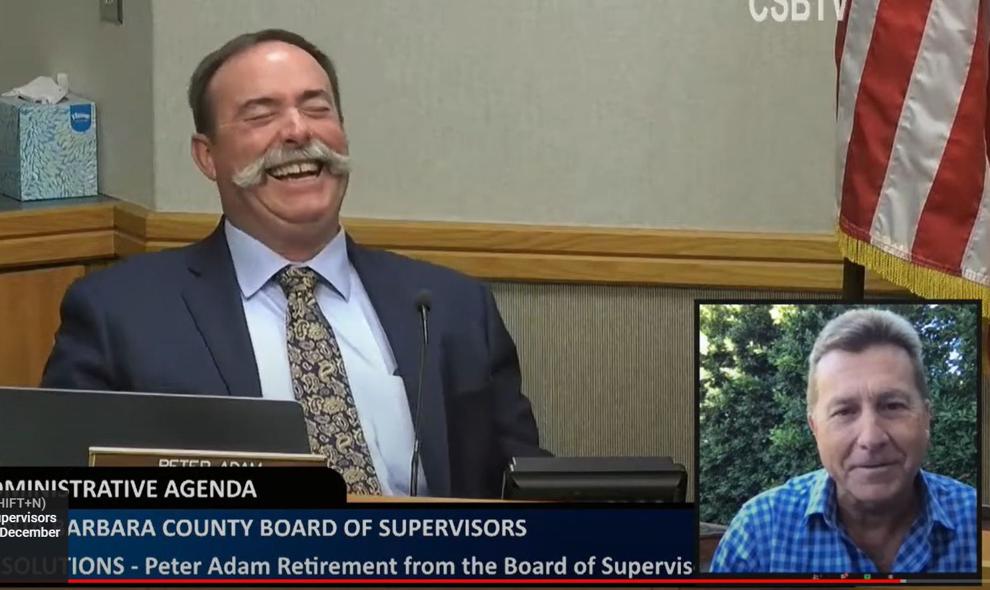 "His breath of fresh air every week, in terms of scrutinizing the details and getting into the weeds, I think is something the taxpayers of this county have been very well served by," Armendariz said.
First District Supervisor Das Williams told Adam he wasn't expecting to enjoy working with him on the board, but he truly had.
"I've really come to understand the fabric that is America is rich and different and diverse like a multicolored Navajo rug, and your stripe of fabric, it's bright, it's different, but it's a legitimate part of our fabric," Williams said.
"And I respect you so highly for advocating … for your principles and those of your constituents with such passion and such consistency and at the same time being able to be jocular and pleasant and fun to serve with," he continued.
"And I've learned a lot from you — learned about wells and about ranching and about lettuce — but I've also learned a little more about being a human being from you, and I will appreciate that till the end of my days."
County Executive Officer Mona Miyasato thanked Adam for his relentless efforts at getting the board to maintain and improve the county's infrastructure and pushing the staff to think about what government is supposed to do.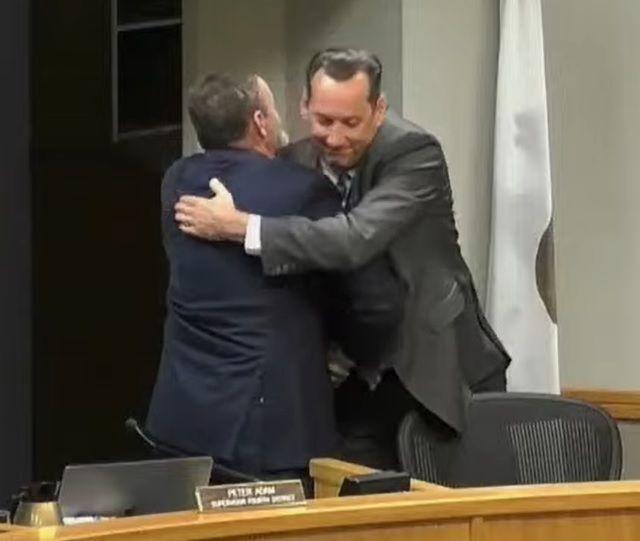 "Every time we see a new park bench, every time we see a newly constructed restroom, every time we see a newly striped parking lot … every time we see a newly paved road or a reconstructed road, every time I get in the elevator and it works, or even when it doesn't work, I think of you," Miyasato said. "I think we all think of you."
In one of the tributes that made Adam emotional, Assistant County Executive Officer Barney Melekian told Adam he might not realize the depth of respect and admiration many people have for him.
"He's firm about what he believes in, but he measures other people not so much by their beliefs but how rigorously they arrive at them," Melekian said. "Peter has some nutty ideas. He thinks we ought to balance our budget. He thinks we ought to fix our roads and bridges and infrastructure.
"He thinks that as public servants we should recognize that the greatest gift of our jobs is the opportunity to make a positive difference in people's lives, and the greatest sin is indifference to those people and their problems."
He added, "There are many words to describe Peter. The top of the list is 'authentic.' He is what he appears to be. … He knows he may come out on the short end of the vote, but I've never heard him badmouth his colleagues for not agreeing with him."
Former County Fire Chief Eric Peterson agreed with Melekian's assessment of Adam's authenticity.
"You were always 100% authentic with me," Peterson said. "I guess the main thing I want to thank you for is just giving a damn."
Others who paid tribute to Adam were Bob Nelson, his chief of staff and the next 4th District supervisor, as well as Social Services Department Director Daniel Nielson, District Attorney Joyce Dudley, Sheriff Bill Brown, Fire Chief Mark Hartwig, Community Services Department Director George Chapjian, County Counsel Michael Ghizzoni, former 2nd District Supervisor Janet Wolf, 3rd District Supervisor Joan Hartmann, 5th District Supervisor Steve Lavagnino and 2nd District Supervisor and Board Chairman Gregg Hart.