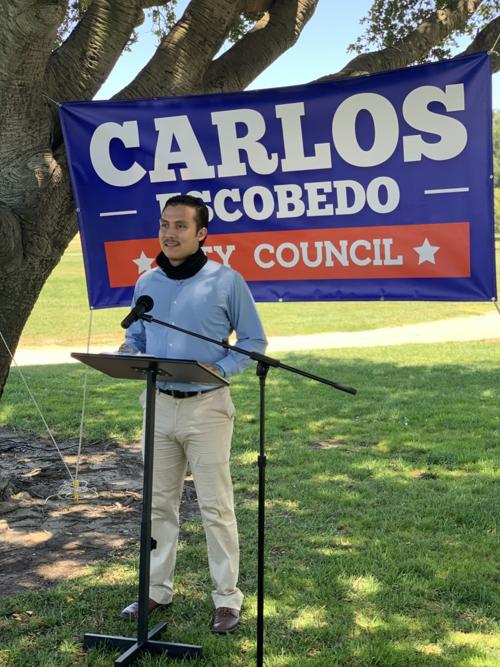 Carlos Escobedo, organizer of Santa Maria's Open Streets celebration and community volunteer, has announced his bid for Santa Maria's 1st District council seat, with a focus on affordable housing and local businesses. 
Escobedo officially launched his campaign at noon Thursday at Grogan Park, speaking about his goals for the position and his "Make It Happen" mentality to 15 attendees.
The video of his campaign launch will be posted to Facebook, as part of an effort to reach community members via digital platforms during the COVID-19 pandemic. 
"We have to be able to reach out to our community in a different way than regular campaigning, so we're going to be doing a lot of social media. We have to adapt this campaign to help people feel safe," he said. 
The second individual to announce his candidacy for the 1st District seat, Escobedo will be running against nonprofit professional Osvaldo Sotelo, who launched his campaign in January. 
No incumbent council member is eligible for the seat under the new system, which requires council members to live within the district they represent. 
Escobedo's focus on helping local businesses succeed touches on streamlining the permit process to make it easier and simpler for those starting their own businesses.
"They need us now more than ever," he said of local businesses.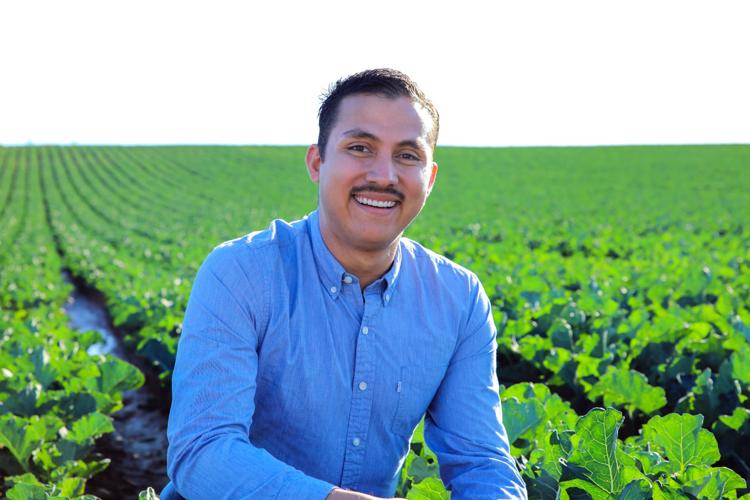 When it comes to affordable housing, Escebedo said he will use the council seat to advocate for development projects that dedicate a significant portion of their work towards low-income housing. 
He also said his position would focus on promoting local initiatives for family-friendly recreation and exercise activities, and strengthening public safety by supporting community police initiatives to fight crime. 
"There's so many issues that we need to work on in the community, and I will be dealing with many more as a city council member," he said.
While living in Santa Maria, Escobedo been heavily involved in the Santa Maria community, most notably by launching the street fair celebration Open Streets in 2019.
The spring event brought together 150 local businesses and thousands of residents along a mile-long section of Main Street opened only to pedestrians. The 2020 celebration of the event has been postponed until the fall due to the COVID-19 outbreak.
Escobedo also serves as the College Outreach and Retention Specialist at Allan Hancock College, where he assists hundreds of high school students in connecting with higher education. 
Amid the sweeping closures and dwindling income brought on by COVID-19, business owners face a maze of additional paperwork as they wade through the shifting sands of related economic stimulus, loan and grant programs. Jaime Flores and his volunteers are offering free, bilingual help.
In 2019, he was named Young Professional of the Year by the Santa Maria Valley Chamber of Commerce, and he has also spent time volunteering with various local nonprofits, including the Boys and Girls Club, Foodbank of Santa Barbara County, Serve Santa Maria and Bici Centro.
A proud first-generation American, Escobedo said his volunteering experience since he was a kid helped to shape his views.
"Two years ago, I became a U.S. citizen along with my brother, Oscar. It was my brother and myself and 2,000 people more, and they said, you're all citizens now. You have to decide if you want to be just one more member of the community, or if you want to get up and get involved," he said.
Escobedo said he is excited about his campaign and serving the community he loves.
"When I moved here to Santa Maria, something changed. Coming to this town and being welcomed by the people here has inspired me to go the extra mile," he said. "I want to show the gratitude and love I have for this community."
Laura Place covers city government for the Santa Maria Times.
Get Government & Politics updates in your inbox!
Stay up-to-date on the latest in local and national government and political topics with our newsletter.