Santa Barbara County officials plan to increase investigations of illegally operating cannabis cultivators, institute an audit of cannabis revenue reporting for tax payments and participate in a test of a state track-and-trace program, according to a report delivered to the Board of Supervisors on Tuesday.
That was some of the information in an update on cannabis compliance, enforcement and taxation for the first quarter of the 2019-20 fiscal year delivered by Barney Melekian, assistant county executive officer, and Steven Yee, fiscal and policy analyst.
Supervisors were concerned about legal noncompliant operations that may have expanded their operations and are now illegal as well as operations that are reporting no financial activity and therefore not paying any taxes.
First District Supervisor Das Williams said he wants the compliance team to make sure those reporting no financial activity are not operating.
Melekian said the county will be making contact with those reporting no financial activity, and staff expects to have a tax compliance audit launched within 90 days.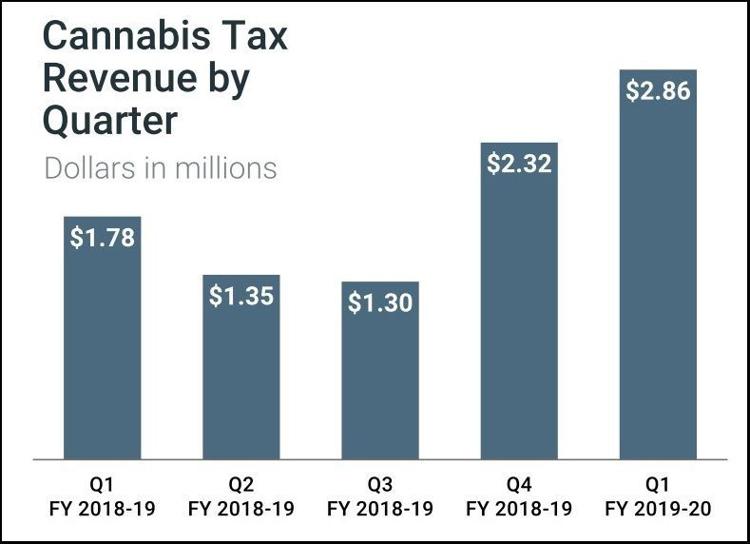 "It would be really nice to see who's paying what," said 5th District Supervisor Steve Lavagnino.
Santa Barbara County has been chosen, along with Monterey and Yolo counties, to participate in a "beta test" of a track-and-trace system to follow cannabis products from seed to final product and from source to consumer.
Yee said that will be a "critical component" of the tax audit.
Although county officials have heard a number of complaints about a lack of action against illegal cannabis operations, the county's cannabis enforcement program is apparently considered the best by state regulating agencies.
Williams noted the county's enforcement team is more "cutting edge" than the other county teams in California.
"This is the model they would like to see replicated throughout the state," said Board Chairman and 2nd District Supervisor Gregg Hart.
Cannabis enforcement actions have remained relatively constant since the first quarter of the 2018-19 fiscal year, when 10 actions were conducted, with 12 per quarter since then, with a total of just over 1 million plants seized with a total value of $227.9 million.
Dried product seized during that period totaled 65,996 pounds, with a value of $66.million.
Among other statistics in the report as of Jan. 8, the county has received a total of 173 permit applications for operations totaling 2,197 acres, with 204 of those acres in the Carpinteria overlay and 1,993 acres in the rest of the unincorporated area.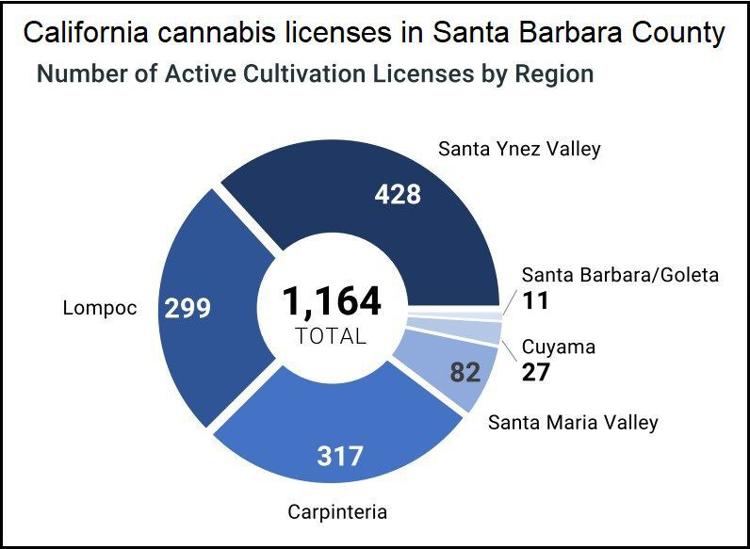 By comparison, the county received 20 permit applications in the first quarter of the 2018-19 fiscal year.
Yee said 15 land use permits have been approved and 67 are pending, with 30 conditional use permits pending.
In addition, three coastal development permits have been issued, 28 are pending, seven coastal development hearings are pending and 23 development plan applications are pending.
State provisional and annual licenses in the county totaled 1,164, with the highest number — 428 — in the Santa Ynez Valley, followed by 317 in Carpinteria, 299 in Lompoc, 82 in Santa Maria Valley, 27 in Cuyama and 11 in the Santa Barbara and Goleta area.
State licenses account for 270 acres of cultivation in the county, with the Santa Ynez Valley again topping the list with 100.2 acres, but Lompoc stands in second with 78.4 and Carpinteria third with 66.6 acres, followed by Santa Maria Valley with 20.1 acres, Cuyama with 6.5 and the Santa Barbara and Goleta area with 1.8 acres.
But Melekian noted 133 state licenses are due to expire within 60 days of Tuesday's report, and the staff would review those licenses to see if the county still wants to support their applications.
The county has also received 25 applications for business licenses, and five licenses have been granted — two for cultivation in Los Alamos, one for cultivation in Cuyama, one for a nursery in Goleta and one for a nonstorefront retail operation in Vandenberg Village.
One of the business licenses is already coming up for renewal, and five of the applicants are participating in the process of concurrently applying for a land use permit.
Photos: Cannabis testing lab about to open in Lompoc
Photos: Together We Thrive links wine, cannabis, tourism
Get Government & Politics updates in your inbox!
Stay up-to-date on the latest in local and national government and political topics with our newsletter.