Community emergency training rumbles to life during drill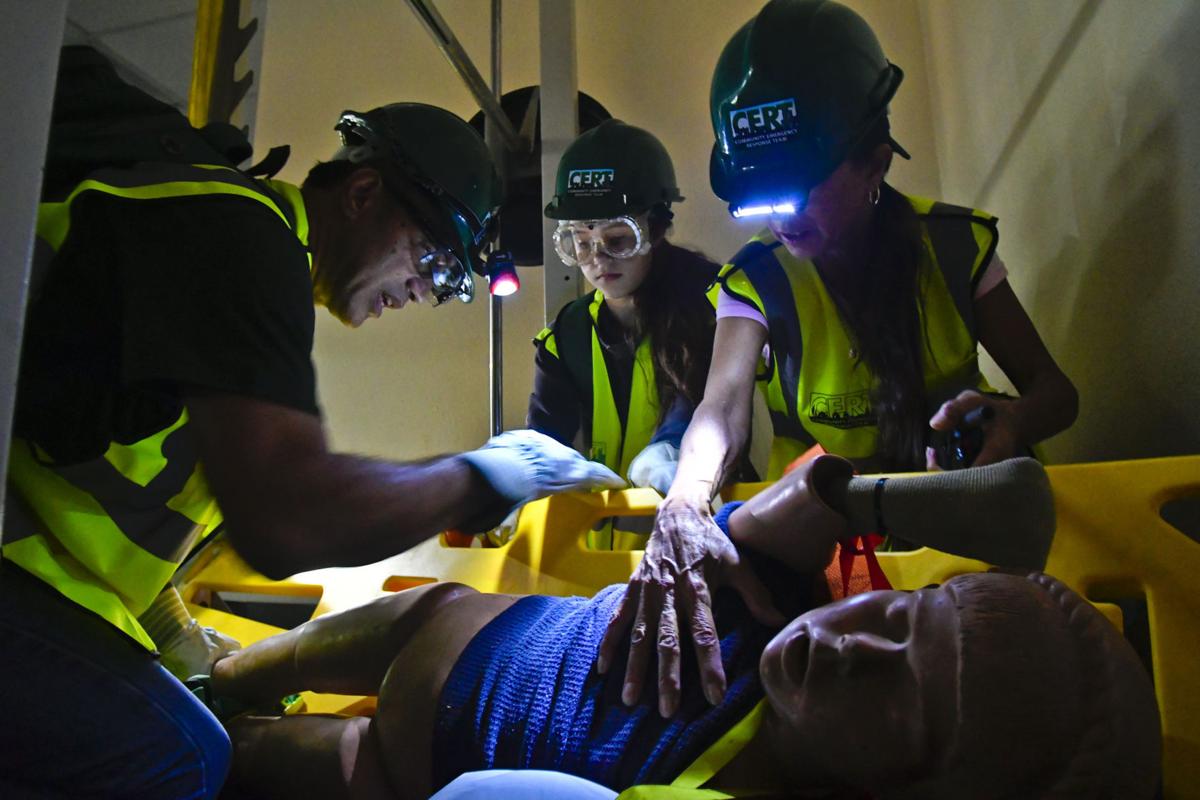 The city of Santa Maria suffered an imaginary 7.8 magnitude earthquake during a training exercise Wednesday night at the Fire Department headquarters.
After receiving their instructions, group members -- many having just met when the CERT class began in early August -- came together as a team. Their tasks were to search for hazards caused by the make-believe earthquake, look for anyone injured by the event and set up a triage area to get their patients to professional medical care.
GALLERY: Emergency training drill
The Santa Maria Fire Department held their emergency training program's final drill and graduation ceremony, on Wednesday night, with a simulated earthquake that students had to manage.
Complete with CERT vests, gloves and hard hats, the volunteers fanned out all over Santa Maria Fire Department headquarters on Cook Street.
Their task was to find, rescue and triage nine victims.
The CERT instructors set the stage. Each victim, played by both training dummies and live volunteers, was given a set of injuries and ailments that the volunteers had to react to.
The drill took about two hours, in the end with their imaginary patients safe, the group expressed feelings of relief, pride and gratitude.
"These nights are always exciting because you have members of the community step forward, engaged in a program where they are giving back. They are improving their neighborhood, their community, their family through the CERT program," said Fire Chief Leonard Champion. "It is always exciting to see people come out the other end of it, happy with the skills they've learned and feeling like they can contribute to others. We are here to congratulate them."
After Wednesday's drill, the students who ranged in age from young to old, became official CERT members and received certificates acknowledging the work they accomplished. They also left with the knowledge and skills to know what to do in the event of an emergency and how to give aid to others, if needed. 
"I'm a nanny by trade. My specialty is babies from birth to 4 years old," Ann Usher, new CERT member, said during Wednesday's drill. "I want to know what to do in an emergency when the parents aren't around," 
Usher also participated in the program so she can be a better resident of her community in the event of an emergency. 
"I live in a senior community here; there is also a need to know what to do in an earthquake. Some seniors are incapacitated, on oxygen. Those of us who are healthy and mobile, we need to take care of them," she said.
Alan Tarrant, a nurse, wanted to learn more about what to do in an emergency situation.
"Instead of being a victim, I want to help," Tarrant said.
Scott Hunter, CERT training coordinator, said the reasons why people should seek out skills taught during CERT training can be seen near and far.
"With the wildfires we have and the floods in Houston, these are good skills to have," Hunter said.
The CERT teacher said the aftermath of recent wildfires that burned locally could also create emergency conditions -- flooding and mudslides caused by winter rains -- calling for CERT skills. 
Logan B. Anderson covers city government in Santa Maria for Lee Central Coast Newspapers. Follow him on Twitter: @LoganBAnderson.