The shed behind the house of Cameron Alarcio's parents in rural Arroyo Grande is filled with power equipment, including a grinder and various tools hanging from the wall.
Outside is a mini patio with even more equipment, including a 130-plus-pound anvil and a rectangular shape the size of a breadbox, or the three-burner Venturi forge Alarcio uses to heats metal objects he'll eventually shape into knives.
Alarcio, 31, is a bladesmith, or someone who makes knives, a hobby he has pursued for at least eight years. Calling it more of a "happy place" than a hobby, Alarcio will showcase his skills in his network television debut Wednesday on History Channel's "Forged in Fire."
The episode, which airs at 9 p.m., will pit Alarcio against other knife-makers in a three-round elimination where the contestants make knives and demonstrate their effectiveness. The winner receives $10,000.
Alarcio, of Nipomo, teaches seventh grade social studies at Mesa Middle School. He also teaches an eighth grade elective "maker" course, similar to a shop class but with an emphasis on entrepreneurship. 
"I want to show kids that you don't have to buy anything," Alarcio said. "You can make it yourself and people will want to buy that, too."
Alarcio's interest in knives stems from an interest in his grandfather's knife collection, which was eventually bequeathed to him. His actual foray into bladesmithing didn't happen until years later when he lived in San Diego.
A colleague from his marketing agency job told him about an introductory blacksmithing course taught at the Antique Gas and Steam Engine Museum in Vista, in which Alarcio enrolled.
His intention was to make swords, like the Ice sword from "Game of Thrones," but he quickly realized that was too ambitious for a beginner. Alarcio made his first forge out of a soup can (which he doesn't recommend) after watching a YouTube video. The first knife he made was from an old metal file.
"The first time I lit my own forge and hit the hot metal with a hammer I thought this was cool," Alarcio said.
Alarcio moved back home and worked some odd jobs, including as a bartender at Eureka in San Luis Obispo, and pursued his teaching credential at Cal Poly.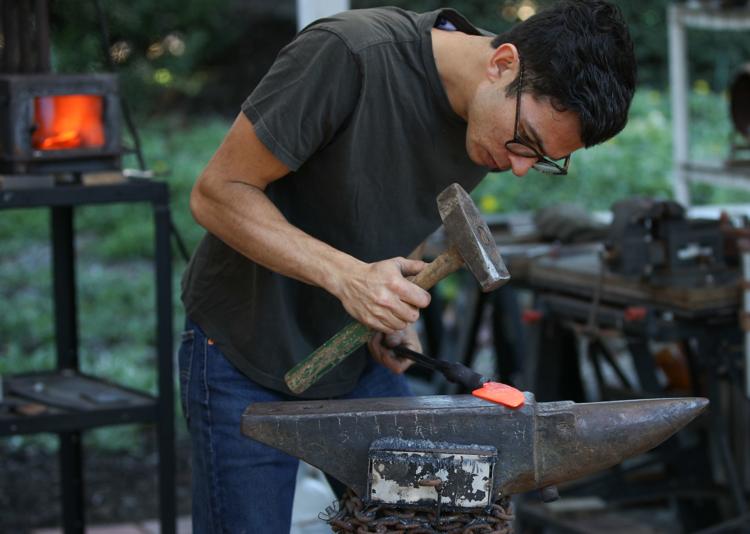 At the same time, he continued pursuing his passion for bladesmithing, including attending an introductory course in Asheville, North Carolina, and further honed his skills with additional courses at Hancock College in Santa Maria.
You have free articles remaining.
According to Alarcio, the few basic pieces of equipment needed to forge a knife include a hammer, something hard to pound the hammer on and something to get the knife hot — the forge.
Alarcio's Venturi burner uses three gas burners and pulls in the oxygen it needs to get hot. The temperature needed for forging knives is between 2,300 to 2,400 degrees Fahrenheit.
Technically, he said, forging isn't the only way to make a knife. Another method known as stock removal involves cutting a piece of metal with some power equipment and grinding down the edges to make a blade. Which of the two methods results in a better knife is a constant debate within the bladesmithing community, Alarcio said.
Making a knife can take anywhere from several hours to several months, Alarcio said, adding that much of the process involves lots of tedious work like grinding and sanding.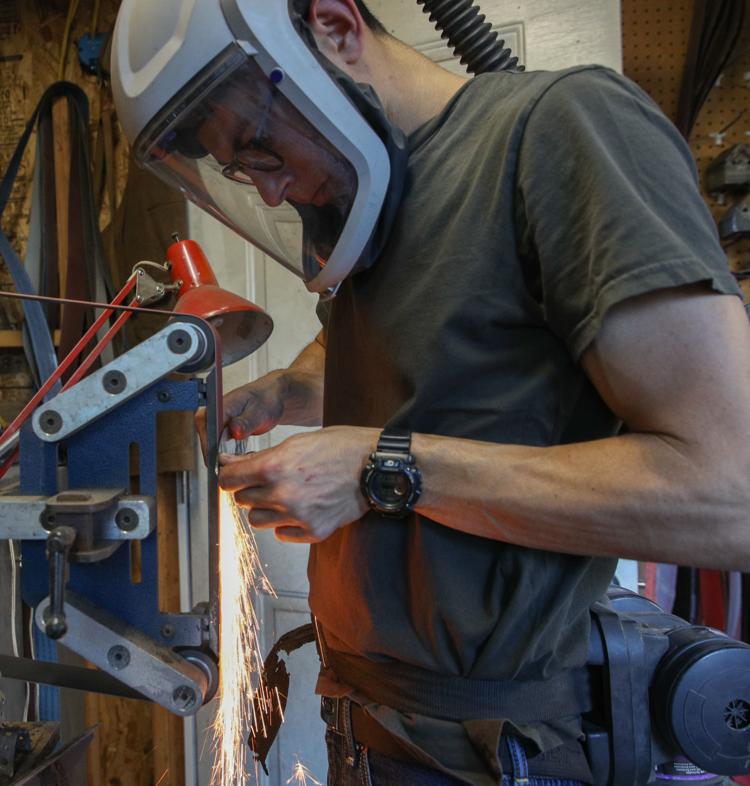 The process makes lots of noise, but Alarcio said his neighbors are OK with it as long as he doesn't use the anvil at night.
For Alarcio, bladesmithing is a constant mental exercise and he enjoys the physical aspect of it, too. Someday he hopes to make a Japanese katana, which he said are of "sacred" quality. 
He has his own business making kitchen knives forged from Damascus steel on Instagram, which is the account that caught the attention of History Channel producers who asked Alarcio to apply as a contestant. 
He hopes to use the fame from the show to launch his own makerspace, or a collaborative space for students to learn "do-it-yourself" skills. 
"Not only do we think (the makerspace) will be very successful but very beneficial," Alarcio said. 
120919 SMT Alarcio Knives 07.jpg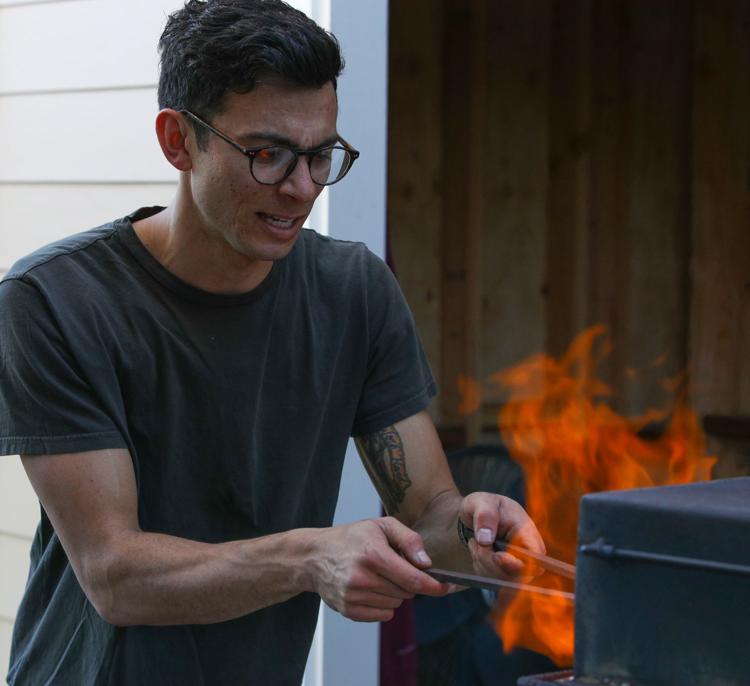 120919 SMT Alarcio Knives 01.jpg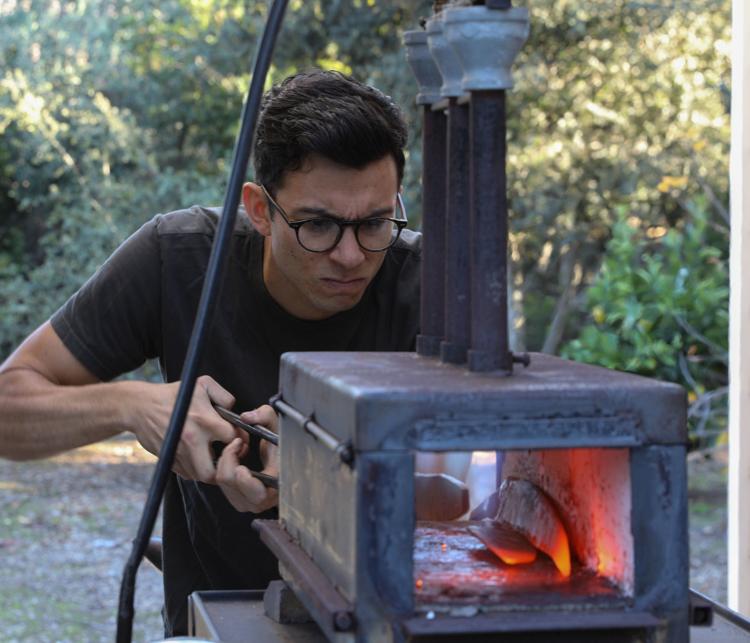 120919 SMT Alarcio Knives 02.jpg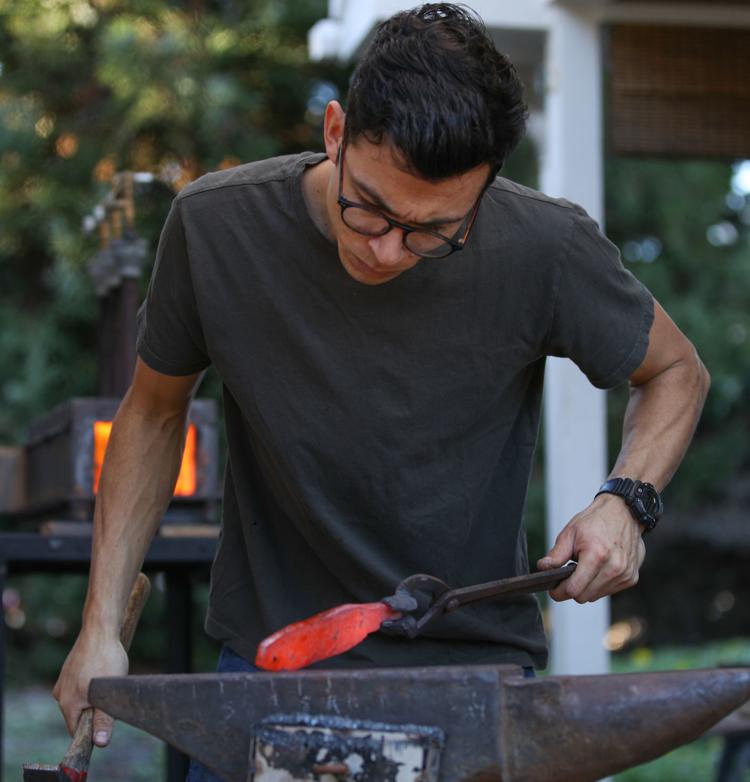 120919 SMT Alarcio Knives 03.jpg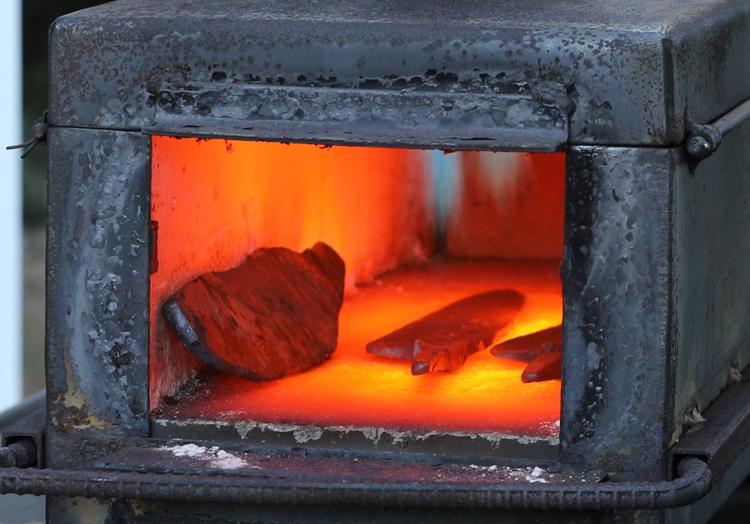 120919 SMT Alarcio Knives 04.jpg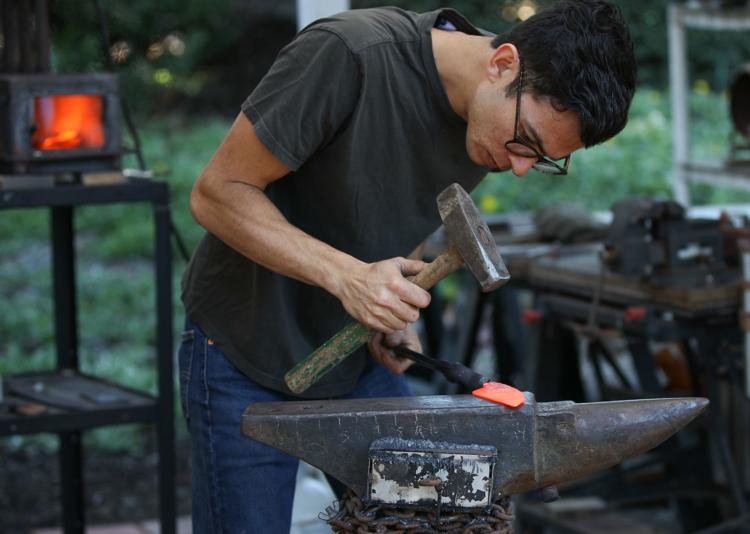 120919 SMT Alarcio Knives 05.jpg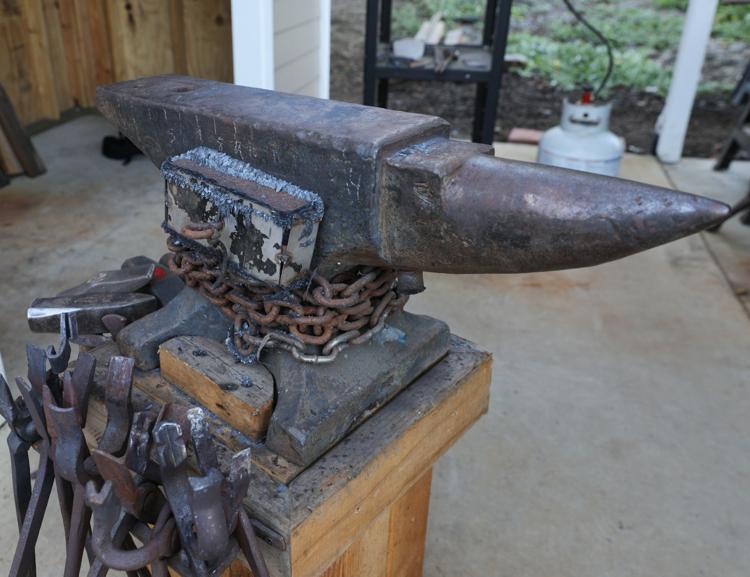 120919 SMT Alarcio Knives 06.jpg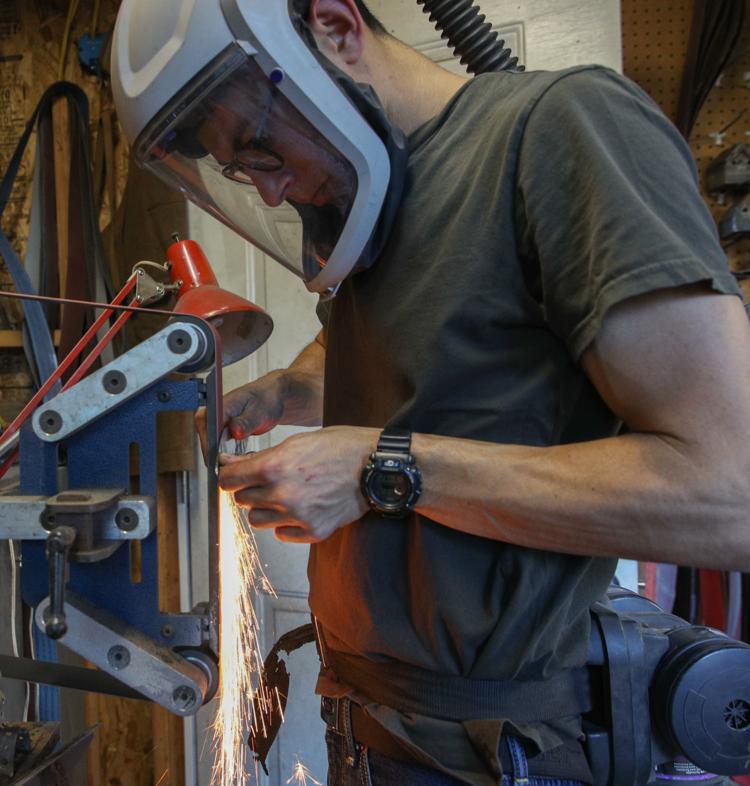 120919 SMT Alarcio Knives 08.jpg
120919 SMT Alarcio Knives 09.jpg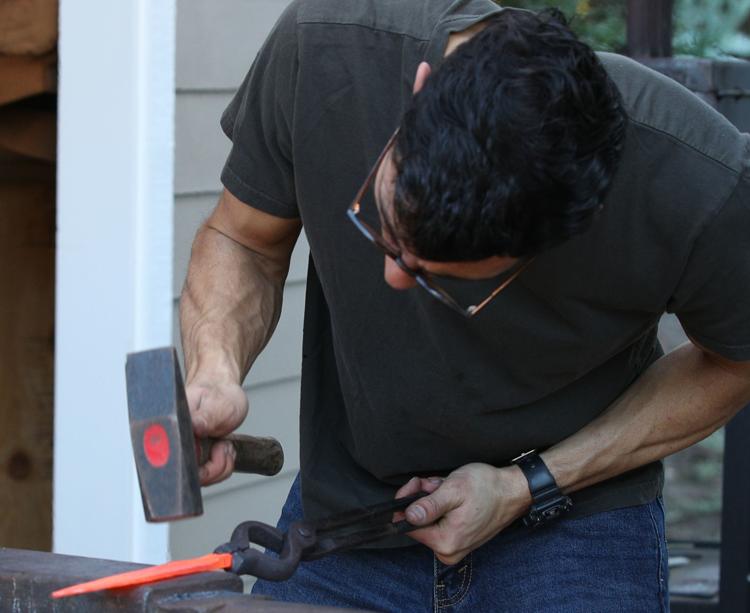 120919 SMT Alarcio Knives 10.jpg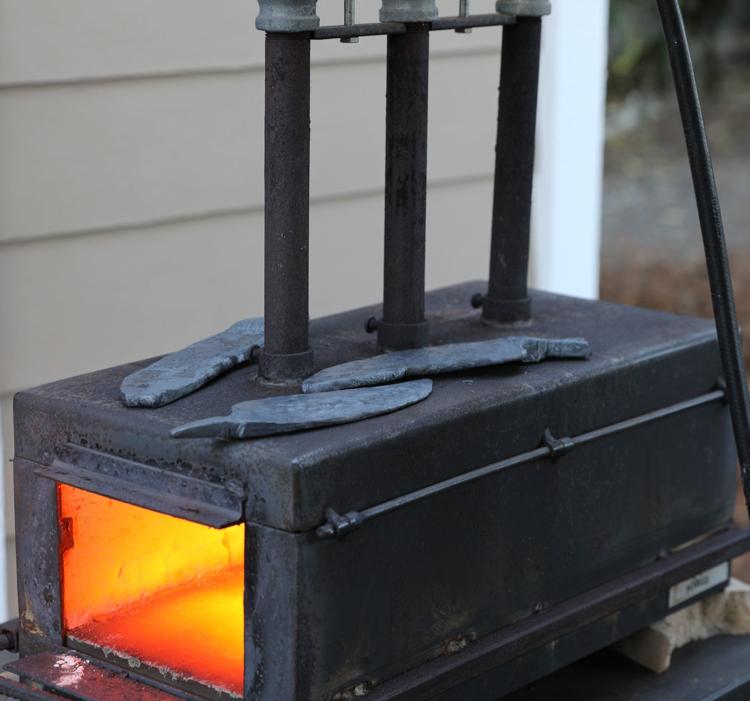 120919 SMT Alarcio Knives 11.jpg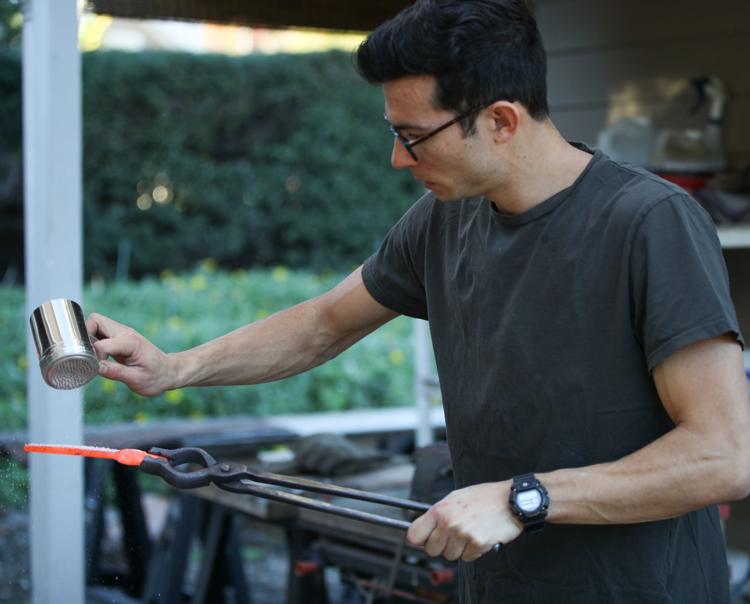 120919 SMT Alarcio Knives 12.jpg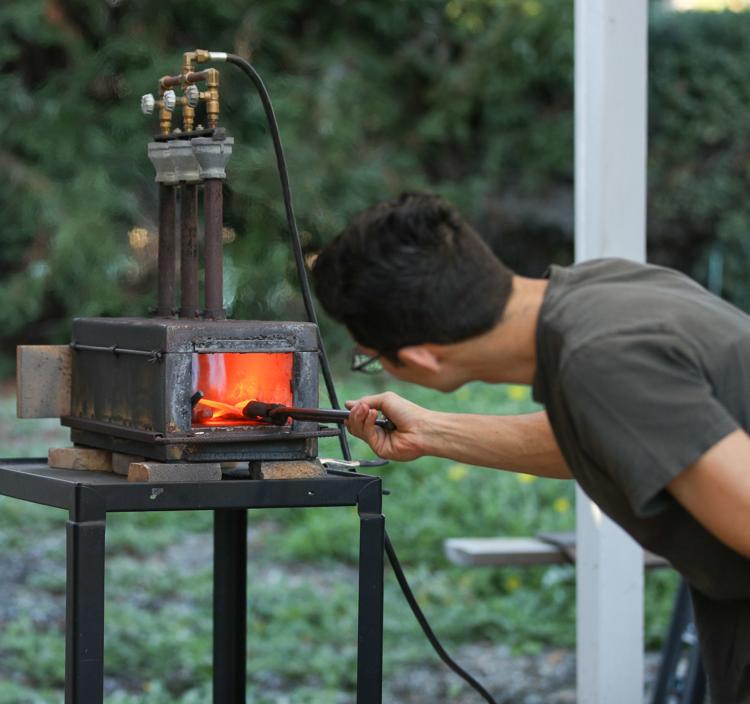 120919 SMT Alarcio Knives 13.jpg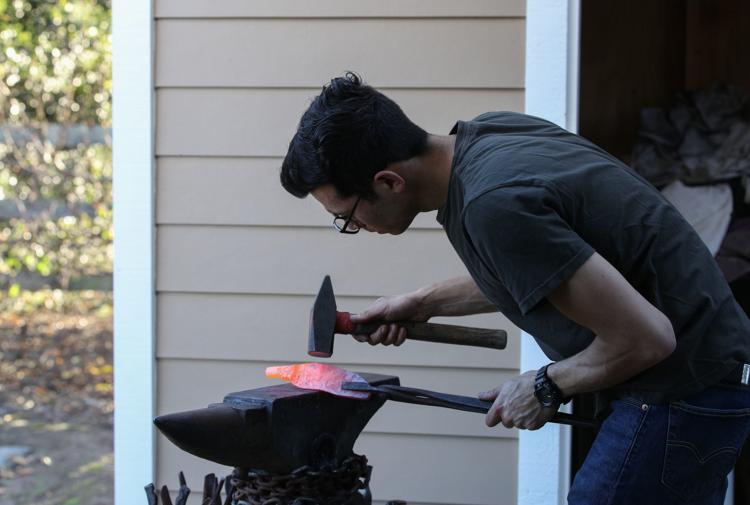 120919 SMT Alarcio Knives 14.jpg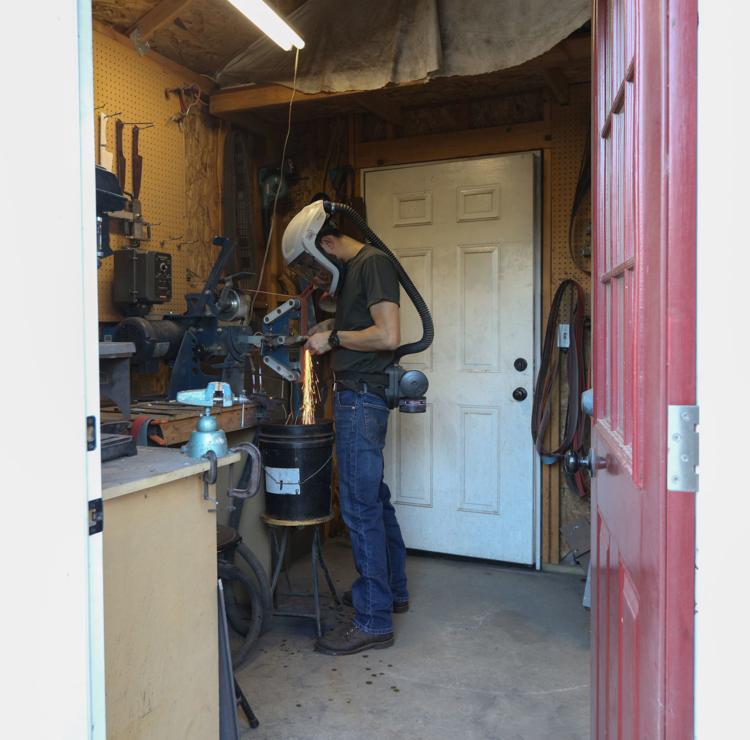 120919 SMT Alarcio Knives 15.jpg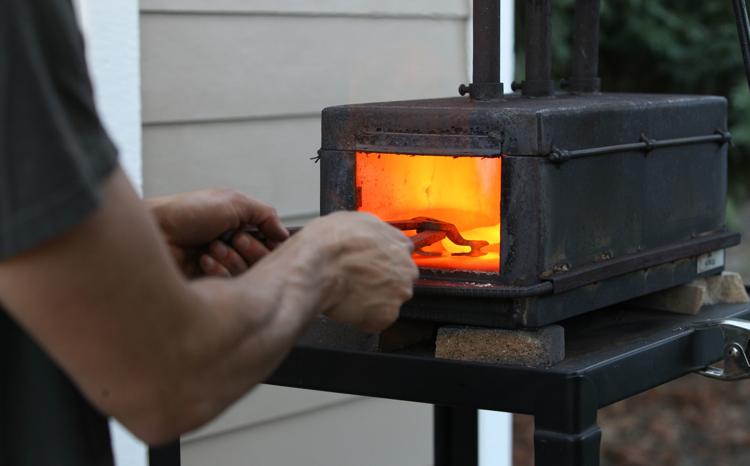 120919 SMT Alarcio Knives 16.jpg