The 74-year-old Lompoc woman killed earlier this month is being remembered by friends as a "free spirit" with a spark for life, and a community activist with a passion for progressive causes.
Eldri Jauch was an avid outdoorswoman known to frequent Santa Barbara County's open spaces and play the violin at the weekly farmers market. When not walking Surf Beach or hiking around the area, she spoke out against abuse, advocated on behalf of Lompoc's LGBT population and participated in interfaith initiatives in an attempt to make her community a better, more inclusive place.
Jauch was reported missing June 6 and found dead three days later in what prosecutors and law enforcement now call Lompoc's fourth homicide this year. Her neighbor, 35-year-old Melissa Martin, was arrested June 10 in Santa Ynez and subsequently charged with murder, after allegedly attacking Jauch with a baseball bat. No motive has been released.
"She had an incredible spark," said Rev. Mary Moreno Richardson, one of Jauch's friends. "She was so open to everyone [and] had this smile and twinkle in her eye."
The pair met through a mutual friend four years ago when Moreno moved to Lompoc from Santa Barbara. They became friends after Moreno, an Episcopal priest, realized they shared similar passions and had a lot in common. Their work and background — hers as a feminist theologist and Jauch's in psychology — often overlapped.
Jauch graduated from Pacifica Graduate Institute in Santa Barbara with a masters in counseling psychology in 1986. She remained an active member of the school's Alumni Association and later returned as an adjunct faculty member in the school's counseling psychology program.
"In her passing, we have lost a dear friend to Pacifica and a champion of justice," said Dianne Travis-Teague, Pacifica's director of Alumni Relations. "Eldri was a woman of integrity and intellect, warmth and wisdom. ... [We are] eternally proud to claim her as our alumna." 
Moreno called Jauch her "spiritual director" and healer, someone who helped her reexamine her relationship with love after a difficult period in her life.
"She said: 'Why analyze it? Why can't every lovely moment be special? Can't we just enjoy it for what it is?'" Moreno recalled. "It was such a new perspective [for me] and very healing."
Last Saturday, friends and community members gathered for a memorial vigil in Lompoc's Centennial Park. Ann McCarty, executive director of the North County Rape Crisis and Child Protection Center in Lompoc, said the group chose to organize the vigil to start the community healing process.
"For all that we are — a city with a population of over 43,000 people — we are a small town," McCarty said. "When one of our own is killed in a senseless act of violence, it hurts us all."
McCarty said Jauch began to go through the center's victim advocate training program. Though she did not finish, Jauch was connected to the center through other community groups and involvements.
"She spoke up and she spoke out and I felt it was only fitting that we, an agency that actively works towards peace on many levels, used our abilities to gather people in honor of Eldri," McCarty said.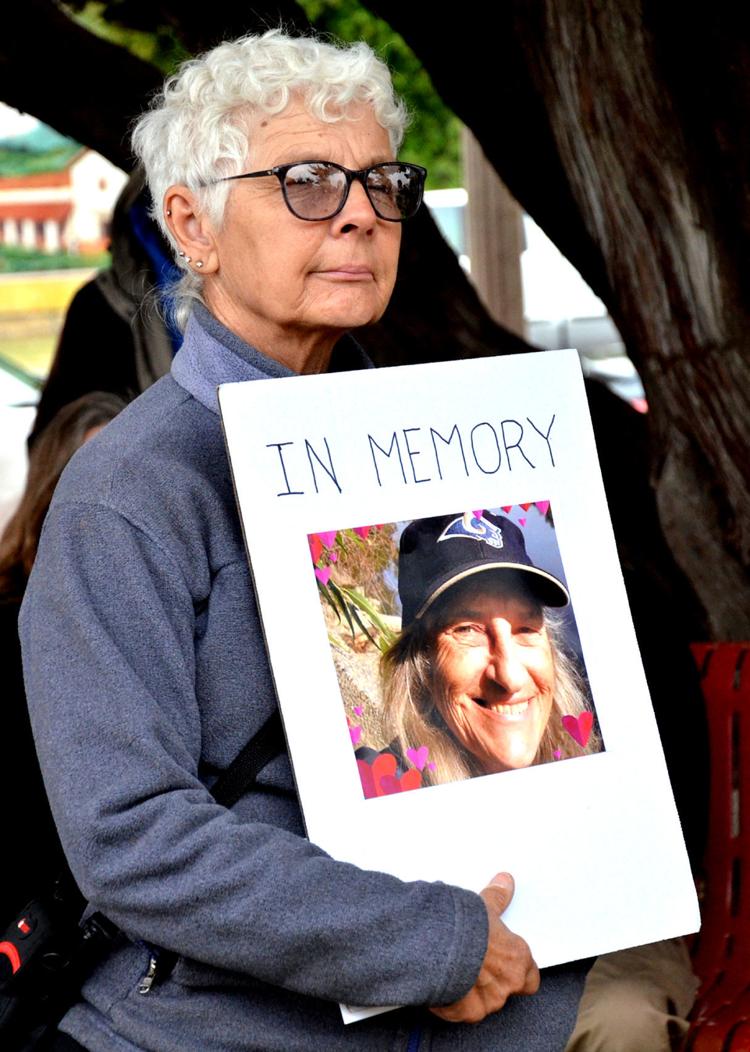 Get local news delivered to your inbox!
Subscribe to our Daily Headlines newsletter.